by Charles Hugh Smith, Of Two Minds: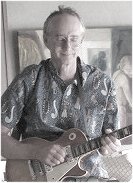 What's scarce in a world awash in free content and nearly infinite entertainment content?
After 3,701 posts (from May 2005 to the present), here are my observations of the Alternative Media from the muddy trenches.
It's increasingly difficult to make a living creating content outside the corporate matrix. The share of advert revenues paid to content creators / publishers has declined precipitously, shadow banning has narrowed search and social media exposure and the expansion of free content and competing subscription-based publishing has made subscription services an increasingly tough sell.