by Charles Hugh Smith, Of Two Minds: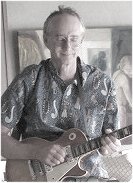 Hapless bagholders have two options: buy the dip and be destroyed, or hang on hoping for a reversal and be destroyed.
One often overlooked characteristic of the current stock market bubble is the extremely small exit for sellers trying to avoid becoming hapless bagholders. Bubbles always present small exits because once sentiment turns, buyers vanish and so price goes over the waterfall and crashes on the rocks below (accompanied by the screams of all the punters who reckoned they'd exit at the top).