by John W. Whitehead, Rutherford Institute: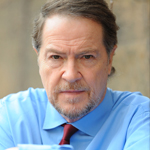 "We are fast approaching the stage of the ultimate inversion: the stage where the government is free to do anything it pleases, while the citizens may act only by permission; which is the stage of the darkest periods of human history, the stage of rule by brute force." — Ayn Rand
Rule by brute force.
That's about as good a description as you'll find for the sorry state of our nation.
SWAT teams crashing through doors. Militarized police shooting unarmed citizens. Traffic cops tasering old men and pregnant women for not complying fast enough with an order. Resource officers shackling children for acting like children. Homeowners finding their homes under siege by police out to confiscate lawfully-owned guns. Drivers having their cash seized under the pretext that they might have done something wrong.