by Pam Martens and Russ Martens, Wall St On Parade: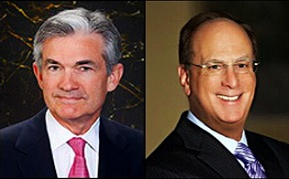 Last Tuesday, Mike Derby reported at the Wall Street Journal that the President of the Dallas Fed, Robert Kaplan, had "made multiple million-dollar-plus stock trades in 2020, according to a financial disclosure form provided by his bank." The individual stocks included shares of Apple, Alphabet (Google), Alibaba,  Amazon, Chevron, Delta Airlines, Facebook, General Electric, Johnson and Johnson, Oracle, Tesla and numerous others. Kaplan previously spent more than two decades at Goldman Sachs, one of the largest trading houses on Wall Street, and, apparently, he thinks he still works there.
Think about this for a moment. While Fed Chair Jerome Powell is repeatedly testifying to Congress last year that its every monetary move during the pandemic was on behalf of the average American, the Dallas Fed President is making million-dollar bets on big tech stocks the Justice Department is investigating for anti-trust activity. In fact, in October of last year, the Justice Department and 11 state attorneys general sued Google for anti-trust actions.