by Pam Martens and Russ Martens, Wall St On Parade: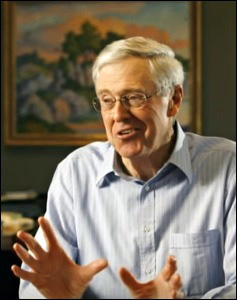 If Russia was the only major outside player to meddle in the 2016 U.S. election, why are so many of the spoils going to Charles Koch and his network of political operatives?
Koch is a mega billionaire (worth $51 billion according to Forbes) and sits atop one of the largest private corporations in the world — Koch Industries – with interests in fossil fuels, chemicals, paper products and commodities trading. For the past forty years, Koch has been at the helm of a stealthy network of front groups seeking to gut Federal regulations, downsize the government and give the wealthy and corporations more sway in deciding political races. Much of that work has been accomplished through dark money, where a donor can give tens of millions of dollars in just one year to a tax exempt front group and remain anonymous to the public.