by Dave Hodges, The Common Sense Show: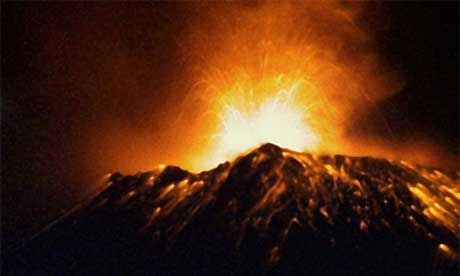 There is someting going on with regard to volcanic activity. It seems that many volcanos are awakening and that fault lines are on the move. Some think this is a precursor to an ice age. This is something that I am actively investigating at this point. Regardless of the threat of an impending ice age, the planet is facing a real threat with regard to seismic activity and related volcanic activiity. Let's begin with Hawaii.
A Lot Worse Than We Thought
There are projections that show 1,000 foot waves hitting the wesst coast of the United States. In the interest of not risking the over-inflation of the threat, I chose this conservative, theat-assessment video because it is among the most conservative in terms of demonstrating the potential threat posed by the Hawaiian volacano. The following video shows a physics-based computer simulation of a Kilauea Flank Collapse landslide and Mega Tsunami. Local wave heights exceed 300 meters. Such events happen in Hawaii about every 200,000 years and as volatile as the situation is, these events remain in the realm of possiblity. Projections like 200,000 years, mean nothing, if you are sitting on year 200,000.