by Mac Slavo, SHTF Plan: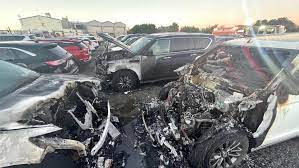 All five of the cars rented by Joe Biden's secret service over the Thanksgiving weekend have caught fire and burned. Just one day after he left his Nantucket vacation, the vehicles burst into flames.
Biden spent Thanksgiving on the ritzy Massachusetts island of Nantucket with his family last week. The Secret Service rented five vehicles from Hertz to carry the president and his family, and all five of them caught fire in the parking lot, according to footage first obtained by the Nantucket Current.