by Harvey Organ, Harvey Organ Blog: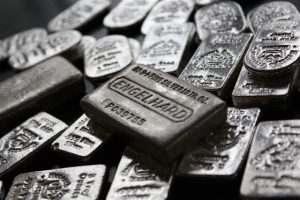 GOLD CLOSED DOWN $4.15 TO $1977.95/SILVER CLOSED DOWN 26 CENTS TO $23.51//PLATINUM CLOSED UP $24.95 TO $923.90 WHILE PALLADIUM CLOSED UP $32.25 TO $1087.75//CENTRAL BANKS ARE BUYING PHYSICAL GOLD FOR THEIR OFFICIAL RESERVES AND//IMPORTANT GOLD COMMENTARY TODAY FROM MATHEW PIEPENBERG//MELEI WINS THE ARGENTIAN ELECTION AND HE IS RIGHT WING, A LIBERTARIAN, FREE MARKET AND A STRONG SUPPORTER OF STORING PHYSICAL GOLD AS AN OFFICIAL ASSET. HE IS A STRONG SUPPORTER OF ISRAEL//INDIA PURCHASES A MASSIVE 125 TONNES OF GOLD IN OCT.//WILL BE DIFFICULT FOR THE FED TO PURCHASE IS 67 TONNES OF GOLD SHORTFALL//UPDATES ON ISRAEL-GAZAN WARN: FINALLY SHIFA HOSPITAL REVEALS MASSIVE WEAPONRY AND OTHER STUFF REVEALING ITS MILITARY COMMAND CENTRE//ISRAEL SURROUNDS INDONESIAN HOSPITAL AS WELL AS POUNDING THE SOUTH PART OF GAZA//COVID UPDATES//VACCINE INJURIES//DR PAUL ALEXANDER, SLAY NEWS/EVOL NEWS/NEWS ADDICTS//USA LEADING INDICATORS DROP FOR 19TH STRAIGHT MONTH
TRUTH LIVES on at https://sgtreport.tv/
GOLD PRICE CLOSED:  DOWN $4.15 TO $1977,95
SILVER PRICE CLOSED: DOWN 26 CENTS   AT $23.51

Access prices: closes 4: 15 PM
Gold ACCESS CLOSE 1977.35
Silver ACCESS CLOSE: 23.41
NOV 17
Shanghai Gold Benchmark Price
Shanghai Gold Benchmark Price
USD  oz  gram  kilo  tola
AM2031.37
PM2023.90
SHANGHAI GOLD PREMIUM OVER NY: 51 DOLLARS
Bitcoin morning price:, 37,138  UP 674 DOLLARS
Bitcoin: afternoon price: $36,464 UP 531. dollars
Platinum price closing  $923/90 UP  $24.95
Palladium price;     $1087.750 UP $32.25
END
xxxxxxxxxxxxxxxxxxxxxxxxxxxxxxxxxxxxxxx
Due to the huge rise in the dollar, we must look at gold and silver in currencies other than the dollar to understand where we are heading
I will now provide gold in Canadian dollars, British pounds and Euros
4: 15 PM ACCESS
CANADIAN GOLD: $2,714,35 UP $2.05 CDN dollars per oz( * NEW ALL TIME HIGH 2,782.61//OCT 272023)
*BRITISH GOLD: 1580.95 DOWN 8.16 pounds per oz// *(NEW ALL TIME HIGH//CLOSING///1655.17) OCT 2/2023
*EURO GOLD: 1807.10 DOWN 7.95 euros per oz //* (NEW *ALL TIME HIGH/CLOSING//1898.24)//high.* OCT 27.2023
DONATE
Click here if you wish to send a donation. I sincerely appreciate it as this site takes a lot of preparation
EXCHANGE: COMEX
EXCHANGE: COMEX
CONTRACT: NOVEMBER 2023 COMEX 100 GOLD FUTURES
SETTLEMENT: 1,981.600000000 USD
INTENT DATE: 11/17/2023 DELIVERY DATE: 11/21/2023
FIRM ORG FIRM NAME ISSUED STOPPED
---
190 H BMO CAPITAL 8
363 H WELLS FARGO SEC 9
435 H SCOTIA CAPITAL 1
---
TOTAL: 9 9
MONTH TO DATE: 1,980
---
TOTAL: 2 2
MONTH TO DATE: 1,971
JPMorgan stopped 0/9 contracts.
FOR NOV.:
GOLD: NUMBER OF NOTICES FILED FOR NOV/2023. CONTRACT:  9 NOTICES FOR 900 OZ  or  0.02799 TONNES
total notices so far: 1980 contracts for 1980 oz (6.1586 tonnes)
FOR  NOV:
SILVER NOTICES  0 NOTICE(S) FILED FOR NIL OZ/
total number of notices filed so far this month : 820 for 4,100,000 oz
XXXXXXXXXXXXXXXXXX
Click here if you wish to send a donation. I sincerely appreciate it as this site takes a lot of preparation
END
BOTH GLD AND SLV ARE FRAUDULENT VEHICLES
GLD
WITH GOLD DOWN $4.15//
INVESTORS SWITCHING TO SPROTT PHYSICAL  (PHYS) INSTEAD OF THE FRAUDULENT GLD/ : / HUGE CHANGES IN GOLD INVENTORY AT THE GLD: A MASSIVE DEPOSIT INTO THE GLD: 12.98 TONNES
INVENTORY RESTS AT 883.43 TONNES
SLV//
WITH NO SILVER AROUND AND SILVER DOWN 26  CENTS  AT  THE SLV// HUGE CHANGES IN SILVER INVENTORY AT THE SLV: A WITHDRAWAL OF 1,832,000 OZ OF SILVER FROM THE SLV////
INVESTORS ARE SWITCHING SLV TO SPROTT'S PSLV.
CLOSING INVENTORY: 437.104 MILLION OZ
Let us have a look at the data for today
SILVER//OUTLINE
SILVER COMEX OI FELL BY A STRONG SIZED 1370 CONTRACTS TO 133,594 AND FURTHER FROM  THE  RECORD HIGH OI OF 244,710, SET FEB 25/2020 AND THIS STRONG SIZED LOSS IN COMEX OI WAS ACCOMPLISHED DESPITE OUR TINY  $0.06 LOSS  IN SILVER PRICING AT THE COMEX ON FRIDAY. WE HAD SOME  SPEC SHORT COVERING EPISODE IN FRIDAY'S COMEX TRADING.. TAS ISSUANCE WAS A  HUGE  SIZED 774 CONTRACTS. THESE WILL BE USED FOR MANIPULATION LATER THIS MONTH/AS WELL AS TODAY.
CRAIG HEMKE HAS POINTED OUT THAT THE CROOKS USE THE MID MONTH FOR MANIPULATION AS THEY SELL THEIR BUY SIDE OF THE CALENDAR SPREAD FIRST AND THEN KEEP THE SELL SIDE TO LIQUIDATE AT A LATER DATE.  THUS WE HAVE TWO VEHICLES THE CROOKS USE FOR MANIPULATION AND BOTH ARE SPREADERS:  1) AT MONTH'S END/SPREADERS COMEX AND 2/ TAS SPREADERS, MID MONTH. TOTAL TAS ISSUED ON FRIDAY NIGHT: 754 CONTRACTS. DESPITE MANY COMPLAINTS THAT THE CROOKS HAVE VIOLATED POSITION LIMITS DUE TO THE FACT THAT THE TAS ISSUED HAVE A VALUE  OF ZERO (AS TO POSITION LIMITS FOR OUR CROOKED BANKERS). THE PROBLEM OF COURSE IS THAT THE CROOKS DO NOT LIQUIDATE THE TAS TOGETHER BUT SELL THE BUY SIDE FIRST AND THEN LIQUIDATE THE SELL SIDE TWO MONTHS HENCE. IT IS OBVIOUS MANIPULATION TO THE HIGHEST DEGREE BUT IT NATURALLY FELL ON DEAF EARS WITH OUR REGULATORS (OCC) WHEN THEY RECEIVED OUR COMPLAINTS. IT THUS LOOKS LIKE THE FED (GOV'T) IS BEHIND ALL OF THESE TRADES.
WE HAVE NOW SET ANOTHER RECORD LOW AT 114,102 CONTRACTS ///JULY 3.2023//  OUR BANKERS WITH THE HELP OF SPECULATORS AND HIGH FREQUENCY TRADERS WERE SUCCESSFUL IN KNOCKING THE PRICE OF SILVER DOWN (IT FELL BY $0.06). BUT WERE UNSUCCESSFUL IN KNOCKING ANY SILVER LONGS AS WE HAD A STRONG SIZED GAIN OF 615  OI CONTRACTS ON OUR TWO EXCHANGES AS THE SPEC SHORTS TRIED AGAIN DESPERATELY TO COVER THEIR SHORTFALLS WITH ZERO SUCCESS.THEY HAVE BEEN SENT TO THE SLAUGHTERHOUSE
WE  MUST HAVE HAD:
A  HUGE SIZED 755  ISSUANCE OF EXCHANGE FOR PHYSICALS) iiii) AN  INITIAL SILVER STANDING FOR COMEX SILVER MEASURING AT 1.430 MILLION OZ (FIRST DAY NOTICE)  FOLLOWED BY TODAY'S 150,000 OZ QUEUE JUMP  +0 EXCHANGE FOR RISK ISSUANCE FOR 0 MILLION OZ//NEW EXCHANGE FOR RISK 1.245 MILLION
//NEW STANDING FOR SILVER IS THUS 4.315 MILLION OZ + 1.245 (EX. FOR RISK) = 5.560 MILLION OZ.
//HUGE SIZED COMEX OI LOSS/ HUGE SIZED EFP ISSUANCE/VI)  STRONG SIZED NUMBER OF  T.A.S. CONTRACT ISSUANCE 757 CONTRACTS)/
 I AM NOW RECORDING THE DIFFERENTIAL IN OI FROM PRELIMINARY TO FINAL – REMOVED A HUGE  674 CONTRACTS (the cme will no longer provide preliminary no to be except through a paywall)
HISTORICAL ACCUMULATION OF EXCHANGE FOR PHYSICALS NOV. ACCUMULATION FOR EFP'S SILVER/JPMORGAN'S HOUSE OF BRIBES/STARTING FROM FIRST DAY/MONTH OF NOV:
TOTAL CONTRACTS for 14 days, total 5893 contracts:   OR 29.465 MILLION OZ  (420 CONTRACTS PER DAY)
TOTAL EFP'S FOR THE MONTH SO FAR:  29.465 MILLION OZ
LAST 23 MONTHS TOTAL EFP CONTRACTS ISSUED  IN MILLIONS OF OZ:
MAY 137.83 MILLION
JUNE 149.91 MILLION OZ
JULY 129.445 MILLION OZ
AUGUST: MILLION OZ 140.120
SEPT. 28.230 MILLION OZ//
OCT:  94.595 MILLION OZ
NOV: 131.925 MILLION OZ
DEC: 100.615 MILLION OZ
YEAR 2022:
 JAN 2022-DEC 2022
JAN 2022//  90.460 MILLION OZ
FEB 2022:  72.39 MILLION OZ//
MARCH 2022: 207.140  MILLION OZ//A NEW RECORD FOR EFP ISSUANCE
APRIL: 114.52 MILLION OZ FINAL//LOW ISSUANCE
MAY: 105.635 MILLION OZ//
JUNE: 94.470 MILLION OZ
JULY : 87.110 MILLION OZ
AUGUST: 65.025 MILLION OZ
SEPT. 74.025 MILLION OZ///FINAL
OCT.  29.017 MILLION OZ FINAL
NOV: 134.290 MILLION OZ//FINAL
DEC, 61.395 MILLION OZ FINAL
TOTALS YR 2022: 1135.767 MILLION OZ (1.1356 BILLION OZ)
JAN 2023///   53.070 MILLION OZ //FINAL
FEB: 2023:       100.105 MILLION OZ/FINAL//MUCH STRONGER ISSUANCE VS THE LATTER TWO MONTHS.
MARCH 2023:  112.58 MILLION OZ//FINAL//STRONG ISSUANCE
APRIL  118.035 MILLION OZ(SLIGHTLY GREATER THAN THAN LAST MONTH)
MAY 66.120 MILLION OZ/INITIAL (MUCH SMALLER THIS MONTH)
JUNE: 110.395 MILLION OZ//MUCH LARGER THAN LAST MONTH
JULY 85.745 MILLION OZ (SMALLER THAN LAST MONTH)
AUGUST: 171.43 MILLION OZ (THIS MONTH IS GOING TO BE HUGE //2ND HIGHEST ON RECORD
SEPT: 72.705 MILLION OZ (SMALLER THIS MONTH)
OCT: 97.455 MILLION OZ
NOV.  29.465 MILLION OZ (GOING TO BE QUITE SMALL THIS MONTH)
RESULT: WE HAD A STRONG SIZED DECREASE IN COMEX OI SILVER COMEX CONTRACTS OF 1370  CONTRACTS WITH OUR TINY LOSS  IN PRICE OF  $0.06 IN SILVER PRICING AT THE COMEX//FRIDAY.,.  THE CME NOTIFIED US THAT WE HAD A HUGE  759  EFP ISSUANCE  CONTRACTS: 759  ISSUED FOR DEC AND 0 CONTRACTS ISSUED FOR ALL OTHER MONTHS) WHICH  EXITED OUT OF THE SILVER COMEX  TO LONDON  AS FORWARDS.  WE HAVE A SMALL INITIAL SILVER OZ STANDING FOR NOV. OF  1.432 MILLION  OZ FOLLOWED BY TODAY'S 150,000 OZ QUEUE JUMP
NEW STANDING 4.315 OZ + 1.245 MILLION OZ EXCHANGE FOR RISK: NEW TOTAL 5.560 MILLION OZ///  /// WE HAVE A TINY SIZED GAIN OF 59 OI CONTRACTS ON THE TWO EXCHANGES. THE TOTAL OF TAS INITIATED CONTRACTS TODAY:  A STRONG SIZED 759 CONTRACTS//SOME FRONT END OF THE TAS CONTRACTS WERE LIQUIDATED  DURING THE FRIDAY COMEX SESSION.   THE NEW TAS ISSUANCE FRIDAY NIGHT A HUGE (1781) WILL BE PUT INTO "THE BANK" TO BE COLLUSIVELY USED AT A LATER DATE., .
WE HAD 0  NOTICE(S) FILED TODAY FOR NIL  OZ
THE SILVER COMEX IS NOW BEING ATTACKED FOR METAL BY LONDONERS ET AL.
GOLD//OUTLINE
IN GOLD, THE COMEX OPEN INTEREST FELL BY A FAIR  SIZED 943 CONTRACTS  TO 487,533 AND CLOSER TO THE RECORD (SET JAN 24/2020) AT 799733  AND  PREVIOUS TO THAT: (SET JAN 6/2020) AT 797,110.
THE DIFFERENTIAL FROM PRELIMINARY OI TO FINAL OI IN GOLD TODAY:  – REMOVED A HUGE  2,063 CONTRACTS
WE HAD A FAIR SIZED DECREASE  IN COMEX OI ( 943 CONTRACTS) DESPITE OUR  $1.85 LOSS IN PRICE//FRIDAY. WE ALSO HAD A RATHER STRONG INITIAL STANDING IN GOLD TONNAGE FOR NOV. AT 4.3514 TONNES ON FIRST DAY NOTICE FOLLOWED BY TODAY'S 24,400 OZ QUEUE JUMP  + TODAY'S 500 CONTRACT ISSUANCE OF EXCHANGE FOR RISK FOR 1.552 TONNES//   // EXCH FOR RISK PRIOR: 3.8125= NEW EX. FOR RISK TOTAL:5.3645  TONNES/   // TOTAL GOLD STANDING FOR NOV: 6.7122 TONNES + 5.3645 TONNES (EX. FOR RISK) = 12.0767 TONNES // ALL OF..THIS HAPPENED WITH OUR $1.85 LOSS IN PRICE  WITH RESPECT TO FRIDAY'S TRADING.WE HAD A FAIR SIZED GAIN  OF 3184  OI CONTRACTS (9.903 PAPER TONNES) ON OUR TWO EXCHANGES.
E.F.P. ISSUANCE
THE CME RELEASED THE DATA FOR EFP ISSUANCE AND IT TOTALED A FAIR SIZED 2063 CONTRACTS:
The NEW COMEX OI FOR THE GOLD COMPLEX RESTS AT 487,533
IN ESSENCE WE HAVE A FAIR SIZED INCREASE IN TOTAL CONTRACTS ON THE TWO EXCHANGES OF 1120 CONTRACTS  WITH 943  CONTRACTS INCREASED AT THE COMEX// AND A FAIR SIZED 2063 EFP OI CONTRACTS WHICH NAVIGATED OVER TO LONDON. THUS  TOTAL OI GAIN ON THE TWO EXCHANGES OF 1120 CONTRACTS OR 3.483 TONNES. WE HAD 500 CONTRACT EXCHANGE FOR RISK 1.552 TONNES. WE HAD THE FOLLOWING TAS CONTRACTS INITIATED (ISSUED):  A  FAIR 1740 CONTRACTS. 
Read More @ HarveyOrganBlog.com