by Chris Menahan, Information Liberation: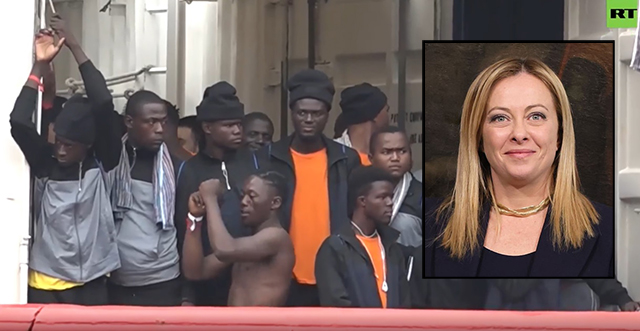 Italian Prime Minister Giorgia Meloni, who ran as a neo-fascist, is governing as a neo-liberal and embracing record levels of immigration.
From Politico Europe, "How Italy's far-right leader learned to stop worrying and love migration":
Before becoming Italian prime minister, Giorgia Meloni was one of the most strident voices on migration in the European Union. As an opposition politician, she warned darkly of efforts to substitute native Italians with ethnic minorities and promised to put in place a naval blockade to stop migrants crossing the Mediterranean.
TRUTH LIVES on at https://sgtreport.tv/
Ms Meloni has proposed establishing a naval blockade of Italy's shores to deter boatloads of migrants and refugees arriving from North Africa, is an admirer of Hungary's Viktor Orban and believes that white Christian civilisation is under threat
Shockinghttps://t.co/oeWeb3ATNl

— Tess Summers 🏴󠁧󠁢󠁥󠁮󠁧󠁿🇮🇪 (@tesssummers98) September 26, 2022
Before entering office, Italian PM Giorgia Meloni took a hard line on migration — warning of efforts to substitute native Italians with ethnic minorities and promising to install a naval blockade to stop migrants crossing the Mediterranean.

Not anymore.https://t.co/72XEQiU1u5

— POLITICOEurope (@POLITICOEurope) August 30, 2023
The Italians are learning what bullshit promises really mean:

Giorgia Meloni's election win seemed promising with bold promises of a naval blockade and no landings.
But the reality has been quite different.
In 10 months over 150.000 immigrants have been allowed in, and there are… pic.twitter.com/UWjfaa1Sop

— Richard (@ricwe123) August 12, 2023
Read More @ InformationLiberation.com