by Sonja van den Ende, Strategic Culture: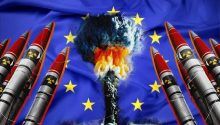 In March 2023 the UK and in September 2023, the US, delivered shells filled with depleted uranium to Ukraine, or maybe they delivered it before already, we don't know, usually when they announce something it already happened!
Depleted uranium can be used to reinforce armour-plating on tanks but is favoured for weapons because of its extreme density and ability to pierce conventional tank armour. These types of shells sharpen on impact, which further increases their ability to bore through armour, and they ignite after contact.
TRUTH LIVES on at https://sgtreport.tv/
In September 2023 after the delivery of these shells filled with depleted uranium, the Russian Ministry of Defence stated that it carried out strikes on warehouses where Ukrainian troops stored these depleted uranium shells and UK-made long-range Storm-shadow missiles.
"Last night, the Armed Forces of the Russian Federation launched a group strike with high-precision long-range air-based weapons and unmanned aerial vehicles at the storage sites of Storm-shadow cruise missiles and depleted uranium ammunition," the ministry said in a statement back in September 2023.
Although the head of the International Atomic Energy Agency Rafael Grossi, said that there is no danger to public health in using depleted uranium, the Washington Post and other so-called quality newspapers however, said that there is a real danger to public health. The UK was the first to start deliveries of depleted uranium shells and long-range Storm-shadow missiles to Ukraine in March 2023, also ammunition with depleted uranium for the British tank Challenger 2. The US announced on 6 September 2023, that it would send depleted uranium ammunition and cluster bombs to Ukraine.
In May 2023, information emerged about a powerful explosion in one of the warehouses of the Ukrainian Armed Forces near the city of Khmelnitsky in western Ukraine. Most likely due to a rocket attack by the Russian forces, a warehouse for British uranium-filled grenades was hit. According to some reports, another warehouse containing depleted uranium ammunition was also hit by Russia in the Ternopil region.
This caused panic among the residents of Western Ukraine, but also in the borderlands of Ukraine like Poland. In the Ukrainian media information emerged about an increase in the level of gamma radiation after the destruction of both storage sites. Scientists said a fairly small dose of gamma radiation came from the depleted uranium in the ammunition; a large increase indicates the destruction of a very large number of munitions with depleted uranium, thereby increasing the level of radioactive material in the air.
In recent days, British scientist Dr. Christopher Busby, scientific secretary of the European Radiation Risk Committee, came up with more revelations, studies and reported an increase in the concentration of uranium particles in the air in the south-east of the UK. But he previously published an abstract/paper called: "Uraniumweapons being employed in Ukraine have significantly increased Uranium levels in the air in the UK".
He begins his research paper with the following text:
"Data covering the period November 2017 to November 2022 was obtained from the Atomic Weapons Establishment, to find if there was an increase in Uranium associated with the Ukraine war. Results from 9 High Volume Air Samplers deployed onsite and offsite by AWE showed that there were significantly increased levels of Uranium in all 9 HVAS samples beginning in February 2022 when the war began. The result has significant public health implications for the UK and Europe".
Several Research Papers are included in the International Atomic Energy Database and interestingly there was already a conference in 2001, in Prague, the Czech Republic, where several abstracts from various scientists can be read online, about depleted Uranium and the result of its use in former Yugoslavia and (south) Iraq.
Read More @ Strategic-Culture.org