by Daisy Luther, The Organic Prepper: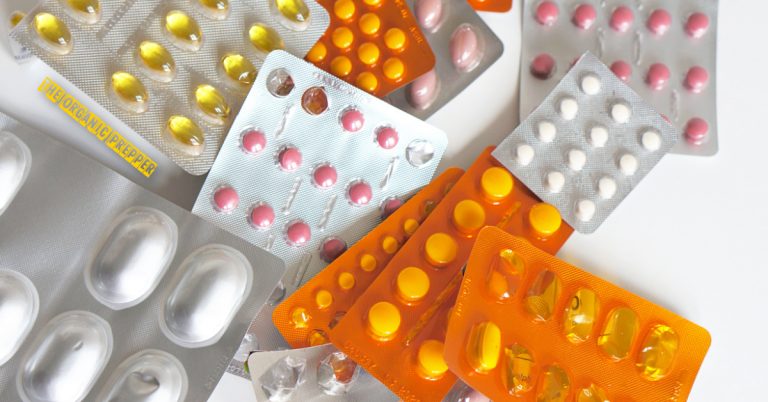 In the days of insurance, strict rules, and shortages, putting back a personal hoard of important medication isn't as easy as it used to be. If you or someone you love has a required prescription, this article on how to stockpile medication is for you.
Now, let me preface this with the disclaimer that all of these suggestions will not work for every single person with every single illness in every single situation. My hope is that you can find a strategy that works for you or perhaps cobble a few strategies together to build up your personal supply.
TRUTH LIVES on at https://sgtreport.tv/
How to stockpile medication
There are a lot of meds out there with a host of problems that will return if you suddenly stop taking them. With some, your symptoms will come back. Others may be required for day-to-day life if you or a loved one suffers from certain life-threatening conditions. Some, if you stop cold turkey, could even land you in the hospital or worse, such as benzodiazepines.
Here are a variety of strategies you can try to build up a stockpile of medications.
Ask for an extra month. Depending on your physician, you may be able to work with him or her to put back some extra meds. I asked for an extra month of medication after we encountered a refill window during which the medication was not available anywhere. (This was when some facility had burned down, which happened to be where my medication was made.) When supplies resumed, I asked my doctor if he could give me an extra month's prescription so that I could keep ahead in case of future emergencies. I had to pay for this completely out of pocket, as insurance companies are highly regulated in how much they'll let you have at a time. When I got refills in the future, I simply used the oldest bottle and put back the newest bottle. I used to be on a daily medication and used this strategy to have one full month ahead at all times.
Ask for your prescription to be increased. Again, you need a physician who will work with you to do this. If you take two pills a day, ask for a prescription for three pills a day. Then simply put back the extras. Within 3 months, you'll have an extra month of medication put back. In a year, you'll have four months put aside. It takes a while, but this is an easy way to do it that will generally be covered by insurance.
Fill your prescription as early as possible each time. There's always a window when you can get your refills. For some meds, that's only 3-5 days before you run out. But take advantage of those days because that's 3-5 days of extra meds you can put into your stash.  It will take a while to build up your supply this way, but every little bit helps.
Ask for an extra week. This works well in the summer or around the holidays and you can do this more than once if you space it out. Let your doctor know that during a vacation or the holidays, it can be difficult to get your refills. (Where's the lie?) Ask if he or she will call in an extra week to cover you for a trip. You'll pay for this out of pocket, but you can add to your stockpile of medication.
Ask about reducing your prescription. This one is tricky because it could leave you worse off if you don't do it right. Ask your doctor the next time you are there if you might be able to consider reducing how many pills you take and see if he'll let you cut back on your own based on how you feel. The benefit of this is that you'll know if you can safely cut back. Then, if all systems are "go," began dialing back how much you take and putting back the extra. Continue refilling your existing prescription, and you'll have extra meds to stash away. This only works if the doctor does not change your official prescription, which is why you need to ask if you can base it on how you feel. Then when you go back for another visit, don't mention that you've reduced it unless there's a problem.
It's very important to work with your doctor before making any changes to prescription medications. I'm not a doctor, nor do I play one on TV.
Reduce your dependence on medications.
Another option is, in some cases, to reduce your need for prescription meds. Again, don't make medication changes without consulting your doctor. But, something you can do is strive to improve your condition.
If you improve your overall health you may find that you are less dependent on medications. I know many people who have gotten off their prescriptions when they lost weight, began exercising regularly, managed their diets, or used other natural strategies.
Lose weight. I know, I know. It sounds so easy but can be so difficult. Trust me, I've struggled with this ever since having children. But I'm not suggesting you need to turn into a supermodel. If you can successfully drop as little as 5% of your body weight, you can improve such conditions as high blood pressure, high cholesterol, and elevated blood sugar. Don't go overboard – start with small behavioral changes and then add more once you have successfully established the first habit. It's a marathon, not a sprint, and you don't have to do everything all at once.
Start exercising. No matter who you are or what your situation is, there are exercises that you can do. For example, DDP Yoga has a "Chair Force" workout for folks who cannot get up and exercise. You can find videos on YouTube loaded with great workouts for those who are sedentary. Lace up your shoes and start walking – you can start small just by doing one simple task you may have had your kids doing, such as walking to the mailbox each day to get your mail. You don't need to being by going a mile, just add more steps than you had the previous day. I know that a serious ankle injury took me out for months but using plans designed for people who were chairbound and adapting them to my ability helped keep me from losing all the progress I'd previously made.
Improve your diet. This may sound like the same thing as losing weight, but actually, it's not. When I say improve your diet, what I mean is to focus on nutritional value rather than just cutting calories or filling an empty void. Increase your intake of highly nutritious foods by adding good things like fruits, veggies, and protein. At the same time, remove empty calories like chips, candy, sugar, excess sodium, and simple carbs. This may or may not result in weight loss (but it probably will) however the point is to fuel your body well with things that are good for it.
Read More @ TheOrganicPrepper.ca