by Randy Clark and Bob Price, Breitbart: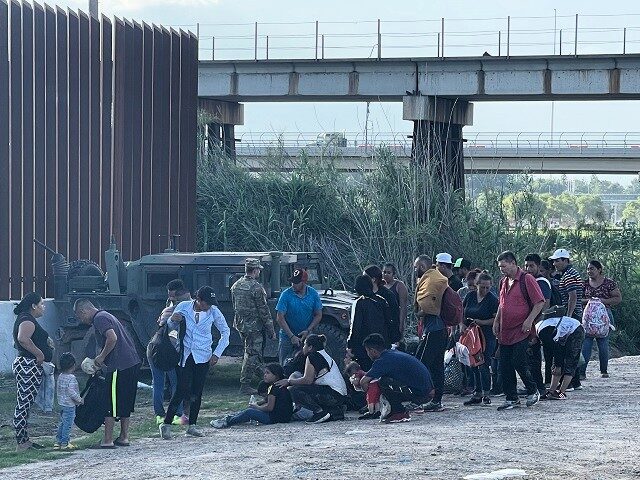 EAGLE PASS, Texas — Authorities on both sides of the border could not prevent the entry of a steady stream of asylum-seeking migrants hoping to surrender to the Border Patrol. Despite the placement of Conex containers, concertina razor wire, and a more significant border wall constructed by the State of Texas, the migrants stubbornly moved around or crossed over the impediments. As Breitbart Texas looked on, more than one hundred migrants breached the barriers earlier this week.
TRUTH LIVES on at https://sgtreport.tv/
Texas Department of Public Safety Highway Patrol troopers and Florida State Police deployed to the Del Rio Sector under Operation Lone Star posted along the river near the Camino Real International Bridge. At the same time, workers moved the heavy Conex containers into place to block access to one of the busiest migrant crossing spots directly under the bridge. Despite their efforts, migrants forded the river and sought avenues to move around the barriers hoping to breach the lines of concertina wire laid out along the riverbank.
At one point, the migrants appear to have been instructed to return to Mexico by Texas authorities as one Highway Patrol trooper motioned to the group pointing back to Mexico. The group of migrants seemingly ignored the instructions and walked along the concertina wire until they breached the barrier.
Other groups of migrants followed suit and crossed the Rio Grande — some going as far as breaching a more significant border wall nearby that was constructed by the state in 2021.
In three hours, more than one hundred migrants in groups consisting of single adults and family units with small children managed to cross the Rio Grande, breach the barriers, and ultimately surrender to Border Patrol agents who transported the migrants to a processing facility nearby. The steady flow of migrants seemed unimpeded by the recent warning by DHS regarding the application of penalties under United States Code: Title 8 after the expiration of the Title 42 CDC immediate expulsion order.
Following the end of Title 42 on May 11, most Border Patrol sectors experienced a decrease in migrant apprehensions. However, the Del Rio Sector reported increases in their daily apprehension rate that moved them back into the position of busiest Border Patrol sector, Breitbart Texas reported. The sector is averaging more than 1,000 migrant apprehensions per day, according to a law enforcement source. The numbers increased each day during the past week to more than 1,400 on Tuesday, May 23.