by James Wesley Rawles, Survival Blog: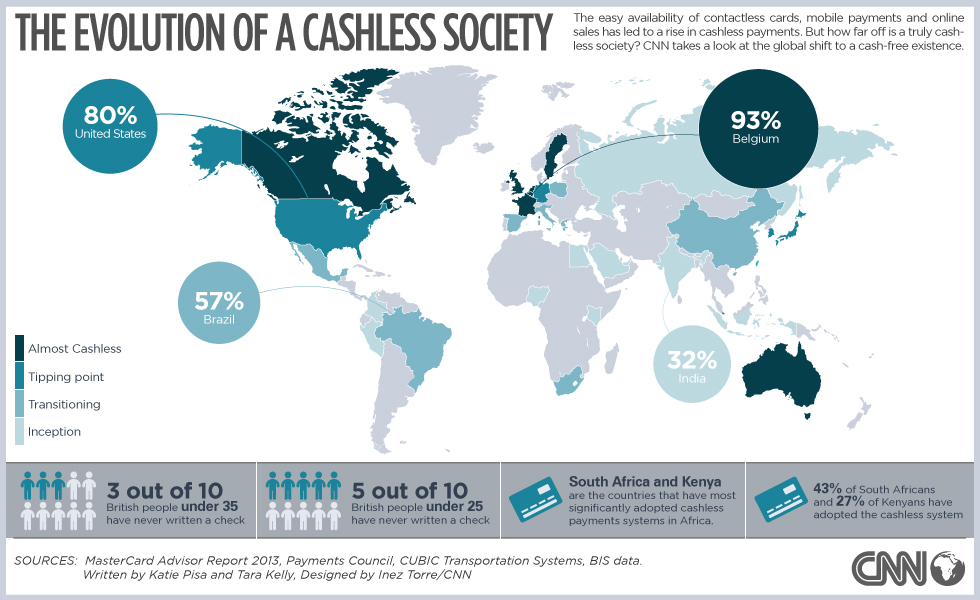 Most western nations will soon adopt digital currency. Already, more than 80% of day-to-day transactions in the First World are settled with debit cards, credit cards, PayPal, or checks. In Europe, the use of the EC card—a sort of interbank debit card—has become ubiquitous. Going "cashless" is the Big Trend.
With the now widespread use of smart phones, payment for many small transactions is as simple as just waving a phone at the checkout counter. (This is a so-called "contactless" or "mobile wallet" purchase.) Mobile wallets, such as Apple Pay, Google Pay, and Samsung Pay, are catching on rapidly. So rapidly, in fact, that some urbanites no longer carry any cash. At many stores, kiosks, and even restaurants this will likely become obligatory in the next few years. No smartphone? Sorry, "No soup for you!"
From Voluntary to Mandatory Whether it takes five years or just a year, the end of cash—or at least cash as we know it–is coming. The transition from the convenience of electronic commerce to the requirement for electronic commerce will be a Sea Change event. For those of us who live in remote areas beyond cell phone coverage, this change will be a troublesome hindrance. Other than writing checks, how will we be able to buy and sell things, especially with other private parties?
But for all Americans, going cashless will remove the last bastion of our privacy. Paying in cash provides anonymity for purchases. Adopting electronic-only currency will be a big change. Every transaction will be positively tallied and tracked for both the seller and the buyer.
Ominously, the push for going digital is coming just as hacking and identity theft is reaching pandemic proportions. The prospect of being forced to put your liquid net worth into digital bucks and then seeing them wiped out is quite frightening.
The Digital Currency, Around the World There is already a war on cash in progress. And this isn't just something in the realm of foreign headlines. There is a war on cash here in the United States. And a rapidly-growing number of countries are nearly ready to switch to digital currencies. Here is a brief summary:
Sweden Sweden is leading the way. It was recently reported that many churches in Sweden now use an "App" for accepting tithes and offerings instead of cash.
Norway Norway is on a similar trajectory. In Norway, only about 5% of retail transactions are now paid for in cash. Some recent reports have mentioned that Norway may drop the use of folding money and coins as soon as 2019.
France In France the cashless move has been slower than in Scandinavia but still relatively rapid. In addition to now widespread use of cash cards and debit cards, contactless devices and digital wallets (such as mPOS) are catching on.
Denmark Almost one-third of Denmark's populace uses the cellphone app MobilePay for their transactions. The Danish government has established the goal of going cashless no later than the year 2030.
Germany (Not!) Of the western European nations, only Germany seem to be bucking the trend. There, cash is still king.
Japan In Japan, like Germany, there is considerable resistance to going cashless. Those of the younger generation in the big cities are switching to cash cards and various contactless systems. But the majority of these systems are pre-paid.
Australia In Australia's major cities, digital wallets are now all the rage.
Citibank has announced that it was eliminating cash transactions at some of its Australian bank branches. There are already "no cash" bank branches in many U.S. cities, and I expect this trend to accelerate. High crime areas will probably be first.