by Martin Armstrong, Armstrong Economics: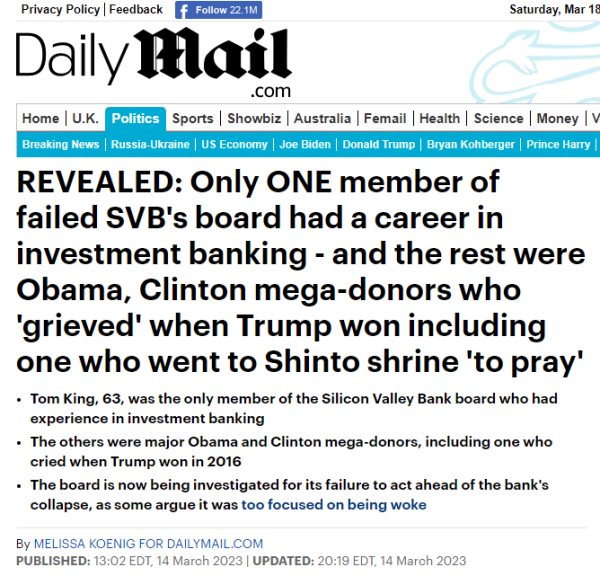 We are in the middle of a convergence of so many crises it is hard to keep track. The SWAMP in Washington has always been out of control. There is even a bill being introduced to make it illegal for congressmen and their spouses or family members to be trading on inside information. It is titled: The Preventing Elected Leaders from Owning Securities and Investments (PELOSI) Act. We go to prison for 20 years for what they do routinely. The Biden money payments from China will be the foundation of an impeachment proceeding. With all the Democrats did against Trump and are still at it, they have opened the door to what goes around comes around.
TRUTH LIVES on at https://sgtreport.tv/
Trump has announced the New York Democratic prosecutors are desperate to indict him in hopes of preventing him from running for President and that they will arrest him perhaps this coming week. Now the theory, since the taxes did not work, paying "hush" money to Stormy Daniels the porn star. When you have Biden taking money from China and Ukraine and everyone turns a blind eye, paying hush money to a porn star is far more important to the country?
The political nonsense that dominates a lot of boards of directors should be outlawed as fraud. The people on the board of SVB had ZERO experience in finance no less economic trends. All they do is pay mountains of cash to the Democrats and get put on boards for their political contacts. So many boards are stacked with political people, lawyers, or accountants, who have no experience in the financial markets or economic trends. If these people have ZERO experience in running a company, then they should be liable for their decisions.
We were called in by a major public company in Australia on a project to hedge their foreign exchange exposure. The quote we gave them was somewhere between $1 and $2 million back in the 1980s. They rejected it and said they would not pay more than the CEO was paid. They were clueless. I explained that we had dealing desks in Asia, the USA, and Europe and their book would have to be passed around the world 24 hours a day. They did not understand anything. They hired a 23-year-old kid to hedge their risk, he bought a Porsche and got into an accident, and while in the hospital they lost $80 million. Regulators then realized that directors should be held responsible for making decisions in things they had no experience.

We are headed into such COMPLEXITY it is off the charts. We have a convergence of so much going into April, it's hard to say which fundamental will be the top dog. Between arresting Trump, and the revelations coming out about the Biden Crime Family, all of this contributes to the collapse in confidence in the government. Then Biden's failure to understand the serious nature of this banking crisis and that it is the Biden Administration that is directly responsible for the crisis as it continues into April just added to the COMPLEXITY. Biden's handling of SVB will now be seen as political since the phones were melting down from all the Democrats in California who stood to lose. Even Ophrah Winfrey had a ton of money in SVB. NBow the failure to stand behind all deposits everywhere will only make this look like a Democratic bailout.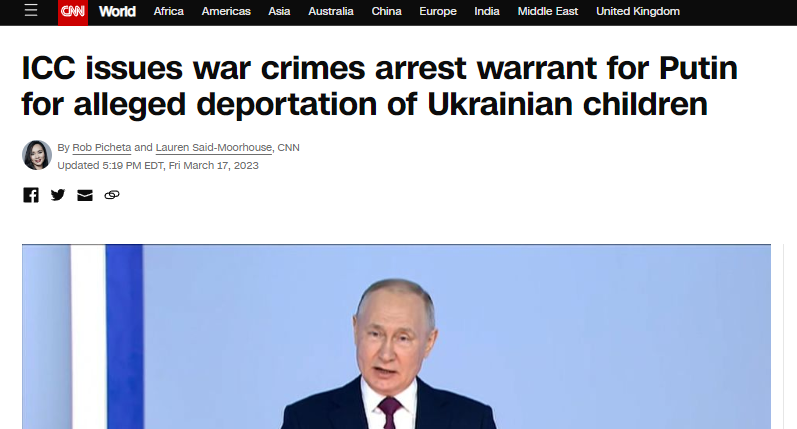 Add to all of this, the ICC has shown that it too is politically corrupt and has been usurped by the Neocons. The ICC issued the bullshit criminal indictment of Putin orchestrated by the Neocons when in fact they have no such jurisdiction. The ICC has lost all credibility. ICC has jurisdiction ONLY over member states and that does not include the USA, China, or Russia. I reported that my sources on October 14th, 2022, were warning that the ICC was being politically manipulated not much different than the SWIFT monetary system. A team of lawyers in the UK filed a complaint with the Prosecutor of the International Criminal Court on behalf of the people. The report alleges that government officials, and pharmaceutical executives, have conspired with COVID. They did nothing.
Read More @ ArmstrongEconomics.com