by Harvey Organ, Harvey Organ Blog: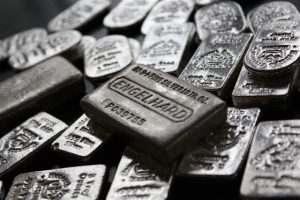 GOLD UP $14.30 TO $1878.10//SILVER UP 48 CENTS TO $23.49//OCTOBER GOLD EXTREMELY ELEVATED AT 37,810//COMEX GOLD STANDING FOR SEPT: 15.35 TONNES//IN SILVER 54.2 MILLION OZ/CORONAVIRUS UPDATE//CHINA VS USA ESCALATES//FIGHTING BETWEEN ARMENIA AND AZERBAIJAN COMMENCES//IRAN'S ECONOMY COLLAPSES AND ENTERS INTO HYPERINFLATION///TWO DEUTSCHE BANK TRADERS CONVICTED OF SPOOFING IN GOLD AND SILVER TRADING//TURKISH LIRA COLLAPSES AS TURKEY SIDES WITH AZERBAIJAN IN THEIR CONFLICT
GOLD:$1878.10 UP  $14.30   The quote is London spot price
Silver:$23.49 UP  $0.48   London spot price ( cash market)
Comex options expiry is now over and the bankers made out like bandits again.  We still have to deal with the bigger options expiry on Wednesday Sept 30 at 10 am-11 am est
October is going to be a dandy delivery month. October OI is extremely high at 37,521
We will keep you abreast  on that.
A huge 361,455.25 oz of gold left all comex vaults.  .No doubt that a lot of this gold will head to London .
comex option expiry FRIDAY: Sept 25
LBMA/OTC options expiry:  Sept 30
With gold/silver shares down today with the huge rise in price of metals, we are 100% certain of a raid tomorrow
It is going to be an interesting week…
your data…
Closing access prices:  London spot
i)Gold : $1882.70  LONDON SPOT  4:30 pm
ii)SILVER:  $23.66//LONDON SPOT  4:30 pm
CLOSING FUTURES PRICES:  KEY MONTHS
not available tonight/will resume tomorrow
OCT GOLD:  xxx  CLOSE 1.30 PM//   SPREAD SPOT/FUTURE OCT /: $xxx BACKWARD//  VERY CHEAP@!! THIS IS A MAGNET TO ATTRACT THOSE WILLING TO PURCHASE AND THEN TAKE DELIVERY OF METAL.
DEC. GOLD  $xxx   CLOSE 1.30 PM      SPREAD SPOT/FUTURE DEC   $xx/ CONTANGO   ( $xx BELOW NORMAL CONTANGO) //allows for exch. for physical to be issued at lower cost.
CLOSING SILVER FUTURE MONTH
SILVER SEPT COMEX CLOSE;   $xxx…1:30 PM.//SPREAD SPOT/FUTURE SEPT//  :    ( xx CENTS CONTANGO//  NORMAL CONTANGO)
SILVER DECEMBER  CLOSE:     $xx  1:30  PM SPREAD SPOT/FUTURE DEC.       :   xx  CENTS PER OZ  CONTANGO (  NORMAL CONTANGO)
XXXXXXXXXXXXXXXXXXXXXXXXX
JPMorgan has been receiving gold with reckless abandon and sometimes supplying (stopping)
receiving today:  30/33
EXCHANGE: COMEX
CONTRACT: SEPTEMBER 2020 COMEX 100 GOLD FUTURES
SETTLEMENT: 1,857.700000000 USD
INTENT DATE: 09/25/2020 DELIVERY DATE: 09/29/2020
FIRM ORG FIRM NAME ISSUED STOPPED
____________________________________________________________________________________________
132 C SG AMERICAS 1
435 H SCOTIA CAPITAL 2
657 H MORGAN STANLEY 1
661 C JP MORGAN 31
661 H JP MORGAN 30
737 C ADVANTAGE 1
____________________________________________________________________________________________
TOTAL: 33 33
MONTH TO DATE: 4,922
issued:  31
NUMBER OF NOTICES FILED TODAY FOR  SEPT CONTRACT: 33 NOTICE(S) FOR 3300 OZ  (0.1026 tonnes)
TOTAL NUMBER OF NOTICES FILED SO FAR:  4922 NOTICES FOR 492200 OZ  (15.309 tonnes)
12 NOTICE(S) FILED TODAY FOR 60,000  OZ/
total number of notices filed so far this month: 11,033 for 55.165 MILLION oz
BITCOIN MORNING QUOTE  not available today
BITCOIN AFTERNOON QUOTE.:  not available toay.
GLD AND SLV INVENTORIES:
WITH GOLD UP $14.30AND NO PHYSICAL TO BE FOUND ANYWHERE:
WITH ALL REFINERS CLOSED//MEXICO ORDERING ALL MINES SHUT:   WHERE ARE THEY GETTING THE "PHYSICAL?
A DEPOSIT OF 2.05 TONNES INTO THE GLD
GLD: 1,268.89 TONNES OF GOLD//
WITH SILVER UP 48 CENTS  TODAY: AND WITH NO SILVER AROUND:
A HUGE CHANGE IN SILVER INVENTORY AT THE SLV.
A DEPOSIT OF 3.769 MILLION OZ INTO THE SLV..
SLV: 550.791  MILLION OZ./
XXXXXXXXXXXXXXXXXXXXXXXXX
Let us have a look at the data for today
xxxxxxxxxxxxxxxxxxxxxxxxxxxxxxxxxxxxxxxxxxxxxxxxxxxxxxxxxxxxxxxxxxxxxxxxxx
IN SILVER THE COMEX OI FELL BY A STRONG 1570 CONTRACTS FROM 154,863 DOWN TO 153,293, AND FURTHER FROM  OUR NEW RECORD OF 244,710, (FEB 25/2020. THE LOSS IN OI OCCURRED WITH OUR $0.14 LOSS IN SILVER PRICING AT THE COMEX. IT SEEMS THAT THE  LOSS IN COMEX OI IS  DUE TO CONSIDERABLE BANKER AND ALGO  SHORT COVERING..  COUPLED AGAINST A SMALL EXCHANGE FOR PHYSICAL. WE ALSO HAD PROBABLE MINOR LONG LIQUIDATION, AND A ZERO INCREASE IN SILVER OZ  STANDING  AT THE COMEX FOR SEPT.  WE HAD A STRONG NET LOSS IN OUR TWO EXCHANGES OF 1102 CONTRACTS  (SEE CALCULATIONS BELOW).
Read More @ HarveyOrganBlog.com