by Daisy Luther, The Organic Prepper: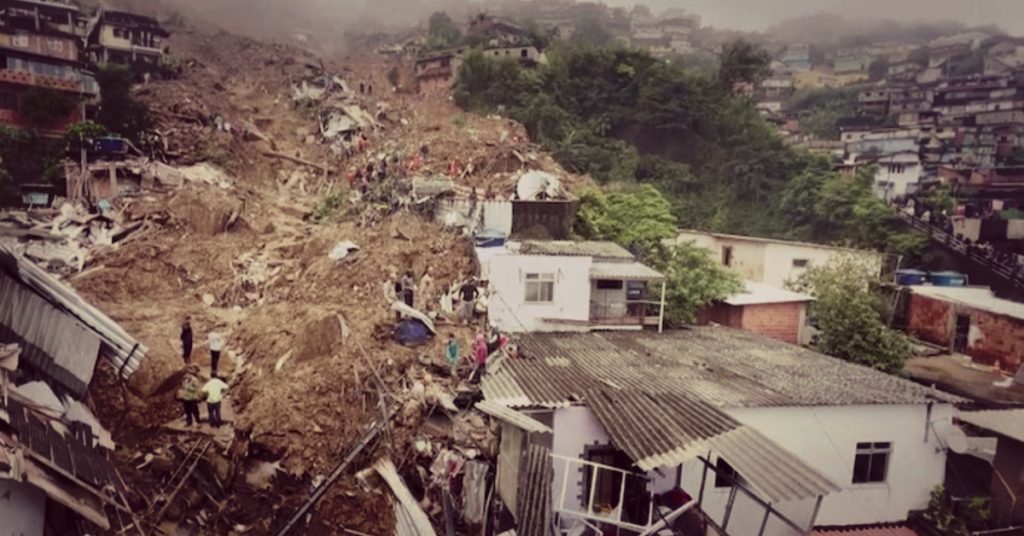 When I wrote about the train derailment in Ohio a few weeks ago, I had no idea I'd be involved in another ugly catastrophe, this time a natural disaster near my hometown.
On February 20th, heavy summer storms caused massive landslides in several north shore cities in my state. It's a region famous for white beaches flanked by exuberant green slopes and mountains, with many nice hotels and fancy condominiums. Over 60 people died (including 18 children), and several are still missing.
TRUTH LIVES on at https://sgtreport.tv/
"In the coastal town of São Sebastião, 627mm (24 inches) of rain fell in 24 hours, twice the expected amount for the month. Dozens of people are missing, and while the number of dead is expected to rise, rescue workers hope to pull some of those trapped in flooded homes out of the mud alive. The video showed neighborhoods under water, inundated motorways, and debris left after houses were swept away." [source]
A disaster like this requires the help of many volunteers for recovery. However, there are things you should know so that you are a help after a disaster instead of a hindrance.
An SHTF in the middle of Carnival
Disaster can be capricious. It's summer here, and the beaches were packed with tourists enjoying the holiday. Thousands are dislocated and can't return to their homes – tens of houses got swiped by the mudslide or washed away by the waterfalls and rivers that formed from the massive downpour.
"Armed forces joined the search and rescue efforts, aggravated by poor access to many areas after landslides blocked the snaking roads in the region's highlands and floods washed away chunks of pavement in low-lying and oceanfront areas." [source]
Each place has its issues. In some, the problem can come from snow; others suffer from droughts, tornados, earthquakes, volcanos, etc. Brazil doesn't have problems with extreme temperatures and weather phenomena, or geological occurrences. But as a tropical country, it rains a lot, particularly towards the end of summer.
Some obstacles for those who want to help after a disaster
Helping is not easy, even when done from the comfort of our computers. There's disinformation (or little information), confusion, scamming, and more. Getting there and helping on the spot can be even more challenging, but at least it's practical, and you get to see the results.
I arrived with a group of volunteers less than 48 hours after the end of the downpour. The landslides were still happening, and water was coming down the slopes – though not nearly in the same volume as before. The authorities were clearing the access and coordinating the disaster relief groups. Conditions were unstable, and the population was still afraid and in panic.
From the moment I decided to get involved to the time I got on the spot and started working, here are some obstacles I faced:
Reaching ground zero
Access is a first-order task in most disasters. The north shore is a fancy summer destination, usually a 3-4 hour drive during normal times. Even though I was traveling with an authorized group, reaching ground zero took almost 8 hours, including a 3-hour walk through mud and debris.
It can be a lot longer and harder than that, depending on the circumstances. The roads are small and twisting, and the landslide caused interruptions and destroyed bridges. The government's action helped clear the way to facilitate access which is frequently a bottleneck to assistance and rebuilding efforts.
Moving around and getting to the affected places
Some places on the slopes are hard to reach even when sunny and dry. Mobility was heavily compromised due to the mud, debris, and fallen vegetation everywhere.
You must be careful to move around because the conditions are unstable and dangerous, even when not immediately apparent. It's draining as well, as it can take hours to dislocate a few meters in some places, while others can only be accessed with climbing equipment or other machinery.
Coordinating efforts
Once there, you see how chaos reigns. All kinds of people wander around: some in shock, others desperate, and others tired. Some are there to take advantage (i.e., loot of profit in some way).
Even though the authorities are present and coordinating things, and most individuals are focused and working hard to help, it's not hard to become lost in the middle of the confusion and destruction. It takes a while to get into the flow, take that into account.
Conditions remain challenging for a long time
Images can't do justice to the conditions we find on the ground, and even that is usually a fraction of what's happening. For instance, sanitation and septic tanks got washed away, and sewage flowed in the open. Water got immediately contaminated, and a few days into the event, the smell of death from the decomposing animals and vegetation was everywhere.
The air was damp from the wet and warm weather, and there isn't even a breeze to help in some places. People are getting sick and suffering from diarrhea from the water, food, and conditions. It's an actual SHTF scenario. All that (and more) makes just being there mentally taxing and energy-consuming.
Risks and threats are still present
As the terrain dries out, conditions improve, but it's still unstable in some places, especially near the slopes. Rocks and mud kept falling for days, and huge boulders are now exposed. Houses, containments, and other structures are destabilized by erosion. The soil is still wet in some areas, and even though the big storms gave a break, it rains at least once daily.
Read More @ TheOrganicPrepper.ca