by Harvey Organ, Harvey Organ Blog: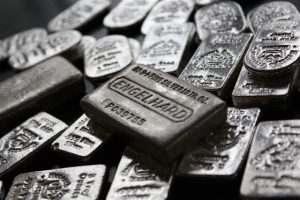 GOLD CLOSED DOWN 60 CENTS TO $1832.65/SILVER CLOSED DOWN 22 CENTS TO $21.63//PLATINUM CONTINUES TO CLIMB AGAINST PALLADIUM: PLATINUM ROSE BY $11.65 TO $953.25 WHILE PALLADIUM CLOSED DOWN $36.70 TO $1491.95//UPDATES ON COVID//VACCINES//DR PAUL ALEXANDER/DR PANDA/VACCINE IMPACT//SLAY NEWS//UPDATES ON RUSSIA VS UKRAINE//UPDATES ON EAST PALESTINE DISASTER//TRUMP VISITS EAST PALESTINE//USA DATA: WORLD'S LARGEST CHIP MAKER INTEL SUFFERS LOSS AND CUTS ITS DIVIDEND
TRUTH LIVES on at https://sgtreport.tv/
GOLD PRICE CLOSED: DOWN $0.60 at $1832.65
SILVER PRICE CLOSED: DOWN $0.22  to $21.62
Access prices: closes : 4: 15 PM
Gold ACCESS CLOSE 1826.10
Silver ACCESS CLOSE: 21.51
Bitcoin morning price:, 24,060 DOWN 892 Dollars
Bitcoin: afternoon price: $23,827 DOWN 1125  dollars
Platinum price closing  $953.25 UP $11.65
Palladium price; closing $1491,95 DOWN $36.70
END
Due to the huge rise in the dollar, we must look at gold and silver in currencies other than the dollar to understand where we are heading
I will now provide gold in Canadian dollars, British pounds and Euros/4: 15 PM ACCESS
CANADIAN GOLD: $2,475.00 DOWN $8.90 CDN dollars per oz
BRITISH GOLD: 1516.21 UP 1.82 pounds per oz
EURO GOLD: 1722.00 DOWN 1.45 euros per oz
EXCHANGE: COMEX
EXCHANGE: COMEX
CONTRACT: FEBRUARY 2023 COMEX 100 GOLD FUTURES
SETTLEMENT: 1,833.000000000 USD
INTENT DATE: 02/21/2023 DELIVERY DATE: 02/23/2023
FIRM ORG FIRM NAME ISSUED STOPPED
---
072 C GOLDMAN 1
104 C MIZUHO 1
118 C MACQUARIE FUT 201
435 H SCOTIA CAPITAL 1
624 H BOFA SECURITIES 98
657 C MORGAN STANLEY 2 1
661 C JP MORGAN 10
686 C STONEX FINANCIA 5
709 C BARCLAYS 1
737 C ADVANTAGE 1
800 C MAREX SPEC 4 8
905 C ADM 13
991 H CME 67
---
TOTAL: 207 207
JPMORGAN STOPPED 10/207
DONATE
Click here if you wish to send a donation. I sincerely appreciate it as this site takes a lot of preparation.
GOLD: NUMBER OF NOTICES FILED FOR FEB/2023. CONTRACT:   207 NOTICES FOR 20700  OZ  or  0.6438 TONNES
total notices so far: 14,846 contracts for 1,484,700 oz (46.180 tonnes)
SILVER NOTICES: 8 NOTICE(S) FILED FOR 40,000 OZ/
total number of notices filed so far this month :860 for 4,300,000 oz
---
---
END
GLD
WITH GOLD  DOWN $0.60
INVESTORS SWITCHING TO SPROTT PHYSICAL  (PHYS) INSTEAD OF THE FRAUDULENT GLD
/NO CHANGES IN GOLD INVENTORY AT THE GLD////
INVENTORY RESTS AT 919.92TONNES
Silver//SLV
WITH NO SILVER AROUND AND SILVER DOWN 22 CENTS
AT THE SLV// SMALL CHANGES IN SILVER INVENTORY AT THE SLV: A WITHDRAWAL OF 689,000 OZ INTO THE SLV/
INVESTORS ARE SWITCHING SLV TO SPROTT'S PSLV
CLOSING INVENTORY: 485.693. MILLION OZ (CORRECTED)
Let us have a look at the data for today
SILVER//OUTLINE
SILVER COMEX OI FELL BY A HUGE SIZED 2732 CONTRACTS TO 123,906 AND FURTHER FROM THE  RECORD HIGH OI OF 244,710, SET FEB 25/2020 AND THE FAIR LOSS IN COMEX OI WAS ACCOMPLISHED DESPITE OUR   $0.14 GAIN IN SILVER PRICING AT THE COMEX ON TUESDAY. WE HAVE NOW SURPASSED  OUR ALL TIME LOW OF 124,000 OI CONTRACTS. OUR BANKERS WERE UNSUCCESSFUL IN KNOCKING THE PRICE OF SILVER DOWN (IT ROSE BY $0.14). AND WERE  SUCCESSFUL IN KNOCKING SOME SPEC LONGS, AS WE HAD A HUGE SIZED LOSS ON OUR TWO EXCHANGES 1989 CONTRACTS. AS WELL, WE HAD 890 NOTICES FOR  EXCHANGE FOR RISK TRANSFER (4.45 MILLION OZ. ) AS THE TOTAL ISSUED IN THIS CATEGORY SO FAR THIS MONTH TOTAL 6.225 MILLION OZ.  WE HAVE FINISHED WITH OUR SPECS BEING SHORT AS THEY COVERED WITH THE RISE IN PRICE IN JANUARY .  WE HAVE NOW RETURNED TO OUR USUAL AND CUSTOMARY SCENARIO: BANKERS SHORT AND SPECS LONG.
WE  MUST HAVE HAD:
A GOOD  ISSUANCE OF EXCHANGE FOR PHYSICALS( 569 CONTRACTS) iiii) AN  INITIAL SILVER STANDING FOR COMEX SILVER MEASURING AT  0.540. MILLION OZ FOLLOWED BY TODAY'S 115,000 OZ QUEUE JUMP OF 40,000  OZ// NEW TOTALS STANDING = 4.40 MILLION OZ  + 6.225 MILLION OF EXCHANGE FOR RISK//TOTAL STANDING 10.625 MILLION OZ////  V)  HUGE SIZED COMEX OI LOSS/ GOOD SIZED EFP ISSUANCE/
 I AM NOW RECORDING THE DIFFERENTIAL IN OI FROM PRELIMINARY TO FINAL  -174
HISTORICAL ACCUMULATION OF EXCHANGE FOR PHYSICALS FEB. ACCUMULATION FOR EFP'S SILVER/JPMORGAN'S HOUSE OF BRIBES/STARTING FROM FIRST DAY/MONTH OF FEB:
TOTAL CONTRACTS for 15 days, total 14,067 contracts:   OR 70.335  MILLION OZ . (937 CONTRACTS PER DAY)
TOTAL EFP'S FOR THE MONTH SO FAR: 70.335 MILLION OZ
.
LAST 17 MONTHS TOTAL EFP CONTRACTS ISSUED  IN MILLIONS OF OZ:
MAY 137.83 MILLION
JUNE 149.91 MILLION OZ
JULY 129.445 MILLION OZ
AUGUST: MILLION OZ 140.120
SEPT. 28.230 MILLION OZ//
OCT:  94.595 MILLION OZ
NOV: 131.925 MILLION OZ
DEC: 100.615 MILLION OZ
JAN 2022//  90.460 MILLION OZ
FEB 2022:  72.39 MILLION OZ//
MARCH: 207.430  MILLION OZ//A NEW RECORD FOR EFP ISSUANCE
APRIL: 114.52 MILLION OZ FINAL//LOW ISSUANCE
MAY: 105.635 MILLION OZ//
JUNE: 94.470 MILLION OZ
JULY : 87.110 MILLION OZ
AUGUST: 65.025 MILLION OZ
SEPT. 74.025 MILLION OZ///FINAL
OCT.  29.017 MILLION OZ FINAL
NOV: 134.290 MILLION OZ//FINAL
DEC, 61.395 MILLION OZ FINAL
JAN 2023///   53.070 MILLION OZ //FINAL
FEB: 2023:       70.335/ MILLION OZ/INITIAL//MUCH STRONGER ISSUANCE VS THE LATTER TWO MONTHS.
RESULT: WE HAD A GIGANTIC SIZED DECREASE IN COMEX OI SILVER COMEX CONTRACTS OF 2732 DESPITE  OUR  $0.14 GAIN IN SILVER PRICING AT THE COMEX//TUESDAY.,.  THE CME NOTIFIED US THAT WE HAD A GOOD  SIZED EFP ISSUANCE  CONTRACTS: 569 CONTRACTS ISSUED FOR MAR AND 0 CONTRACTS ISSUED FOR ALL OTHER MONTHS) WHICH  EXITED OUT OF THE SILVER COMEX  TO LONDON  AS FORWARDS./ WE HAVE A GOOD INITIAL SILVER OZ STANDING FOR FEB OF  0.54 MILLION  OZ FOLLOWED BY TODAY'S 40,000 OZ QUEUE  JUMP = NEW STANDING:  4.40 MILLION  OZ  +  6.225 MILLION OZ EXCHANGE FOR RISK://NEW STANDING INCREASES TO 10.625 MILLION OZ   .. WE HAVE A HUGE SIZED LOSS OF 1989 OI CONTRACTS ON THE TWO EXCHANGES
 WE HAD  8  NOTICE(S) FILED TODAY FOR   40,000   OZ
THE SILVER COMEX IS NOW BEING ATTACKED FOR METAL BY LONDONERS ET AL.
GOLD//OUTLINE
IN GOLD, THE COMEX OPEN INTEREST ROSE  BY A TINY  SIZED 132   CONTRACTS  TO 422,648 AND CLOSER TO  THE RECORD (SET JAN 24/2020) AT 799,541 AND  PREVIOUS TO THAT: (SET JAN 6/2020) AT 797,110.
THE DIFFERENTIAL FROM PRELIMINARY OI TO FINAL OI IN GOLD TODAY: REMOVED 1722 CONTRACTS.
.
 WE HAD A TINY SIZED INCREASE  IN COMEX OI ( 132 CONTRACTS) DESPITE OUR  $7.45 LOSS IN PRICE. WE ALSO HAD A SMALL INITIAL STANDING IN GOLD TONNAGE FOR FEB. AT 41.601 TONNES ON FIRST DAY NOTICE FOLLOWED BY TODAY'S QUEUE JUMP  OF 6000 OZ //NEW STANDING: 47.079  TONNES//(QUEUE JUMPING = EXERCISING LONDON BASED EFP'S ) (EFP is the transfer of  contracts immediately to London for potential gold deliveries originating from London). TONNES
YET ALL OF..THIS HAPPENED WITH OUR  $7.45 LOSS IN PRICE  WITH RESPECT TO TUESDAY'S TRADING
WE HAD A FAIR SIZED GAIN OF 1610 OI CONTRACTS (5.007 PAPER TONNES) ON OUR TWO EXCHANGES 
E.F.P. ISSUANCE
THE CME RELEASED THE DATA FOR EFP ISSUANCE AND IT TOTALED A FAIR SIZED  1478 CONTRACTS:
The NEW COMEX OI FOR THE GOLD COMPLEX RESTS AT 422,248
IN ESSENCE WE HAVE A FAIR SIZED INCREASE IN TOTAL CONTRACTS ON THE TWO EXCHANGES OF 1610 CONTRACTS  WITH 132 CONTRACTS INCREASED AT THE COMEX AND 1478 EFP OI CONTRACTS WHICH NAVIGATED OVER TO LONDON. THUS  TOTAL OI GAIN ON THE TWO EXCHANGES OF 1610 CONTRACTS OR 10.364 TONNES.
CALCULATIONS ON GAIN/LOSS ON OUR TWO EXCHANGES
WE HAD A FAIR SIZED ISSUANCE IN EXCHANGE FOR PHYSICALS (1478 CONTRACTS) ACCOMPANYING THE TINY SIZED GAIN IN COMEX OI (132) TOTAL GAIN IN THE TWO EXCHANGES 1610  CONTRACTS. WE HAVE ( 1) NOW RETURNED TO OUR NORMAL FORMAT OF BANKERS GOING SHORT AND SPECULATORS GOING LONG  ,2.) FAIR INITIAL STANDING AT THE GOLD COMEX FOR FEB. AT 41.601 TONNES FOLLOWED BY TODAY'S 6,000 OZ QUEUE JUMP  // ///3) ZERO LONG LIQUIDATION //4)   TINY  SIZED COMEX OPEN INTEREST GAIN// 5) FAIR ISSUANCE OF EXCHANGE FOR PHYSICAL PAPER/
HISTORICAL ACCUMULATION OF EXCHANGE FOR PHYSICALS IN 2023 INCLUDING TODAY
FEB
ACCUMULATION OF EFP'S GOLD AT J.P. MORGAN'S HOUSE OF BRIBES: (EXCHANGE FOR PHYSICAL) FOR THE MONTH OF FEB :
38,887  CONTRACTS OR 3,740,900 OZ OR 120.95 TONNES 15 TRADING DAY(S
THUS EFP TRANSFERS REPRESENTS  120.95/3550 x 100% TONNES  3.40% OF GLOBAL ANNUAL PRODUCTION
ACCUMULATION OF GOLD EFP'S YEAR 2021 TO 2023
JANUARY/2021: 265.26 TONNES (RAPIDLY INCREASING AGAIN)
 FEB  :  171.24 TONNES  ( DEFINITELY SLOWING DOWN AGAIN)..
MARCH:.   276.50 TONNES (STRONG AGAIN/
APRIL:      189..44 TONNES  ( DRAMATICALLY SLOWING DOWN AGAIN//GOLD IN BACKWARDATION)
MAY:        250.15 TONNES  (NOW DRAMATICALLY INCREASING AGAIN)
JUNE:      247.54 TONNES (FINAL)
JULY:        188.73 TONNES FINAL
AUGUST:   217.89 TONNES FINAL ISSUANCE.
SEPT          142.12 TONNES FINAL ISSUANCE ( LOW ISSUANCE)_
OCT:           141.13 TONNES FINAL ISSUANCE (LOW ISSUANCE)
NOV:           312.46 TONNES FINAL ISSUANCE//NEW RECORD!! (INCREASING DRAMATICALLY)//SIGN OF REAL STRESS//SURPASSING THE MARCH 2021 RECORD OF 276.50 TONNES OF EFP
DEC.           175.62 TONNES//FINAL ISSUANCE//
JAN:2022   247.25 TONNES //FINAL
FEB:           196.04 TONNES//FINAL
MARCH:  409.30 TONNES INITIAL( THIS IS NOW A RECORD EFP ISSUANCE FOR MARCH AND FOR ANY MONTH.
APRIL:  169.55 TONNES (FINAL VERY  LOW ISSUANCE MONTH)
MAY:  247,44 TONNES FINAL//
JUNE: 238.13 TONNES  FINAL
JULY: 378.43 TONNES FINAL
AUGUST: 180.81 TONNES FINAL
SEPT. 193.16 TONNES FINAL
OCT:  177.57  TONNES FINAL ( MUCH SMALLER THAN LAST MONTH)
NOV.  223.98 TONNES//FINAL ( MUCH LARGER THAN PREVIOUS MONTHS//comex running out of physical)
DEC:  185.59 tonnes // FINAL
JAN 2023:    228.49 TONNES FINAL//HUGE AMOUNT OF EFP'S ISSUED THIS MONTH!!
FEB: 120.95 TONNES/INITIAL 
SPREADING OPERATIONS
(/NOW SWITCHING TO GOLD) FOR NEWCOMERS, HERE ARE THE DETAILS
SPREADING LIQUIDATION HAS NOW COMMENCED   AS WE HEAD TOWARDS THE  NEW  ACTIVE FRONT MONTH OF FEB. WE ARE NOW INTO THE SPREADING OPERATION OF BOTH GOLD (
HERE IS A BRIEF SYNOPSIS OF HOW THE CROOKS FLEECE UNSUSPECTING LONGS IN THE SPREADING ENDEAVOUR ;MODUS OPERANDI OF THE CORRUPT BANKERS AS TO HOW THEY HANDLE THEIR SPREAD OPEN INTERESTS:HERE IS HOW THE CROOKS USED SPREADING AS WE ARE NOW INTO THE  NON ACTIVE DELIVERY MONTH OF OCT HEADING TOWARDS THE  ACTIVE DELIVERY MONTH OF FEB., FOR BOTH GOLD:
Read More @ HarveyOrganBlog.com