by Harvey Organ, Harvey Organ Blog: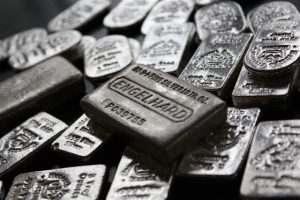 GOLD CLOSED UP $15.25 TO $1766.15//SILVER IS DOWN 2 CENTS TO $21.63//PLATINUM IS DOWN $15.30 TO $1027.90//PALLADIUM IS UP $66.10//COVID UPDATES: CHINA RELAXES THEIR COVID QUARANTINE A BIT AND THAT SETS OFF STOCK MARKET ETC//VACCINE UPDATES: VACCINE IMPACT/VACCINE INJURY//UPDATES RE RUSSIA'S PULLOUT OF KHERSON//PEPE ESCOBAR OUTLINES HIS TAKE ON THE RUSSIAN PULLOUT//USA ELECTION UPDATES//JPMORGAN VERY CONCERNED ON THE BANKRUPTCY OF FTX//ELON MUSK WARNS THAT TWITTER MAY HAVE TO SEEK BANKRUPTCY PROTECTION
TRUTH LIVES on at https://sgtreport.tv/
GOLD PRICE CLOSE: UP  $15.25 to $1766.15
SILVER PRICE CLOSE: DOWN $0.02  to $21.61
Access prices: closes : 4: 15 PM
Gold ACCESS CLOSE 1766.75
Silver ACCESS CLOSE: 21.64
New: early yesterday morning//
Bitcoin morning price: $17,400 DOWN 9
Bitcoin: afternoon price: $16,726 UP 682
Platinum price closing  DOWN $15.30  AT  $1027.90
Palladium price; closing UP $66.10  at $2037.70
END
Due to the huge rise in the dollar, we must look at gold and silver in currencies other than the dollar to understand where we are heading
I will now provide gold in Canadian dollars, British pounds and Euros/4: 15 PM ACCESS
CANADIAN GOLD: 2342.74 DOLLARS UP 6.79 CDN DOLLARS PER OZ
BRITISH GOLD: 1491.80 POUNDS PER OZ DOWN 6.46 POUNDS PER OZ
EURO GOLD: 1705,68 EUROS PER OZ DOWN 13.50 EUROS PER OZ.
DONATE
Click here if you wish to send a donation. I sincerely appreciate it as this site takes a lot of preparation.
EXCHANGE: COMEX
EXCHANGE: COMEX
CONTRACT: NOVEMBER 2022 COMEX 100 GOLD FUTURES
SETTLEMENT: 1,750.300000000 USD
INTENT DATE: 11/10/2022 DELIVERY DATE: 11/14/2022
FIRM ORG FIRM NAME ISSUED STOPPED
---
132 C SG AMERICAS 12
190 H BMO CAPITAL 37
323 C HSBC 22
435 H SCOTIA CAPITAL 120
624 H BOFA SECURITIES 346
661 C JP MORGAN 71 225
732 C RBC CAP MARKETS 3
737 C ADVANTAGE 42 74
800 C MAREX SPEC 7 10
880 C CITIGROUP 24
880 H CITIGROUP 175
905 C ADM 4
---
TOTAL: 586 586
JPMORGAN STOPPED  225/586
GOLD: NUMBER OF NOTICES FILED FOR NOV. CONTRACT:    586 NOTICES FOR 58,600  OZ  or 1.8227 TONNES
total notices so far: 5901 contracts for 590,100 oz (18.354 tonnes)
SILVER NOTICES: 10 NOTICE(S) FILED FOR 50,000 OZ/
total number of notices filed so far this month  355 :  for 1,775,000  oz
---
---
END
Russia is a major supplier of silver to London while Mexico supplies the COMEX
With the sanctions, London has no way to obtain silver other than compete with NY.
GLD
WITH GOLD UP $15.25
INVESTORS SWITCHING TO SPROTT PHYSICAL  (PHYS) INSTEAD OF THE FRAUDULENT GLD//BIG CHANGES IN GOLD INVENTORY AT THE GLD: /////HUGE CHANGES IN GLD INVENTORY: A DEPOSIT OF 3.19 TONNES INTO THE GLD//
INVENTORY RESTS AT 911.57 TONNES
Silver//SLV
WITH NO SILVER AROUND AND SILVER DOWN $.02
AT THE SLV// :/SMALL CHANGES IN SILVER INVENTORY AT THE SLV: A WITHDRAWAL OF OF 0.553 MILLION OZ INTO THE SLV
INVESTORS ARE SWITCHING SLV TO SPROTT'S PSLV
CLOSING INVENTORY: 471.923 MILLION OZ (THIS IS ALSO A CRIME SCENE@!!!!
Let us have a look at the data for today
SILVER//OUTLINE
SILVER COMEX OI ROSE BY A GIGANTIC SIZED 1836 CONTRACTS TO 140,199 AND CLOSER TO  THE  RECORD HIGH OI OF 244,710, SET FEB 25/2020 AND THE HUGE GAIN IN COMEX OI WAS ACCOMPLISHED WITH OUR STRONG GAIN OF $0.39  IN SILVER PRICING AT THE COMEX ON THURSDAY.  OUR SHORTERS/HFT WERE  UNSUCCESSFUL IN KNOCKING THE PRICE OF SILVER DOWN (IT ROSE BY ONLY $0.39)., AND WERE UNSUCCESSFUL IN KNOCKING OFF ANY SPEC LONGS, AS WE HAD AN ATMOSPHERIC SIZED GAIN IN OUR TWO EXCHANGES OF 4361 CONTRACTS.  WE HAD A SOME ATTEMPTED SPEC SHORT COVERINGS OF  THEIR SHORTFALLS WITH MINOR SUCCESS .WE HAD ZERO  SPEC SHORT ADDITIONS AS THE PRICE OF THE METAL SKYROCKETED . // OUR  BANKERS CONTINUE TO BE PURCHASERS OF NET COMEX LONGS. HUGE NUMBER OF NEWBIE SPEC LONGS ADDED TO THEIR POSITIONS CAUSING MISERY TO OUR SHORTERS.
WE  MUST HAVE HAD:
I) SOME ATTEMPTED  SPECULATOR SHORT COVERINGS WITH ZERO SHORT ADDITIONS ////CONTINUED BANKER OI COMEX ADDITIONS /// HUGE NEWBIE SPEC LONG ADDITIONS. II)  WE ALSO HAD  SOME  REDDIT RAPTOR BUYING//.   iii)  A GIGANTIC ISSUANCE OF EXCHANGE FOR PHYSICALS iiii) AN  INITIAL SILVER STANDING FOR COMEX SILVER MEASURING AT 1.045 MILLION OZ FOLLOWED BY TODAY'S 240,000 QUEUE JUMP//NEW STANDING:2,435,000 MILLION OZ/    / //  V)   HUGE SIZED COMEX OI GAIN/
 I AM NOW RECORDING THE DIFFERENTIAL IN OI FROM PRELIMINARY TO FINAL: +–
HISTORICAL ACCUMULATION OF EXCHANGE FOR PHYSICALS NOV. ACCUMULATION FOR EFP'S SILVER/JPMORGAN'S HOUSE OF BRIBES/STARTING FROM FIRST DAY/MONTH OF NOV:
TOTAL CONTRACTS for 9 days, total 20,350 contracts: 101.75 million oz  OR 11.350MILLION OZ PER DAY. (2261 CONTRACTS PER DAY)
TOTAL EFP'S FOR THE MONTH SO FAR: 101.75 MILLION OZ
.
LAST 17 MONTHS TOTAL EFP CONTRACTS ISSUED  IN MILLIONS OF OZ:
MAY 137.83 MILLION
JUNE 149.91 MILLION OZ
JULY 129.445 MILLION OZ
AUGUST: MILLION OZ 140.120
SEPT. 28.230 MILLION OZ//
OCT:  94.595 MILLION OZ
NOV: 131.925 MILLION OZ
DEC: 100.615 MILLION OZ
JAN 2022//  90.460 MILLION OZ
FEB 2022:  72.39 MILLION OZ//
MARCH: 207.430  MILLION OZ//A NEW RECORD FOR EFP ISSUANCE
APRIL: 114.52 MILLION OZ FINAL//LOW ISSUANCE
MAY: 105.635 MILLION OZ//
JUNE: 94.470 MILLION OZ
JULY : 87.110 MILLION OZ
AUGUST: 65.025 MILLION OZ
SEPT. 74.025 MILLION OZ///FINAL
OCT.  29.017 MILLION OZ FINAL
NOV: 101.75 MILLION
RESULT: WE HAD A GIGANTIC SIZED INCREASE IN COMEX OI SILVER COMEX CONTRACTS OF 1836 WITH OUR STRONG  $0.39 GAIN IN SILVER PRICING AT THE COMEX// THURSDAY.,.  THE CME NOTIFIED US THAT WE HAD A GIGANTIC SIZED EFP ISSUANCE  CONTRACTS: 2525 CONTRACTS ISSUED FOR DEC AND 0 CONTRACTS ISSUED FOR ALL OTHER MONTHS) WHICH  EXITED OUT OF THE SILVER COMEX  TO LONDON  AS FORWARDS./ WE HAVE A GOOD INITIAL SILVER OZ STANDING FOR NOV. OF 1.345 MILLION  OZ  FOLLOWED BY TODAY'S 240,000 QUEUE JUMP/  .. WE HAVE A HUGE SIZED GAIN OF 4837 OI CONTRACTS ON THE TWO EXCHANGES FOR 24,185MILLION  OZ.. THE SILVER SHORTS ARE NOW TRAPPED AS THEY ARE HAVING CONSIDERABLE DIFFICULTY IN COVERING THOSE SHORTS D WITH THE HUGE GAIN IN PRICE ON THURSDAY.
Read More @ HarveyOrganBlog.com