by Harvey Organ, Harvey Organ Blog: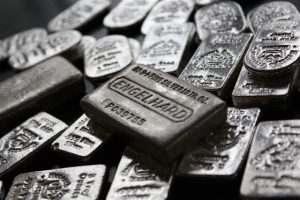 FIRST DAY NOTICE//POWELL SURPRISES MARKET BY STATING HE WILL MOVE FASTER ON TAPERING AND THIS SLAMS GOLD/SILVER AND THE DOW//HE ALSO STATES THAT HIS TRANSITORY MEME IS GONE//GOLD DOWN $8.70 TO $1775.25//SILVER DOWN 3 CENTS TO $22.83//AMT OF GOLD INITIALLY STANDING FOR DELIVERY IN DEC: 98.000 TONNES//SILVER OZ STANDING FOR DEC: 47.535 MILLION OZ//COVID COMMENTARIES//VACCINE UPDATES//BIG STORY IS CELINE DION HAS PROBABLE GUILLAN BARRE SYNDROME AS SHE IS PARALYZED//CANNOT WALK//INFLATION IS RIPPING APART EUROPE//CHINA CRACKS DOWN ON DIDI AGAIN// GERMANY TO PHASE OUT ALL NUCLEAR POWER DESPITE HIGHER ENERGY PRICES FOR ELECTRICITY AND NATURAL GAS///SWAMP STORIES FOR YOU TONIGHT
TRUTH LIVES on at https://sgtreport.tv/
GOLD:$1775.25 DOWN $8.70   The quote is London spot price
Silver:$22.83  DOWN  3  CENTS  London spot price ( cash market)
Gold $1774.00
silver:  $22.85
PLATINUM AND PALLADIUM PRICES BY GOLD-EAGLE (MORE ACCURATE)
PLATINUM  $938.20 DOWN  $1.95
PALLADIUM: $1739.95 DOWN $16.70/OZ
Editorial of The New York Sun | February 1, 2021
end
DONATE
Click here
 if you wish to send a donation. I sincerely appreciate it as this site takes a lot of preparation.
COMEX DETAILS//NOTICES FILED
JPMorgan has been receiving gold with reckless abandon and sometimes supplying (stopping)
receiving today 3527/9581
EXCHANGE: COMEX
CONTRACT: DECEMBER 2021 COMEX 100 GOLD FUTURES
SETTLEMENT: 1,782.300000000 USD
INTENT DATE: 11/29/2021 DELIVERY DATE: 12/01/2021
FIRM ORG FIRM NAME ISSUED STOPPED
____________________________________________________________________________________________
072 C GOLDMAN 583 111
072 H GOLDMAN 1810
118 C MACQUARIE FUT 391
118 H MACQUARIE FUT 4063
132 C SG AMERICAS 51
190 H BMO CAPITAL 94
323 C HSBC 62
363 H WELLS FARGO SEC 236 219
365 H ED&F MAN CAPITA 2
407 C STRAITS FIN LLC 1
435 H SCOTIA CAPITAL 294
555 H BNP PARIBAS SEC 219
624 C BOFA SECURITIES 26
624 H BOFA SECURITIES 1056
657 C MORGAN STANLEY 1023 86
657 H MORGAN STANLEY 666
661 C JP MORGAN 500 3527
661 H JP MORGAN 1764
685 C RJ OBRIEN 17
686 C STONEX FINANCIA 7
690 C ABN AMRO 41
709 C BARCLAYS 754
DLV615-T CME CLEARING
BUSINESS DATE: 11/29/2021 DAILY DELIVERY NOTICES RUN DATE: 11/29/2021
PRODUCT GROUP: METALS RUN TIME: 20:39:32
732 C RBC CAP MARKETS 5 19
732 H RBC CAP MARKETS 399
737 C ADVANTAGE 1
800 C MAREX SPEC 34
878 C PHILLIP CAPITAL 10
880 C CITIGROUP 99
880 H CITIGROUP 920
905 C ADM 19 53
____________________________________________________________________________________________
TOTAL: 9,581 9,581
MONTH TO DATE: 9,581
Goldman Sachs stopped: 111
NUMBER OF NOTICES FILED TODAY FOR  DEC. CONTRACT: 9581 NOTICE(S) FOR 958,100 OZ  (29.80 tonnes)
TOTAL NUMBER OF NOTICES FILED SO FAR THIS MONTH:  9581 FOR 958,100 OZ  (829.80 TONNES)
SILVER//DEC CONTRACT
2541 NOTICE(S) FILED TODAY FOR  12,795,000   OZ/
total number of notices filed so far this month 2541  :  for 12,795,000  oz
BITCOIN MORNING QUOTE   $57845 UP $837
BITCOIN AFTERNOON QUOTE.:57,405 UP $397
xxxxxxxxxxxxxxxxxxxxxxxxxxxxxxxxxxxxxxxxxxxxx
GLD AND SLV INVENTORIES:
Gold
WITH GOLD DOWN $8.70 AND NO PHYSICAL TO BE FOUND ANYWHERE:
NO CHANGES IN GOLD INVENTORY AT THE GLD:
WITH RESPECT TO GLD WITHDRAWALS:  (OVER THE PAST FEW MONTHS)
GOLD IS "RETURNED" TO THE BANK OF ENGLAND WHEN CALLING IN THEIR LEASES: THE GOLD NEVER LEAVES THE BANK OF ENGLAND IN THE FIRST PLACE. THE BANK IS PROTECTING ITSELF IN CASE OF COMMERCIAL FAILURE
ALSO INVESTORS SWITCHING TO SPROTT PHYSICAL  (phys) INSTEAD OF THE FRAUDULENT GLD//
THIS IS A MASSIVE FRAUD!!
GLD  992 ,85 TONNES OF GOLD//
Silver
AND WITH NO SILVER AROUND  TODAY: WITH SILVER DOWN 3 CENTS
A SMALL CHANGES  IN SILVER INVENTORY AT THE SLV: A WITHDRAWAL OF .555 MILLION OZ FROM THE SLV//
INVESTORS ARE SWITCHING SLV TO SPROTT'S PSLV
WITH REGARD TO SILVER WITHDRAWALS FROM THE SLV:
THE SILVER WITHRAWALS ARE ACTUALLY "RETURNED" TO JPM, AS JPMORGAN CALLS IN ITS LEASES WITH THE SLV FUND.  (THE STORY IS THE SAME AS THE BANK OF ENGLAND'S GOLD). THE SILVER NEVER LEAVES JPMORGAN'S VAULT. THEY ARE CALLING IN THEIR LEASES FOR FEAR OF SOLVENCY ISSUES.
INVENTORY RESTS AT:
548.742  MILLION OZ./SLV
xxxxx
GLD closing price//NYSE 165.50  DOWN 1.12 OR 0.67%
XXXXXXXXXXXXX
SLV closing price NYSE 21.06 DOWN. 0.10 OR  0.47%
XXXXXXXXXXXXXXXXXXXXXXXXX
xxxxxxxxxxxxxxxxxxxxxxxxxxxxxxxxxxxxxxxxxxxxxxxxxxxxxxxxxxxxxxxxxxxxxxxxxx