from ZeroHedge: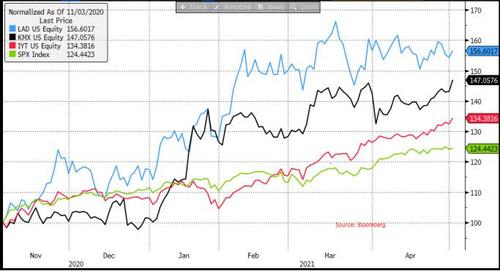 For the past few months we – unlike the Fed – have been warning readers that the US is about to get by a wave of soaring prices the likes of which have not been seen since the early 1970s (see ""Buckle Up! Inflation Is Here!"). And while two weeks ago we noted the even "Companies Are Freaking Out About Soaring Costs", sellside analysts had retained composure, with most comforting their clients that whatever inflation we get will be transitory (despite occasional luminaries such as Jeff Gundlach saying that the Fed and banks may well be wrong about the "transitory" narrative).
TRUTH LIVES on at https://sgtreport.tv/
Well, as of this week, the analyst narrative has taken a sharp U-turn, starting with JPMorgan which yesterday admitted that there are an increasing amount of articles that illustrate rising inflation expectations, "even if those measures are not captured by official government releases" to wit:
And while JPM has long been in the "transitory" bandwagon, the bank's strategist Andrew Tyler admits that in a crack to the party line, his view "is that we'll see inflation expectations continue to move higher over the summer, as we see improving macro data (NFP, CPI, PPI, and Retail Sales the most topical)."
To help investors formulate their own inflation expectations – especially amid rising strains on the global supply chain created by COVID – he presents out the following charts:
LAD vs. KMX vs. IYT vs. SPX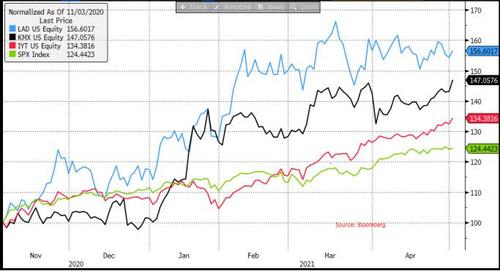 ISM vs. CPI vs. PPI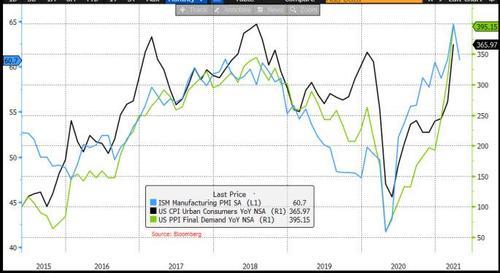 ISM vs. 5Y BREAKEVENS vs. 5Y5Y INFLATION SWAPS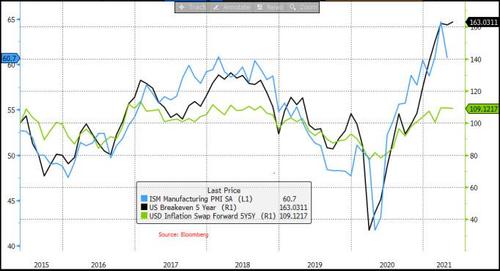 5Y BREAKEVENS vs. BLOOMBERG COMMODITY INDEX [BCOM]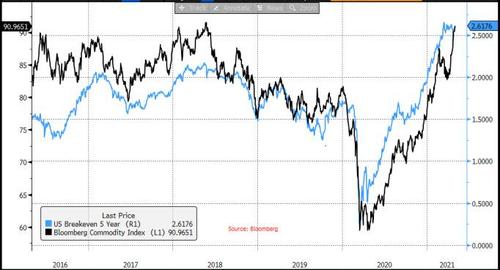 As Tyler accurately concludes, "one of the biggest questions is how long this persists" adding that the answer to that question may help investors determine whether to update models with lower growth/margin expectations or to look through this seemingly one-time event (which may not be as one-time as so many say it will be). His advise for investors who need to hedge inflation exposure in their portfolios, he recommends adding commodities or commodity equities: "our favorite play is Energy."
* * *
Goldman next picks up where JPM leaves off, with the bank's Chris Hussey pointing out the obvious: "a combination of slowing growth and rising inflation" – i.e. stagflation, "is an unfavorable one for forward looking assets like equities." And while he also falls back on Goldman economists' macro view which expects inflation "to be benign over the near-term, and are less concerned about the prospect of an overheating economy", a more nuanced industry breakdown reveals a far more dismal picture, with Hussey noting that Goldman analysts now focus on soaring input cost inflation and supply chain pressures across retail and housing. Consider:
Auto parts retail. Kate McShane believes Autoparts Retailers should be able to realize pricing power as they fulfill rising demand for do it for me (DIFM) projects in a re-opening economy in "Improving DIFM outlook + inflation pass-through ability." Most Auroparts demand comes from must-have fix-it projects (non-discretionary), providing retailers with the ability to sustain prices. The group is also trading at a sharp discount to historical valuation levels — presenting a disconnect between valuation and fundamentals.
Grocers. By contrast, Kate McShane believes Grocers will struggle to pass rising food inflation onto its customers as promotions return to the industry following a pandemic hiatus in "Margin Pressure Potential in Grocery from Inflation and Competition." The grocery competitive landscape did not change much during the pandemic giving us little reason to believe that the category will not become promotional again.
Housing. Strong housing demand and shortage of available homes should keep house price growth firm — potentially boosting core inflation in the shelter category through higher rent inflation, writes Ronnie Walker in a May-2 economics note "Housing on Fire." And Sue Maklari remains bullish on bellwether homebuilder PHM following last week's results as we believe the company should have the pricing power to offset rising lumber and labor cost.
* * *
If that wasn't enough, yesterday Bank of America made ripples across trading desks when in its summary of the third week of earnings season, the bank's strategist Savita Subramanian, she noted that mentions of "inflation" have quadrupled YoY, and after last week, mentions have exploded nearly 800% YoY.