by Wolf Richter, Wolf Street: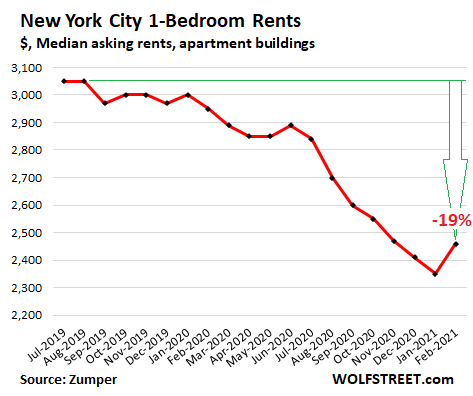 Massive Pandemic Shifts that triggered plunging rents in the most expensive cities and surging rents in cheaper cities still on display.
Has the turmoil in the rental market, triggered by work from anywhere and an exodus from the most expensive cities, settled down? Have rents in those cities hit the bottom of the canyon yet? That's what everyone wants to know. Rents are not going to zero. At some point they stop dropping, as a majestic churn takes place, with people switching apartments to upgrade for the same rent or maintain the same level of quality for less. This churn is taking place in big cities with sharply dropping rents. High lease activity doesn't mean people are suddenly coming back. It means tenants are switching apartments for better deals.
TRUTH LIVES on at https://sgtreport.tv/
In San Francisco, the most expensive rental market in the US, the breath-taking downward spiral, after an uptick in January, ticked down to a new multiyear low in February, according to data from the Zumper National Rent Report: The median one-bedroom rent declined to $2,650, down 24% from a year ago and down 29% from June 2019: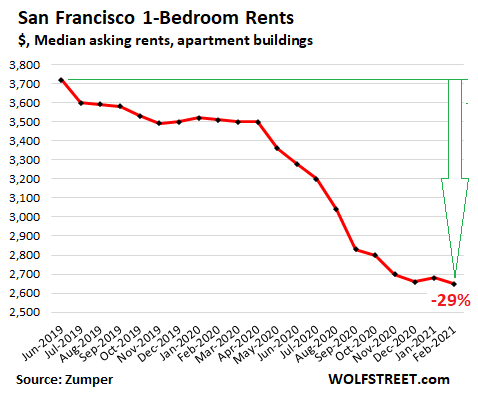 The median two-bedroom asking rent in San Francisco remained at $3,500 in January, down 23.6% from a year ago and down 30% from the peak in October 2015 that, after a big dip, was nearly matched in June 2019.
These rent declines in San Francisco now exceed those during the dotcom bust, when rents plunged over three years – from Q1 2001 through Q1 2004 – to get there, and then spent over a decade in the hole.
In Los Angeles, the 1-BR asking rent dropped further in February, to $1,900, down 16% from a year ago, and down 17% from the peak in October 2019: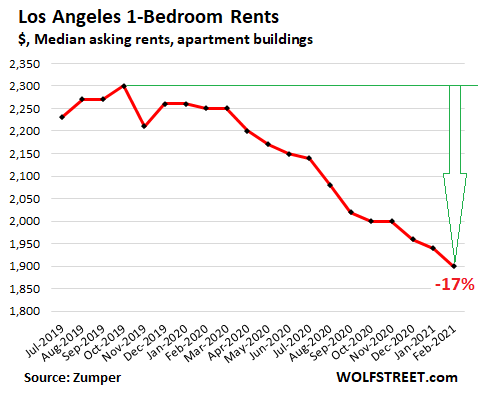 In New York City, the median asking rent for 1-BR apartments bounced off the multi-year low in January, to $2,460, but was still down 18% from a year ago, and 19% from July 2019.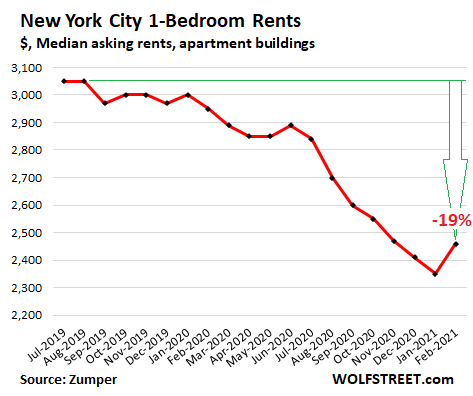 But rents for 2-BR apartments in New York City continued to fall, hitting $2,550, down 23% year-over-year – further narrowing the spread between 1-BR and 2-BR rents, which has been going on for several years. The 2-BR asking rent had peaked in March 2016 at $3,980. At the time, the spread was $610. Since then, the 2-BR asking rent plunged by 36%. And the spread is now down to less than $100.
In San Francisco, the spread between 1-BR and 2-BR rents also narrowed, but less so, from $1,300 in October 2015, to $850 now.
"Asking rent" is the advertised rent of a rental apartment, but does not include concessions, such as two months free, which have the effect of reducing the rent, without the reduced rent showing up in the data. "Median" asking rent is the middle asking rent, with half of the asking rents higher and half lower. The data here covers apartment buildings, including apartment towers and new construction, but not single-family houses for rent or condos for rent. Zumper collects this data from around 1 million listings on Multiple Listings Service (MLS) and other listing services, including its own listings, in the 100 largest markets of the US.