by Charles Hugh Smith, Of Two Minds: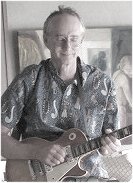 When the herd thunders off the cliff, most participants are trapped in the stampede..
One of the most perverse consequences of the central banks "saving the world" (i.e. saving banks and the super-wealthy) is the destruction of low-risk investments: we're all speculators now, whether we know it or acknowledge it.
The problem is very few of us have the expertise and experience to be successful speculators, i.e. successfully manage treacherously high-risk markets. Here's the choice facing money managers of pension funds and individuals alike: either invest in a safe low-risk asset such as Treasury bonds and lose money every year, as the yield doesn't even match inflation, or accept the extraordinarily high risks of boom-bust bubble assets such as junk bonds, stocks, real estate, etc.