by Mike Gleason, Money Metals: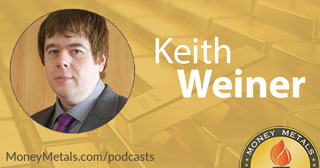 Welcome to this week's Market Wrap Podcast, I'm Mike Gleason.
Coming up we'll hear a truly fascinating interview with Keith Weiner of Monetary Metals and the Gold Standard Institute.
Keith tells us what led him to devote his second career to developing a new gold standard as a solution to our nation's monetary problems. Keith also explains why the dollar, or Federal Reserve Note, is deeply immoral. So, don't miss a wonderful interview with Keith Weiner, coming up after this week's market update.