by Stefan Stanford, All News Pipeline: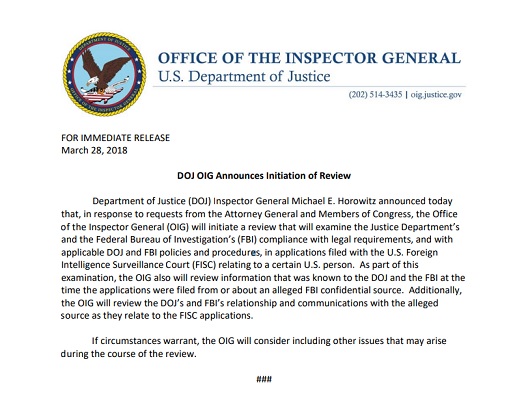 There has been significant confusion about the March 28, 2018 announcement by the Department of Justice Office of Inspector General, informing the public that a review has been initiated into the actions of the FBI and DOJ in regards to their Foreign Intelligence Surveillance Court (FISC) applications for surveillance in regards to a "certain U.S. person."
The announcement states the following: (Press release, one page PDF)
Department of Justice (DOJ) Inspector General Michael E. Horowitz announced today that, in response to requests from the Attorney General and Members of Congress, the Office of the Inspector General (OIG) will initiate a review that will examine the Justice Department's and the Federal Bureau of Investigation's (FBI) compliance with legal requirements, and with applicable DOJ and FBI policies and procedures, in applications filed with the U.S. Foreign Intelligence Surveillance Court (FISC) relating to a certain U.S. person. As part of this examination, the OIG also will review information that was known to the DOJ and the FBI at the time the applications were filed from or about an alleged FBI confidential source. Additionally, the OIG will review the DOJ's and FBI's relationship and communications with the alleged source as they relate to the FISC applications.