by Stefan Stanford, All News Pipeline: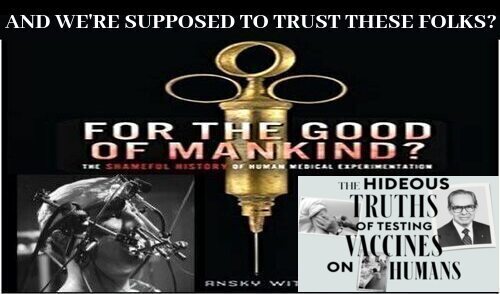 With the globalists drive to 'inoculate' everybody in the world with exactly 'who-knows-what' hitting a major road bump with a sudden drop-off in the number of people who actually WANT 'the shots', we're now witnessing a major uptick in the 'propaganda effort' to get people 'vaxxed', with the globalists unveiling 'Vax Live: The Concert to Reunite the World', a concert that won't be live at all but a 'virtual concert' that will be broadcast around the US on May 8th, nearly a full-week after it was pre-taped.
Being pushed by many all of the globalist 'news' outlets, including ABC, ABC News Live, CBS, YouTube, iHeartMedia broadcast radio stations and the iHeartRadio App, the concert will be encouraging people around the world to 'take' the 'experimental vaccine', and is being billed as the first large-scale music event for a 'Covid-compliant audience'.
TRUTH LIVES on at https://sgtreport.tv/
With Joe Biden now claiming that he wants to have 70% of Americans at least partially 'shot-up' by July 4th, and that goal sure to hit a massive wall with at least 1 in 4 Americans saying they'll never take that shot, and that number likely much higher since it was coming from PBS, we get another story showing where this is all headed with WTOP in Washington DC reporting you get now get your 'walk up vaccine' at the Kennedy Center for free, along with a free beer!
And while 'a free shot and a free beer' used to mean something totally different, as the NY Times reported just days ago, states across the country are now offering 'incentives' to get people to take 'the shot'. From $50 prepaid debit cards given to people who DRIVE OTHERS to get 'the shot,' to other states also offering 'a free shot and a free beer', as Dr. Megan Ranney told the NY Times for that story, "As humans, we often respond better to carrots than sticks."
So if not enough of us 'humans' respond to 'the carrot', is 'the stick' on the way?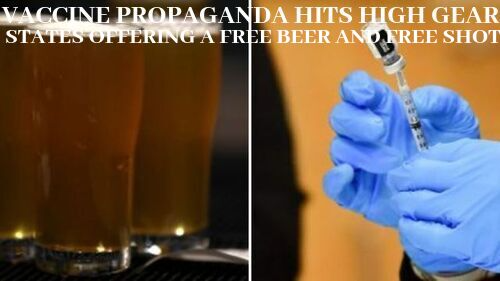 With another perfect example of 
'the carrot'
 being seen in this 
Baltimore Sun story
 which reports Maryland's Republican Governor Larry Hogan is offering state employees an extra $100 to get 
'the shot,'  
that '
huge'
 $100 comes with a 
'huge'
 disclaimer, if you take the cash, you have to sign an agreement you'll also get any booster shots that are also unveiled by big pharma and the globalists over the next 18 months. From 
this NY Times story
 first.
Scoring a dose of the coronavirus vaccine in America, once the equivalent of a winning lottery ticket, has started to resemble something else: a clearance sale. 
So much so that some states and cities, which are struggling to fill appointments as the demand for vaccine wanes, are turning to an array of not-so-subtle incentives to get shots into the arms of more Americans.
Warning also within that story that 'it's unlikely the US will achieve herd immunity' due to not enough Americans getting 'vaccinated', while out running errands the other day that took me on a path by a local Covid testing and vaccination clinic, I saw no cars or people at all waiting for it. Though on a trip into a local store during that same run, many people weren't wearing masks nor social distancing at all.
So with 'free stuff for vaccinated people' giving us another sign of the direction that America is headed before they break out 'the stick', this April of 2021 story reported 'all the free stuff vaccinated people can get'.
Businesses are offering their own incentives for vaccination. Two weeks ago, Krispy Kreme became the pioneer and made national news with their announcement of free doughnuts for an entire year. But now, all sorts of companies have begun offering everything from free rides to meals for those who are vaccinated. 
Ubers and Lyfts 
You can score a free ride on both ride-share platforms, but you don't exactly need to be vaccinated first. Both Lyft and Uber are offering free or discounted rides to and from the vaccination center where your vaccine appointment is located. However, these deals may not be available in every state just yet. 
Restaurant Discounts 
Several restaurant establishments have begun offering discounts or free food nationwide for those who've been vaccinated. So it may be worth checking out any deals being offered in your area. For example, in New York, Nathan's Famous is giving out free hot dogs at its Coney Island location to anyone on the day of their vaccine appointment until the end of April. In Chicago, Village Tap is offering $10 gift cards, until they reach $10,000 worth, to any customer who shows proof of vaccination. Over in the Bay Area, Super Duper Burgers is hanging out free fries to customers who've been vaccinated. When Can I Dine Indoors Again After Being Fully Vaccinated? 
Cash 
Several companies are offering their employees a cash bonus for getting vaccinated, so it's worth checking with your employer for any potential opportunities. Kroger is offering employees $100 in store credit for getting a shot and Publix is offering employees a $125 gift card. Petco is giving employees a $75 bonus for getting vaccinated. And many companies are offering paid time off to go get vaccinated. For example, Target, McDonald's, Aldi, Trader Joe's, and Dollar General are all offering employees up to 4 hours of paid time off to go get vaccinated. 
Marijuana 
Some dispensaries are even offering free marijuana with proof of vaccination. In Phoenix, the Mint Dispensary is offering free edibles to customers 21 and over who show their vaccine card. In Michigan, a "Pots for Shots" program at Greenhouse of Walled Lake is offering a free pre-rolled joint to anyone 21 and over who's been vaccinated.
Read More @ AllNewsPipeline.com