from RT: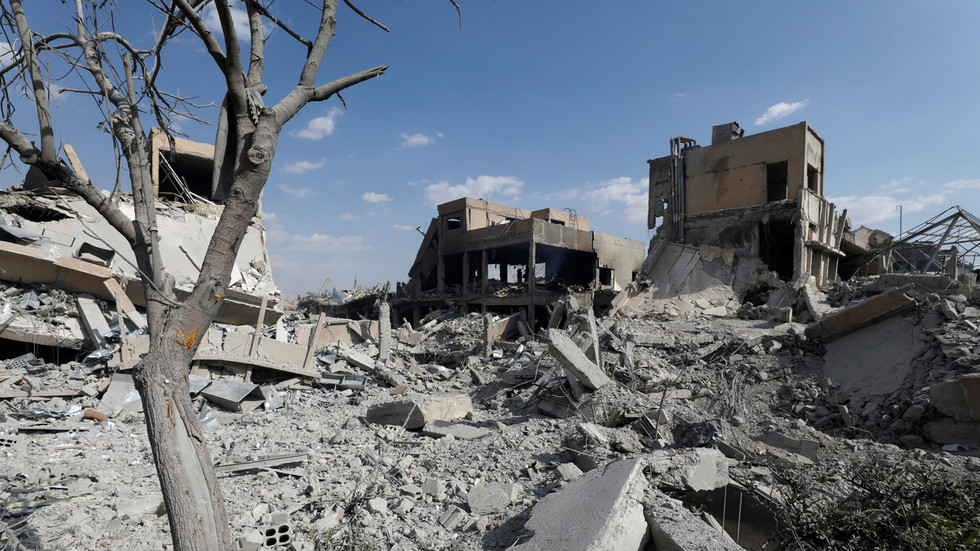 It is no coincidence that a resurgence of attacks by Islamic State (IS, formerly ISIS) on civilians and the Syrian Army have been reported in Iraq and Syria as Joe Biden's "build back better" government takes power in Washington.
Just days before Biden's inauguration, there were conflictingreports of US military build-up in oil-rich northeast Syria. Whatever happened in the run-up to the change of power in Washington, it is a fact that this area was already occupied and plundered by US Coalition forces and their Kurdish separatist proxies. Some reports indicated the arrival of convoys of trucks carrying weapons, military hardware, and equipment into the region. Back in September, the "US Central Command (Centcom) deployed Sentinel radar, increased the frequency of US fighter patrols over US forces and deployed Bradley Fighting Vehicles to augment US forces," according to spokesman Captain Bill Urban.
TRUTH LIVES on at https://sgtreport.tv/
US convoy of 40 trucks and armoured vehicles illegally enters Syria to reinforce their presence in the North East and continue stealing our oil.

So tell me how's that pushing Biden left going? You planning on paying of this back? "Lesser of two evils" lol. You must be proud. pic.twitter.com/NoG0RZTQPS

— Richard Medhurst 🇸🇾🇵🇸 (@richimedhurst) January 22, 2021
The ISIS revival should come as no surprise to analysts of the Syrian conflict. In December 2018, Donald Trump made the unexpected announcement that he would withdraw US troops from Syria. One month later, ISIS carried out a suicide attack on Manbij, in northeast Aleppo, killing four American operatives and wounding three. This enabled the war hawks in Trump's administration to impede plans for an exit from Syria.
Syria in Joe Biden's crosshairs
The Biden administration is a throwback to the Obama/Clinton era of globalism. Those who celebrated Biden's victory over Trump have heralded a new era of "war on terror" that will be waged against all those who challenge establishment narratives. The American "left" has effectively sanctioned a new wave of neoconservative military and multi-spectrum dominance campaigns that will be devastating for Syria and the region unless it is halted before it gets started.
Honored to witness history today. May God bless @JoeBiden and @KamalaHarris as they take on the work of healing our nation. May we all fulfill our duty as citizens to help our country and our fellow Americans through the challenges ahead. pic.twitter.com/dooSLnFePe

— Hillary Clinton (@HillaryClinton) January 20, 2021
Joe Biden is no stranger to unlawful US military intervention. He had been strongly in favour of war against Iraq in 2002, based on the "weapons of mass destruction" canard. Biden sold the war as a "march to peace and security". It clearly did not signify peace and security to the millions of Iraqis starved, mutilated, murdered and disenfranchised by Bush's campaign of "shock and awe"that followed. Biden's role was pivotal to Bush's securing Senate support for going to war.
It was Biden who let slip, in 2014, that the Gulf States, Turkey and Jordan were arming and funding terrorist organisations invading, occupying and destroying Syria, but he omitted the fact that this would have, no doubt, been sanctioned by the US. Biden was vice president to Obama when the CIA's Timber Sycamore programme began to funnel weapons and billions of dollars of aid to Al-Qaeda and ISIS-linked"moderates" in Syria.
The recent spate of ISIS operations are fortuitously timed, to put it diplomatically, if one's aim is to facilitate increased aggression against Syria and a doubling-down of US military presence in neighbouring Iraq. We should not forget that the US has been allegedly implicated in support for the terrorist group, and ISIS operations should always be viewed in lock-step with US predator foreign policy in the region.