by Wolf Richter, Wolf Street: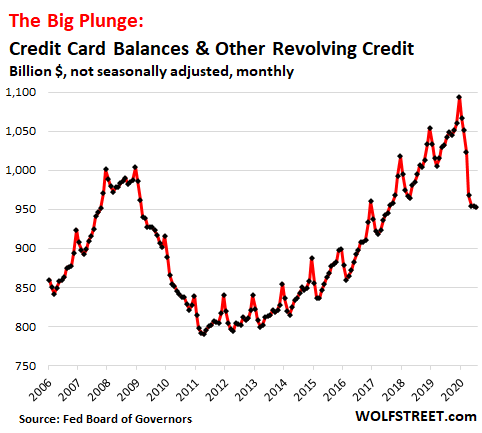 Income sags from eerie stimulus-spike. But consumers hadn't spent all their stimulus & unemployment money, instead paid down credit cards & padded bank accounts. Now they're drawing on them.
This is how Americans "in aggregate " – all mixed together, with all class and wealth inequalities mercifully blurred out of the picture – are navigating this twisted economy that has been powered by stimulus payments, extra unemployment payments, and support payments for companies so that they don't lay off their people. Personal income from all sources – stimulus payments, unemployment payments, wages and salaries, Social Security payments, rental income, dividend income, etc., but not stock market gains – spiked to an eerie record in April and has been dropping ever since.
But those stimulus payments have been drying up as only a few million stragglers hadn't received them by the end of July. While the extra $600 a week in unemployment benefits expired at the end of July, actual payments dragged into August. Some of these payments that dragged into August were lump-sum payments, covering many weeks, issued by overloaded unemployment offices working through their backlogged chaos, such as California. And the replacement $300-a-week started arriving mostly in September.
Personal income from all sources in August fell by 2.7% from July to a seasonally adjusted annual rate of $19.5 trillion, according to the Bureau of Economic Analysis today. This was still up 2% from February, but down 7.4% from the eerie stimulus spike in April: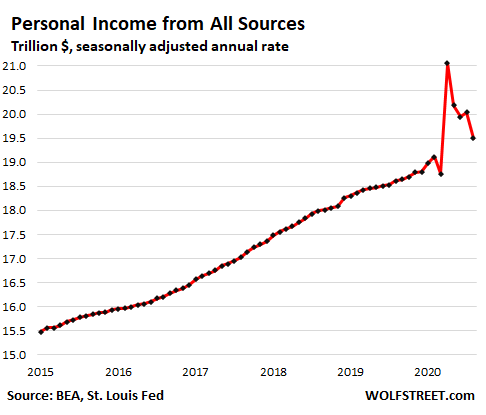 Income from unemployment benefits.
The unemployment insurance component in personal income had exploded from $28 billion in February to $493 billion in April, to $1.36 trillion in May, and to $1.40 trillion in June (all annual rate figures). In July, income from unemployment ticked down to $1.32 trillion. But in August, after the extra $600 a week had expired, it plunged by over half, to $633 billion: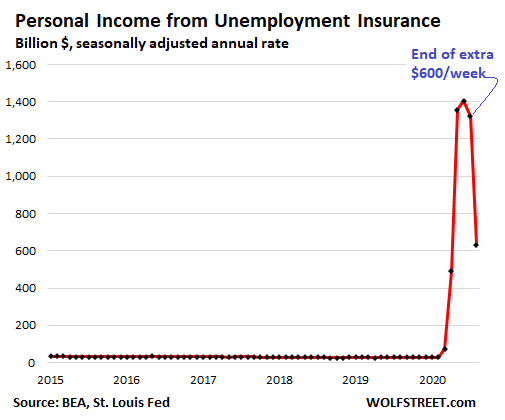 Personal income from wages and salaries alone.
This is what people earn from their jobs or self-employment activities. It ticked up 1.3% in August, from July, to $9.28 trillion (annual rate), but was still down 3.9% from February: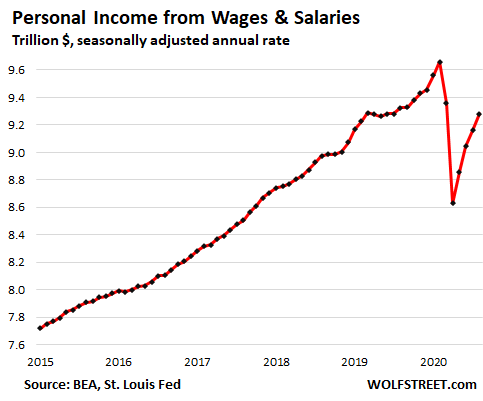 This 3.9% decline in wages since February by category (in annual rates):
Government employment: -2.2% (to $1.45 trillion)
Private sector, goods producing: -4.7% (to $1.49 trillion)
Private sector, services: -4.1% (to $6.34 trillion)
Personal income from major other sources.
Supplements to wages and salaries – contributions by employers to pension plans, health and other insurance plans, and government social insurance – fell by 2.2% from February to $2.2 trillion (annual rate), the infamously expensive employee benefits.
Interest and dividend income fell by 3.4% from February to $2.88 trillion (annual rate).
Proprietors' income – nearly half of which is rental income of persons (individual landlords) – fell by 5.7% from February to $1.66 trillion (annual rate).
Government transfer payments excluding the above unemployment benefits – so from Social Security, Medicare, Medicaid, Veterans' benefits, etc. – jumped 11% from February to $3.49 trillion.
Social Security ticked up 1.4% as some people who'd lost their work likely switched to retirement status. But there were big increases starting in May in Medicare and particularly Medicaid payments, possibly due to the surge in coronavirus cases, and the related treatment costs. These healthcare costs that are paid by the government to healthcare providers are counted in personal income because individuals are the beneficiaries.
Consumers still splurged on Goods, still scrimped on services.
The first thing to remember is that consumers didn't instantly spend the stimulus money and the extra unemployment money the day they received it in April or May or whenever. Much of it went into paying down credit card balances to create room for later purchases. But the process of paying down credit cards has now ended: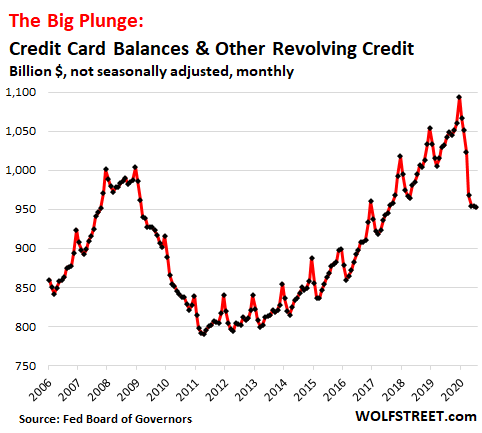 Other amounts were deposited into checking accounts to be spent later. And this "later" includes August.
Total consumer spending in August, despite the decline in income, rose 1% from July to $14.37 trillion (annual rate), further slowing its recovery, and was still down by 3.4% from February: