from ZeroHedge: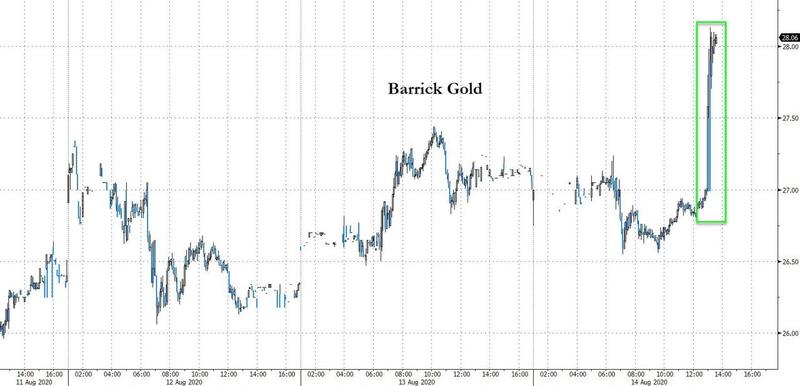 This is going to get awkward.
Berkshire Hathaway's latest 13F just dropped and contained inside is a signal that none other than the Oracle Of Omaha appears to now be quietly betting against The United States.
Why? Because for years – in fact for as long we can remember – Warren Buffet has denigrated gold:
In a speech delivered at Harvard in 1998, Buffett said:
"(Gold) gets dug out of the ground in Africa, or someplace. Then we melt it down, dig another hole, bury it again and pay people to stand around guarding it. It has no utility. Anyone watching from Mars would be scratching their head."
He once famously said:
"Gold is a way of going long on fear, and it has been a pretty good way of going long on fear from time to time. But you really have to hope people become more afraid in a year or two years than they are now. And if they become more afraid you make money, if they become less afraid you lose money, but the gold itself doesn't produce anything."
In his 2011 letter, Buffett noted that for $9.6 trillion you could buy "pile a" — all of the gold in the world, or "pile b" — the entire US cropland (400 million acres) plus 16 ExxonMobils and still have another $1 trillion left over.
"Admittedly, when people a century from now are fearful, it's likely many will still rush to gold," he wrote. "I'm confident, however, that the $9.6 trillion current valuation of pile A will compound over the century at a rate far inferior to that achieved by pile B."
In 2013, Buffett even went so far as to mock investors betting on gold, saying that there were better places to put your money.
"What motivates most gold purchasers is their belief that the ranks of the fearful will grow," Buffett wrote in 2012. "During the past decade that belief has proved correct. Beyond that, the rising price has on its own generated additional buying enthusiasm, attracting purchasers who see the rise as validating an investment thesis. As 'bandwagon' investors join any party, they create their own truth — for a while."
At Berkshire's 2018 annual meeting, Buffett compared $10,000 invested in stocks and gold in 1942 (the first year he invested in stocks):
"… for every dollar you could have made in American business, you'd have less than a penny of gain by buying into a store of value which people tell you to run to every time you get scared by the headlines."
And in  his 2019 letter he reiterated:
"The magical metal was no match for the American mettle."
All of which makes the following even more stunning…
According to the latest 13F, Howard Buffett's Berkshire Hathaway not only dumped all his airlines – as we learned previously 0 but has also liquidated huge amounts of its exposure to US banks (exiting Goldman Sachs entirely).
Berkshire's JPMorgan Stake Down 62% to 22.2M Shrs
Berkshire's Wells Fargo Stake Down 26% to 238M Shrs
Berkshire trimmed its bet on PNC Financial and M&T Bank as well as Bank of New York Mellon Corp., Mastercard, and Visa.
Berkshire Exits Goldman stake entirely
And while he modestly added to his positions in Kroger, Store Cap and Suncor Energy, the only new stock he bought in Q2 was… the world's (formerly biggest) gold miner:
Berkshire took a new stake (20.9 million shares) in Barrick Gold, a holding that was valued at about $564 million at the end of that period.
Barrick Gold is up around 6% after hours…
Of course, we do note that this 13F filing reflects the stock picks of Buffett as well as his long-time deputies, Todd Combs and Ted Weschler. So it's unclear who exactly put money to work in Barrick.