by Harvey Organ, Harvey Organ Blog: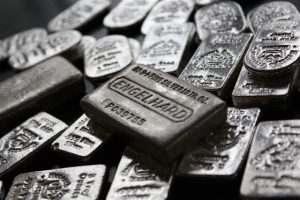 RAID ON GOLD AND SILVER TODAY BY THE CROOKS//GOLD DOWN $27.80 TO $1685/60//SILVER DOWN 24 CENTS TO $15.16//ALMOST 95 TONNES OF GOLD STANDING AT THE GOLD COMEX//HUGE CORONAVIRUS STORIES FOR YOU TODAY//USA LAUNCHES A FULL SCALE INVESTIGATION INTO THE WUHAN LAB AND THE VIRUS THAT THEY SET FREE//3 IMPORTANT COMMENTARIES FOR YOU TO READ OVER THE WEEKEND: ALASDAIR MACLEOD//MICHAEL EVERY AND HUGH SMITH//SWAMP STORIES
GOLD:$1685.60  DOWN $27.80   The quote is London spot price
Silver: $15.16//DOWN 24 CENTS
   The quote is London spot price
Closing access prices:  London spot
i)Gold : $1685.00  LONDON SPOT  4:30 pm
ii)SILVER:  $15.16//LONDON SPOT  4:30 pm
CLOSING FUTURES PRICES:  KEY MONTHS
APRIL comex gold price CLOSE 1.30 PM:  $1718.50
MAY COMEX GOLD:  1725.20 1:30 PM
JUNE GOLD:  $1735.10  CLOSE 1.30 PM//   SPREAD SPOT/FUTURE JUNE: $21.10
CLOSING SILVER FUTURE MONTH
SILVER APRIL COMEX CLOSE: 15.42/
SILVER MAY COMEX CLOSE;   $15.60-…1:30 PM.//SPREAD SPOT/FUTURE MAY:  20 CENTS  PER OZ
the gold market continues to be broken as future prices are much higher than spot prices.  The comex is desperate to fix things but they have no available gold.
If one is to buy gold and or gold coins, the price is around $2600. usa per oz
and silver; $31.00 per oz//
LADIES AND GENTLEMEN: YOU ARE NOW WITNESSING FIRST HAND THE DIFFERENCE BETWEEN PAPER GOLD/SILVER AND THE REAL PHYSICAL STUFF!!
DO NOT PAY ANY ATTENTION TO WHAT THE CROOKS ARE DOING AT THE COMEX AND LONDON LBMA..PHYSICAL IS THE NAME OF THE GAME AND NOTHING ELSE
COMEX DATA
JPMorgan has been receiving gold with reckless abandon and sometimes supplying (stopping)
today RECEIVING: 3/80
issued 0
EXCHANGE: COMEX
CONTRACT: APRIL 2020 COMEX 100 GOLD FUTURES
SETTLEMENT: 1,720.400000000 USD
INTENT DATE: 04/16/2020 DELIVERY DATE: 04/20/2020
FIRM ORG FIRM NAME ISSUED STOPPED
____________________________________________________________________________________________
099 H DB AG 55
132 C SG AMERICAS 8 2
657 C MORGAN STANLEY 1
657 H MORGAN STANLEY 72
661 C JP MORGAN 3
686 C INTL FCSTONE 13
690 C ABN AMRO 2
737 C ADVANTAGE 1
905 C ADM 3
____________________________________________________________________________________________
TOTAL: 80 80
MONTH TO DATE: 29,635
NUMBER OF NOTICES FILED TODAY FOR  APRIL CONTRACT: 80 NOTICE(S) FOR 8,000 OZ (0.2488 tonnes)
TOTAL NUMBER OF NOTICES FILED SO FAR:  29,635 NOTICES FOR 2,963,500 OZ  (92.177 TONNES)
FOR APRIL
0 NOTICE(S) FILED TODAY FOR  nil  OZ/
total number of notices filed so far this month: 806 for 4,025,000 oz
BITCOIN MORNING QUOTE  $7074 DOWN  25 
BITCOIN AFTERNOON QUOTE.: $7057 DOWN $45
GLD AND SLV INVENTORIES:
WITH GOLD DOWN $27.80: AND NO PHYSICAL TO BE FOUND ANYWHERE:
WITH ALL REFINERS CLOSED//MEXICO ORDERING ALL MINES SHUT:   WHERE ARE THEY GETTING THE "PHYSICAL"?
SURPRISINGLY NO GOLD LEAVES THE GLD//
GLD: 1,021.69 TONNES OF GOLD//
WITH SILVER DOWN 24 CENTS TODAY: AND WITH NO SILVER AROUND
A WITHDRAWALS  OF 1.3999 MILLION OZ/
RESTING SLV INVENTORY TONIGHT:
SLV: 414.038  MILLION OZ./
XXXXXXXXXXXXXXXXXXXXXXXXX
Let us have a look at the data for today
xxxxxxxxxxxxxxxxxxxxxxxxxxxxxxxxxxxxxxxxxxxxxxxxxxxxxxxxxxxxxxxxxxxxxxxxxx
IN SILVER THE COMEX OI ROSE  BY A GOOD SIZED 751 CONTRACTS FROM 140,358 UP TO 141,102 AND CLOSER TO OUR NEW RECORD OF 244,710, (FEB 25/2020. THE GOOD SIZED GAIN IN OI OCCURRED WITH  OUR STRONG 24 CENT GAIN IN SILVER PRICING AT THE COMEX. WE  HAD ZERO LONG LIQUIDATION. IT SEEMS THAT THE GAIN IN COMEX OI IS DUE TO SOME  BANKER SHORT COVERING PLUS A CONSIDERABLE EXCHANGE FOR PHYSICAL ISSUANCE ALONG WITH A ZERO GAIN IN SILVER OZ STANDING. WE HAD A GOOD NET GAIN IN OUR TWO EXCHANGES OF 1781 CONTRACTS  (SEE CALCULATIONS BELOW).
WE HAVE ALSO WITNESSED A STRONG AMOUNT OF PHYSICAL METAL STAND FOR COMEX DELIVERY AS WELL WE ARE WITNESSING CONSIDERABLE LONGS PACKING THEIR BAGS AND MIGRATING OVER TO LONDON IN GREATER NUMBERS IN THE FORM OF EFP'S.  WE WERE  NOTIFIED  THAT WE HAD A  STRONG SIZED NUMBER OF COMEX LONGS TRANSFERRING THEIR CONTRACTS TO LONDON THROUGH THE EFP ROUTE:   MARCH:  00 AND MAY: 1030 AND JULY: 0 ZERO FOR ALL  OTHER MONTHS  AND THEREFORE TOTAL ISSUANCE  1030 CONTRACTS. WITH THE TRANSFER OF 1030 CONTRACTS, WHAT THE CME IS STATING IS THAT THERE IS NO SILVER (OR GOLD) TO BE DELIVERED UPON AT THE COMEX AS THEY MUST EXPORT THEIR OBLIGATION TO LONDON. ALSO KEEP IN MIND THAT THERE CAN BE A DELAY OF 24-48 HRS IN THE ISSUING OF EFP'S. THE 1030 EFP CONTRACTS TRANSLATES INTO 5.150 MILLION OZ  ACCOMPANYING:
1.THE 24 CENT GAIN IN SILVER PRICE AT THE COMEX AND
2. THE STRONG AMOUNT OF SILVER OUNCES WHICH STOOD FOR DELIVERY IN THE LAST 12 MONTHS:
JUNE/2018. (5.420 MILLION OZ);
FOR JULY: 30.370 MILLION OZ
FOR AUG., 6.065 MILLION OZ
FOR SEPT. 39.505 MILLION  OZ S
FOR OCT.2.525 MILLION OZ.
FOR NOV:  A HUGE 7.440 MILLION OZ STANDING  AND
21.925 MILLION OZ FINALLY STAND FOR DECEMBER.
5.845 MILLION OZ STAND IN JANUARY.
2.955 MILLION OZ STANDING FOR FEBRUARY.:
27.120 MILLION OZ STANDING IN MARCH.
3.875 MILLION OZ STANDING FOR SILVER IN APRIL.
18.845 MILLION OZ STANDING FOR SILVER IN MAY.
2.660 MILLION OZ STANDING FOR SILVER IN JUNE//
22.605 MILLION OZ  STANDING FOR JULY
10.025   MILLION OZ INITIAL STANDING IN AUGUST.
43.030   MILLION OZ INITIALLY STANDING IN SEPT. (HUGE)
7.32     MILLION OZ INITIALLY STANDING IN OCT
2.630     MILLION OZ STANDING FOR NOV.
20.970   MILLION OZ  FINAL STANDING IN DEC
5.075     MILLION OZ FINAL STANDING IN JAN
1.480    MILLION OZ FINAL STANDING IN FEB
23.005  MILLION OZ FINAL STANDING FOR MAR
4.145  MILLION OZ INITIALLY STANDING FOR APRIL
FRIDAY, AGAIN OUR CROOKS USED COPIOUS PAPER IN ORDER TO LIQUIDATE SILVER'S PRICE…AND THEY WERE SUCCESSFUL IN KNOCKING THE PRICE OF SILVER DOWN (IT FELL 24 CENTS).. AND, OUR OFFICIAL SECTOR/BANKERS WERE  UNSUCCESSFUL IN THEIR ATTEMPT TO FLEECE SOME  SILVER LONGS FROM THEIR POSITIONS, AS WE DID HAVE A GOOD NET GAIN OF 1781 CONTRACTS OR 8.905 MILLION OZ ON THE TWO EXCHANGES! YOU CAN BET THE FARM THAT OUR BANKER  ARE DESPERATE TO LIQUIDATE THEIR HUGE SHORT POSITIONS IN SILVER
OUR SPREADING OPERATION HAS NOW SWITCHED INTO SILVER…..
SPREADING OPERATION FOR OUR NEWCOMERS:
WE HAVE NOW COMMENCED IN SILVER THE ILLEGAL SPREADING OPERATION \ FOR NEWCOMERS, HERE ARE THE DETAILS:
SPREADING LIQUIDATION HAS NOW STOPPED IN GOLD AS THEY NOW BEGIN TO MORPH INTO SILVER AS WE HEAD TOWARDS THE NEW FRONT MONTH WILL BE MAY.
FOR THOSE OF YOU WHO ARE NEW, HERE IS THE MODUS OPERANDI OF THE SPREADERS AND THE CRIMINAL ELEMENT BEHIND IT:
HERE IS A BRIEF SYNOPSIS OF HOW THE CROOKS FLEECE UNSUSPECTING LONGS IN THE SPREADING ENDEAVOUR;
THE SPREADING LIQUIDATION OPERATION IS NOW OVER FOR GOLD..AND WE WILL NOW MORPH INTO AN ACCUMULATION PHASE OF SPREADING CONTRACTS FOR SILVER.  THEY WILL ACCUMULATE CONSIDERABLE AMOUNT OF THE CONTRACTS AND THEN LIQUIDATE ONE WEEK PRIOR TO FIRST DAY NOTICE
MODUS OPERANDI OF THE CORRUPT BANKERS AS TO HOW THEY HANDLE THEIR SPREAD OPEN INTERESTS:
.
AS I HAVE MENTIONED IN PREVIOUS COMMENTARIES:
"AS YOU WILL SEE, THE CROOKS WILL NOW SWITCH TO SILVER AS THEY INCREASE THE OPEN INTEREST FOR THE SPREADERS. THE TOTAL COMEX SILVER OPEN INTEREST WILL RISE FROM NOW ON UNTIL ONE WEEK PRIOR TO FIRST DAY NOTICE AND THAT IS WHEN THEY START THEIR CRIMINAL LIQUIDATION.
HERE IS HOW THE CROOKS USED SPREADING AS WE ARE NOW INTO THE NON ACTIVE DELIVERY MONTH OF APRIL HEADING TOWARDS THE  ACTIVE DELIVERY MONTH OF MAY FOR SILVER:
YOU WILL ALSO NOTICE THAT THE COMEX OPEN INTEREST  STARTS TO RISE IN THIS NON ACTIVE MONTH OF APRIL. BUT SO IS THE OPEN INTEREST OF SPREADERS. THE OPEN INTEREST IN GOLD WILL CONTINUE TO RISE UNTIL ONE WEEK BEFORE FIRST DAY NOTICE OF AN UPCOMING  ACTIVE DELIVERY MONTH (MAY), AND THAT IS WHEN THE CROOKS SELL THEIR SPREAD POSITIONS BUT NOT AT THE SAME TIME OF THE DAY.  THEY WILL USE THE SELL SIDE OF THE EQUATION TO CREATE THE CASCADE (ALONG WITH THEIR COLLUSIVE FRIENDS) AND THEN COVER ON THE BUY SIDE OF THE SPREAD SITUATION AT THE END  OF THE DAY. THEY DO THIS TO AVOID POSITION LIMIT DETECTION. THE LIQUIDATION OF THE SPREADING FORMATION CONTINUES FOR EXACTLY ONE WEEK AND ENDS ON FIRST DAY NOTICE."
ACCUMULATION FOR EFP'S/SILVER/J.P.MORGAN'S HOUSE OF BRIBES, / STARTING FROM FIRST DAY NOTICE/FOR MONTH OF APRIL:
12,837 CONTRACTS (FOR 12 TRADING DAYS TOTAL 12,837 CONTRACTS) OR 64.185 MILLION OZ: (AVERAGE PER DAY: 1167 CONTRACTS OR 5.684 MILLION OZ/DAY)
TO GIVE YOU AN IDEA AS TO THE HUGE SUPPLY THIS MONTH IN SILVER:  SO FAR THIS MONTH OF APRIL: 64.185 MILLION PAPER OZ HAVE MORPHED OVER TO LONDON. THIS REPRESENTS AROUND 9.16% OF ANNUAL GLOBAL PRODUCTION (EX CHINA EX RUSSIA)*  JUNE'S 345.43 MILLION OZ IS THE SECOND HIGHEST RECORDED ISSUANCE OF EFP'S AND IT FOLLOWED THE RECORD SET IN APRIL 2018 OF 385.75 MILLION OZ.
ACCUMULATION IN YEAR 2020 TO DATE SILVER EFP'S:          957.68 MILLION OZ.
JANUARY 2020 EFP TOTALS SO FAR: 181.61 MILLION OZ
FEB 2020 EFP'S TOTAL :  ……     259.600 MILLION OZ
MARCH EFP'S …..                     452.280 MILLION OZ  //TOTALS//AND A NEW RECORD FOR THE MONTH)
APRIL EFP SO FAR                   64.185 MILLION OZ.  (EX. FOR PHYSICALS BECOMING A LOT LESS)
RESULT: WE HAD A GOOD SIZED INCREASE IN COMEX OI SILVER COMEX CONTRACTS OF 751, WITH THE CONSIDERABLE 24 CENT FALL IN SILVER PRICING AT THE COMEX /FRIDAY… THE CME NOTIFIED US THAT WE HAD A  GOOD SIZED EFP ISSUANCE OF 1030 CONTRACTS WHICH EXITED OUT OF THE SILVER COMEX AND TRANSFERRED THEIR OI TO LONDON  AS FORWARDS. SPECULATORS CONTINUED THEIR INTEREST IN ATTACKING THE SILVER COMEX FOR PHYSICAL SILVER
TODAY WE GAINED A GOOD SIZED OI CONTRACTS ON THE TWO EXCHANGES:  1781 CONTRACTS (WITH OUR 5 CENT GAIN IN PRICE)
THE TALLY//EXCHANGE FOR PHYSICALS
i.e 1030 OPEN INTEREST CONTRACTS HEADED FOR LONDON  (EFP's) TOGETHER WITH INCREASE OF 751 OI COMEX CONTRACTS. AND ALL OF THIS DEMAND HAPPENED WITH A 5 CENT GAIN IN PRICE OF SILVER/ AND A CLOSING PRICE OF $15.16 // THURSDAY'S TRADING. YET WE STILL HAVE A STRONG AMOUNT OF SILVER STANDING AT THE COMEX FOR DELIVERY. 
In ounces AT THE COMEX, the OI is still represented by JUST UNDER 1 BILLION oz i.e. 0.7050 BILLION OZ TO BE EXACT or 100.7% of annual global silver production (ex Russia & ex China).
FOR THE NEW  MAR DELIVERY MONTH/ THEY FILED AT THE COMEX: 0 NOTICE(S) FOR   nil OZ OF SILVER.
IN SILVER,PRIOR TO TODAY, WE  SET THE NEW COMEX RECORD OF OPEN INTEREST AT 244,196 CONTRACTS ON AUG 22.2018. AND AGAIN THIS HAS BEEN SET WITH A LOW PRICE OF $14.70//TODAY'S RECORD OF 244,705 IS SET WITH A PRICE OF: 18.91 (FEB 25/2020)
.
ON THE DEMAND SIDE WE HAVE THE FOLLOWING:
HUGE AMOUNTS OF SILVER STANDING FOR DELIVERY  (MARCH/2018: 27 MILLION OZ , APRIL/2018 : 2.485 MILLION OZ  MAY: 36.285 MILLION OZ ; JUNE/2018  (5.420 MILLION OZ) , JULY 2018 FINAL AMOUNT STANDING: 30.370 MILLION OZ   )  FOR AUGUST 6.065 MILLION OZ. , SEPT:  A HUGE 39.505 MILLION OZ./ OCTOBER: 2,520,000 oz  NOV AT 7.440 MILLION OZ./ DEC. AT 21.925 MILLION OZ   JANUARY AT  5.825 MILLION OZ.AND FEB 2019:  2.955 MILLION OZ/ MARCH: 27.120 MILLION OZ/  APRIL AT 3.875 MILLION OZ/ A MAY:  18.845 MILLION OZ ..JUNE 2.660 MILLION OZ//JULY 22.605 MILLION OZ; AUGUST 10.025 MILLION OZ/ SEPT 43.030 MILLION OZ//OCT: 7.665 MILLION OZ//   NOV: 2.630 MILLION OZ//DEC:  20.970 MILLION OZ; JAN:  5.075 MILLION OZ.//FEB 1.480 MILLION OZ//MAR: 23.005 MILLION OZ/APRIL 4.145 MILLION OZ//
THE  RECORD PRIOR TO TODAY WAS SET IN FEB 25/2018:  244,710 CONTRACTS,  WITH A SILVER PRICE OF $18.90//.
HUGE ANNUAL EFP'S ISSUANCE EQUAL TO 2.9 BILLION OZ OR 400% OF SILVER ANNUAL PRODUCTION/2017 RECORD SETTING EFP ISSUANCE FOR ANY MONTH IN SILVER; APRIL/2018/ 385.75 MILLION OZ/  AND THE SECOND HIGHEST RECORDED EFP ISSUANCE JUNE 2018 345.43 MILLION OZ
AND YET, WITH THE EXTREMELY HIGH EFP ISSUANCE, WE HAVE A CONTINUAL LOW PRICE OF SILVER DESPITE THE ABOVE HUGE DEMAND.  TO ME THE ONLY ANSWER IS THAT WE HAVE SOVEREIGN  (CHINA) WHO IS ENDEAVOURING TO GOBBLE UP ALL AVAILABLE PHYSICAL SILVER NO MATTER WHERE, EXACTLY WHAT J.P.MORGAN IS DOING. AND IT IS MY BELIEF THAT J.P.MORGAN IS HOLDING ITS SILVER FOR ITS BENEFICIAL OWNER..THE USA GOVERNMENT WHO IN TURN IS HOLDING THAT SILVER FOR CHINA.(FOR A SILVER LOAN REPAYMENT)
GOLD
IN GOLD, THE COMEX OPEN INTEREST FELL BY A TINY SIZED 417 CONTRACTS TO 491,454 AND FURTHER FROM OUR NEW RECORD (SET JAN 24/2020) AT 799,541 AND  PREVIOUS TO THAT: (SET JAN 6/2020) AT 797,110.
THE LOSS OF COMEX OI OCCURRED WITH OUR COMEX LOSS IN PRICE  OF $27.80 /// COMEX GOLD TRADING// FRIDAY// WE  HAD CONSIDERABLE BANKER SHORT COVERING ALONG WITH ZERO LONG LIQUIDATION ACCOMPANYING A GOOD  EX. FOR PHYSICAL ISSUANCE AND THIS WAS COUPLED WITH OUR LOSS IN THE PAPER PRICE OF GOLD.
WE HAD NO ISSUANCE OF OUR NEW 4 GC CONTRACT
WE GAINED A GOOD 1799 CONTRACTS  (5.59 TONNES) ON OUR TWO EXCHANGES.
E.F.P. ISSUANCE
THE CME RELEASED THE DATA FOR EFP ISSUANCE AND IT TOTALED A FAIR SIZED 2216 CONTRACTS:
CONTRACTS, FEB>  0 CONTRACTS; MARCH 00 APRIL: 0. MAY: 0, AND JUNE 2216.; DEC 0 AND ALL OTHER MONTHS ZERO//TOTAL: 2216.  The NEW COMEX OI for the gold complex rests at 491,454. ALSO REMEMBER THAT THERE WILL BE A DELAY IN THE ISSUANCE OF EFP'S.  THE BANKERS REMOVE LONG POSITIONS OF COMEX GOLD IMMEDIATELY.  THEN THEY ORCHESTRATE THEIR PRIVATE EFP DEAL WITH THE LONGS AND THAT COULD TAKE AN ADDITIONAL, 48 HRS SO WE GENERALLY DO NOT GET A MATCH WITH RESPECT TO DEPARTING COMEX LONGS AND NEW EFP LONG TRANSFERS. . EVEN THOUGH THE BANKERS ISSUED THESE MONSTROUS EFPS, THE OBLIGATION STILL RESTS WITH THE BANKERS TO SUPPLY METAL BUT IT TRANSFERS THE RISK TO A LONDON BANKER OBLIGATION AND NOT A NEW YORK COMEX OBLIGATION. LONGS RECEIVE A FIAT BONUS TOGETHER WITH A LONG LONDON FORWARD. THUS, BY THESE ACTIONS, THE BANKERS AT THE COMEX HAVE JUST STATED THAT THEY HAVE NO APPRECIABLE METAL!! THIS IS A MASSIVE FRAUD: THEY CANNOT SUPPLY ANY METAL TO OUR COMEX LONGS BUT THEY ARE QUITE WILLING TO SUPPLY MASSIVE NON BACKED GOLD (AND SILVER) PAPER KNOWING THAT THEY HAVE NO METAL TO SATISFY OUR LONGS. LONDON IS NOW SEVERELY BACKWARD IN BOTH GOLD AND SILVER  AND WE ARE WITNESSING DELAYS IN ACTUAL DELIVERIES.
IN ESSENCE WE HAVE A GOOD SIZED INCREASE IN TOTAL CONTRACTS ON THE TWO EXCHANGES OF 1799 CONTRACTS: 417 CONTRACTS DECREASED AT THE COMEX AND 2216 EFP OI CONTRACTS WHICH NAVIGATED OVER TO LONDON. THUS  TOTAL OI GAIN OF 1852 CONTRACTS OR 5.59 TONNES. THURSDAY, WE HAD HUGE LOSS OF $27.80 IN GOLD TRADING.…..
AND WITH THAT LOSS IN  PRICE, WE  HAD A GOOD SIZED GAIN IN  TOTAL/TWO EXCHANGES GOLD TONNAGE OF 5.59 TONNES!!!!!! THE BANKERS/OFFICIAL SECTOR WERE SUPPLYING INFINITE SUPPLIES OF SHORT GOLD COMEX PAPER WITH RECKLESS ABANDON. THE BANKERS WERE SUCCESSFUL IN THEIR ATTEMPT TO LOWER GOLD'S PRICE (FELL $27.80). AND IT ALSO SEEMS THAT THEIR ATTEMPT TO FLEECE ANY GOLD LONGS FROM THE GOLD ARENA WERE UNSUCCESSFUL  (SEE BELOW).
4 GC ISSUANCE:  ZERO
CALCULATIONS ON GAIN/LOSS ON OUR TWO EXCHANGES:
WE HAD  A GOOD SIZED INCREASE IN EXCHANGE FOR PHYSICALS  (2216) ACCOMPANYING THE TINY LOSS IN COMEX OI  (417 OI): TOTAL GAIN IN THE TWO EXCHANGES:  1799 CONTRACTS.  WE NO DOUBT HAD 1 )HUGE BANKER SHORT COVERING, 2.)A STRONG INCREASE IN  STANDING AT THE GOLD COMEX FOR THE FRONT APRIL MONTH,  3) ZERO LONG LIQUIDATION AND  …ALL OF THIS WAS COUPLED WITH THAT LOSS IN GOLD PRICE TRADING//FRIDAY
HISTORICAL ACCUMULATION OF EXCHANGE FOR PHYSICALS IN 2020 INCLUDING TODAY
ACCUMULATION OF EFP'S GOLD AT J.P. MORGAN'S HOUSE OF BRIBES: (EXCHANGE FOR PHYSICAL) FOR THE MONTH OF APRIL : 53,906 CONTRACTS OR 5,390,600 oz OR 167.67 TONNES (12 TRADING DAYS AND THUS AVERAGING: 4900 EFP CONTRACTS PER TRADING DAY
TO GIVE YOU AN IDEA AS TO THE STRONG SIZE OF THESE EFP TRANSFERS :  THIS MONTH IN 12 TRADING DAY(S) IN  TONNES: 167.67 TONNES
TOTAL ANNUAL GOLD PRODUCTION, 2019, THROUGHOUT THE WORLD EX CHINA EX RUSSIA: 3555 TONNES
THUS EFP TRANSFERS REPRESENTS 167.67/3550 x 100% TONNES =4.72% OF GLOBAL ANNUAL PRODUCTION
ISSUANCE OF EXCHANGE FOR PHYSICAL GOLD HAS DISSIPATED THIS MONTH.
ACCUMULATION OF GOLD EFP'S YEAR 2020 TO DATE:    2490.57  TONNES
JANUARY 2220 TOTAL EFP ISSUANCE; : 570.19 TONNES
FEB 2020 TOTAL EFP ISSUANCE :            653.78 TONNES
MARCH TOTAL EFP ISSUANCE                1,098.93  TONNES  (*AND A NEW ALL TIME RECORD ISSUANCE//22 DAYS)

APRIL TOTAL EFP. ISSUANCE:               167.67  TONNES  (EFP ISSUANCE BECOMING A LOT LESS)
WHAT IS ALARMING TO ME, ACCORDING TO OUR LONDON EXPERT ANDREW MAGUIRE IS THAT THESE EFP'S ARE BEING TRANSFERRED TO WHAT ARE CALLED SERIAL FORWARD CONTRACT OBLIGATIONS AND THESE CONTRACTS ARE LESS THAN 14 DAYS.  ANYTHING GREATER THAN 14 DAYS, THESE MUST BE RECORDED AND SENT TO THE COMPTROLLER, GREAT BRITAIN TO MONITOR RISK TO THE BANKING SYSTEM.  IF THIS IS INDEED TRUE, THEN THIS IS A MASSIVE CONSPIRACY TO DEFRAUD AS WE NOW WITNESS A MONSTROUS TOTAL EFP'S ISSUANCE AS IT HEADS INTO THE STRATOSPHERE. 
First, here is an outline of what will be discussed tonight:
1.Today, we had the open interest at the comex, in SILVER, ROSE BY A GOOD SIZED 751 CONTRACTS FROM 140,351 UP TO 141,102 AND FURTHER FROM OUR COMEX RECORD //244,710(SET FEB 25/2020).  THE LAST RECORDS WERE SET  IN AUG.2018 AT 244,196 WITH A SILVER PRICE OF $14.78/(AUGUST 22/2018)..THE PREVIOUS RECORD TO THAT WAS SET ON APRIL 9/2018 AT 243,411 OPEN INTEREST CONTRACTS WITH THE SILVER PRICE AT THAT DAY: $16.53). AND PREVIOUS TO THAT, THE RECORD  WAS ESTABLISHED AT: 234,787 CONTRACTS, SET ON APRIL 21.2017 OVER  2 3/4 YEARS AGO.  THE PRICE OF SILVER ON THAT DAY: $17.89.
ALL OF THE LOSS IN COMEX OI WAS DUE TO 1) SOME BANKER SHORT COVERING , 2) THE ISSUANCE OF A GOOD SIZED NUMBER OF EXCHANGE FOR PHYSICALS (SEE BELOW), 3) A ZERO INCREASE IN SILVER OZ STANDING AT THE COMEX FOR APRIL AND 4) ZERO LONG LIQUIDATION
EFP ISSUANCE 1030 CONTRACTS
OUR CUSTOMARY MIGRATION OF COMEX LONGS CONTINUE TO MORPH INTO LONDON FORWARDS  AS OUR BANKERS USED THEIR EMERGENCY PROCEDURE TO ISSUE:
 FOR FEB. 0; FOR MAR  0:  AND MAY: 1030; JULY: 00 CONTRACTS   AND ALL OTHER MONTHS: ZERO. TOTAL EFP ISSUANCE: 1030 CONTRACTS. EFP'S GIVE OUR COMEX LONGS A FIAT BONUS PLUS A DELIVERABLE PRODUCT OVER IN LONDON.  IF WE TAKE THE GOOD COMEX OI GAIN  OF 751 CONTRACTS TO THE 1030 OI TRANSFERRED TO LONDON THROUGH EFP'S,  WE OBTAIN A GOOD GAIN OF 1827 OPEN INTEREST CONTRACTS. THUS IN OUNCES, THE GAIN ON THE TWO EXCHANGES  8.9055 MILLION  OZ!!! AND WE ALSO HAVE A STRONG DEMAND FOR PHYSICAL AS WE WITNESSED A FINAL STANDING OF GREATER THAN 30 MILLION OZ FOR JULY, A STRONG 7.475 MILLION OZ FOR AUGUST..  A HUGE 39.505  MILLION OZ  STANDING FOR SILVER IN SEPTEMBER… OVER 2 million  OZ STANDING FOR THE NON ACTIVE MONTH OF OCTOBER.,  7.440 MILLION OZ FINALLY STANDING IN NOVEMBER.  21.925 MILLION OZ STANDING IN DECEMBER , 5.845 MILLION OZ STANDING IN JANUARY. 2.955 MILLION OZ STANDING IN FEBRUARY,  27.120 MILLION OZ FOR MARCH., 3.875 MILLION OZ FOR APRIL  18.765 MILLION OZ FOR MAY  NOW 2.660 MILLION OZ FOR JUNE WITH JULY AT 22.605 MILLION OZ AUGUST AT 10.025 MILLION OZ//  SEPT: 43.030 MILLION OZ///OCT: 7.32 MILLION OZ//NOV 2.63 MILLION OZ//DEC: 20.970 MILLION OZ//JAN: 5.075 MILLION OZ//FEB: 1.480 MILLION OZ//MAR: 23.005 MILLION OZ//APRIL 4.145 MILLION OZ//
RESULT: A GOOD SIZED INCREASE IN SILVER OI AT THE COMEX WITH THE 24 CENT GAIN IN PRICING THAT SILVER UNDERTOOK IN PRICING// FRIDAY. WE ALSO HAD A STRONG SIZED 1030 EFP'S ISSUED TRANSFERRING COMEX LONGS OVER TO LONDON. TOGETHER WITH THE STRONG  SIZED AMOUNT OF SILVER OUNCES STANDING FOR THIS MONTH, DEMAND FOR PHYSICAL SILVER CONTINUES TO INTENSIFY AS WE WITNESS SEVERE BACKWARDATION IN SILVER IN LONDON.
BOTH THE SILVER COMEX AND THE GOLD COMEX ARE IN STRESS AS THE BANKERS SCOUR THE BOWELS OF THE EXCHANGE FOR METAL
2 ) Gold/silver trading overnight Europe, Goldcore
(Mark O'Byrne/zerohedge
and in NY: Bloomberg
3. ASIAN AFFAIRS
I)FRIDAY MORNING/ THURSDAY NIGHT:
SHANGHAI CLOSED UP 18.56 POINTS OR 0.66%  //Hang Sang CLOSED UP 373,55 POINTS OR 1.56%   /The Nikkei closed UP 607.06 POINTS OR 3.15%//Australia's all ordinaires CLOSED UP 1.41%
/Chinese yuan (ONSHORE) closed DOWN  at 67.0740 /Oil UP TO 18.35 dollars per barrel for WTI and 28.47 for Brent. Stocks in Europe OPENED GREEN//  ONSHORE YUAN CLOSED DOWN // LAST AT 7.0740 AGAINST THE DOLLAR. OFFSHORE YUAN CLOSED DOWN ON THE DOLLAR AT 7.0787 TRADE TALKS STALL//YUAN LEVELS GETTING DANGEROUSLY CLOSE TO 7:1//TRUMP INITIATES A NEW 25% TARIFFS FRIDAY/MAY 10/MAJOR PROBLEMS AT HUAWEI /CFO ARRESTED//CORONAVIRUS  : /ONSHORE YUAN TRADING ABOVE LEVEL OF OFFSHORE YUAN/ONSHORE YUAN TRADING WEAKER AGAINST USA DOLLAR/OFFSHORE YUAN TRADING WEAKER AGAINST THE DOLLAR /TRADE DEAL NOW DEAD..TRUMP  RAISED RATES TO 25%
Read More @ HarveyOrganBlog.com