by Mike Gleason, Money Metals: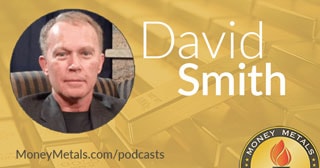 David Smith: Consider precious metals for insurance first, profit second…
Coming up MoneyMetals.com columnist and Senior Analyst at The Morgan Report David Smith joins me for another wonderful conversation on why he thinks the recent correction in metals is creating what may be the last great buying opportunity in the sector, and also why he believes those who do buy should be thinking insurance first and profit second. So be sure to stick around for my conversation with David Smith, coming up after this week's market update.
As the Federal Reserve prepares more stimulus injections into the financial system, investors continue to flip back and forth from favoring safe haven assets one week to growth stories another. This week markets swung back toward growth, perhaps in hopes of progress on U.S.-China trade talks.
Global equity markets got a bounce mid-week. Industrial commodities including copper and platinum group metals also made gains. Bonds, meanwhile, sold off, and gold and silver struggled to hold significant near-term technical levels.
Gold prices dipped on Thursday to test $1,500 per ounce support. As of this Friday recording, gold is struggling to close the week here and comes in at $1,480 and shows a weekly loss of 1.8% now.
Turning to silver, the white metal is down 0.7% this week to trade at $17.51 an ounce. Platinum is up 0.9% for the week, now checking in at $891. And finally, palladium recorded another new record high. The catalytic metal currently trades at $1,696 per ounce on the heels of a 2.0% weekly advance.
Metals traders are processing the latest price inflation data as well as the prospects for more monetary inflation courtesy of the Federal Reserve. Thursday's Consumer Price Index report showed the CPI rising by a miniscule 0.1% in the month of September and 1.7% year over year.
With government statistics showing annual costs of living running below the Fed's 2% target, Fed chairman Jerome Powell may be inclined to cut rates again later this month. The minutes from the last FOMC meeting show policymakers divided over the issue, with some reluctant to cut at all and at least one ultra-dove favoring a 50 basis point cut.
Odds favor a 25 basis point cut by the end of October, and perhaps another by the end of the year.
Perhaps just as importantly, the Fed is also expected to continue expanding its balance sheet as an outgrowth of its recent rescue operation in the repo market. The Fed will continue to provide daily liquidity injections into the first week of November at least while making some of its "temporary" open market operations permanent.
Chairman Powell insisted this week at a Q and A with economists that the Fed isn't pursuing QE – Quantitative Easing. Critics aren't buying Powell's denials.
Moderator: Is the Fed almost coming back into QE or would you describe this intervention as something different?

Chairman Powell: Let's start there. This is not QE. In no sense is this QE. This is nothing like at all. I'll come back to that point.

Financial News Anchor: Lots of pains taken to label it, not QE. But there's still balance sheet expansion… still money being added.

Ben Emons: Well, you know, it's kind of a misnomer, right? Is this QE or is it just open market operations? At the end of the day you aren't going to expand the balance sheet.

Max Keiser: Is this the beginning of Quantitative Easing? Is it the same as Quantitative Easing? Is it different than Quantitative Easing? It looks and smells like quantitative easing on the short end anyway. How does it differ?

Ben Emons: Well, it is. It's a permanent open market operation, so they're going to be adding liquidity and eventually they're going to come in, and whether they want to call it QE4, QE5. We've discussed this before. It's QE infinity.

Chairman Powell: But not QE. Did I mention that?

Moderator: Not QE. You did mention that.
Compared to previous QE iterations, the Fed is more narrowly focused this time around – specifically on manipulating overnight lending rates lower for banks. But what matters here is that it has dramatically reversed itself on balance sheet management.
When Fed officials were unloading assets off their books earlier this year, that was called Quantitative Tightening. Now that they are absorbing Treasuries from the repo market to the tune of several hundred billion dollars, it sure looks an awful lot like "QE something."
If more trouble hits the banking system or the economy, perhaps Jerome Powell's "not QE" will grow and morph into the biggest QE to date. "QE forever" or "QE infinity" are definite possibilities that investors shouldn't take lightly.
What all this QE, "not QE" madness may be building toward is an ideal environment for precious metals.