from ZeroHedge: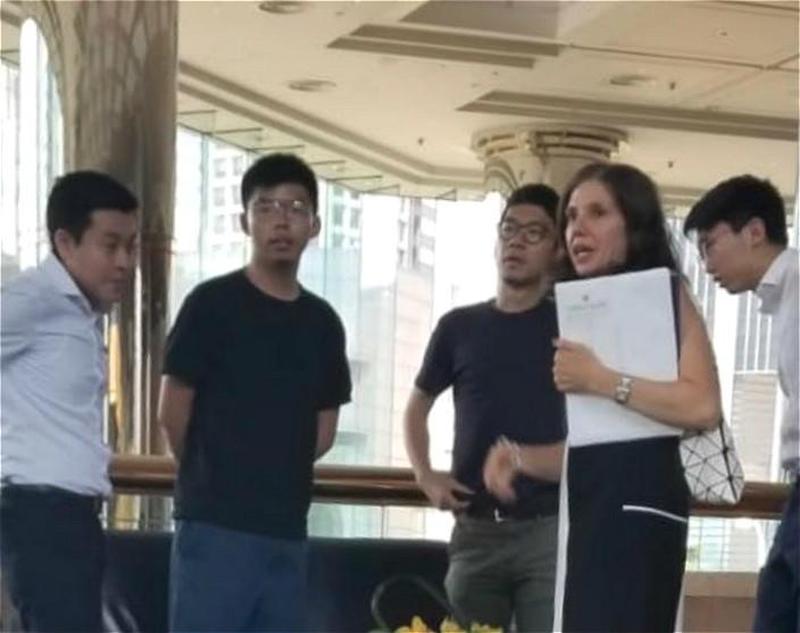 After a viral photo surfaced this week revealing continuing contact between well-known Hong Kong pro-independence protest leaders and a US diplomatic officer, China has summoned US consulate officials stationed in the city, Bloomberg reports.
According to a statement from Office of the Commissioner of the Ministry of Foreign Affairs in Hong Kong, Chinese officials asked the Americans to clarify media reports that a US diplomat had contacted the local protest leaders. Bloomberg reports the clear firm message sent that "China firmly opposes any contacts with them and urges U.S. to stop sending wrong signals to violent law breakers in Hong Kong."
As well organized anti-Beijing protests have raged and continued to escalate this summer over the deeply controversial extradition bill, Beijing authorities have repeatedly blamed a US "hidden hand" for fueling the crisis.
Pro-Beijing publications reported that protest leaders and key organizers Joshua Wong and Nathan Law had met with American consular official Julie Eadeh in the late afternoon on Tuesday at the JW Marriott Hotel in the Admiralty area of Hong Kong.
The viral photograph confirms the meeting took place and is driving outrage in China. State media claimed Eadeh – identified as the political unit chief of US Consulate General – met with the activists to discuss plans regarding the controversial extradition bill.
🇭🇰A photo taken by a passerby shows the meeting between HK separatists and Julie Eadeh, the political unit chief of USCG, at JW Marriott Hotel at 5 pm Thursday. It's wildly used by local media, as an evidence of how close the US politicians are related to the anti-gov't movements pic.twitter.com/FBE8Jxvsy9

— CCTV Asia Pacific (@CCTVAsiaPacific) August 7, 2019
It wasn't his first meeting with US officials, Wong stated further: "We also met the US Consul that visited the Legislative Council and have a meeting with pro-establishment and pan-democrat legislators," according to his statement.
The contact between the anti-China force and a US diplomat is "solid evidence" the US is behind the riots in Hong Kong, Li Haidong, a professor with the China Foreign Affairs University's Institute of International Relations in Beijing, told the Global Times. — China's Global Times
Likely, Wong's rebuttal will not appease Chinese media and authorities who point to the incident as proof of US subversive action against Beijing inside the semi-autonomous city.