by Geoffrey Grinder, Now The End Begins: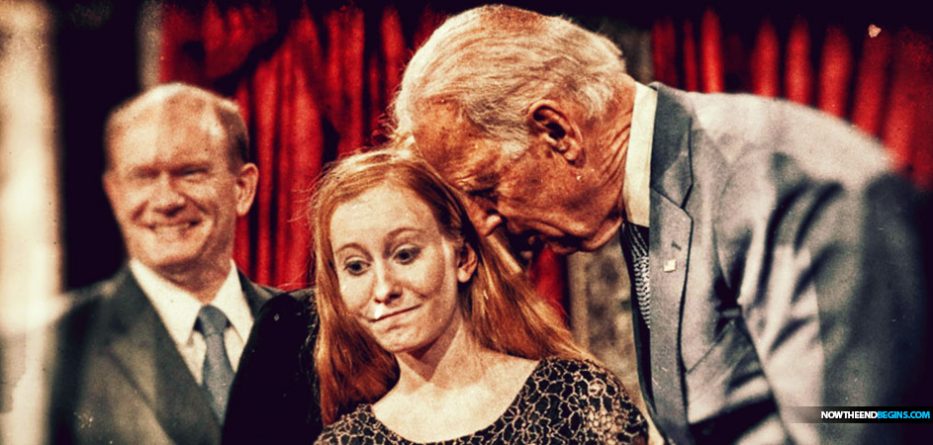 In a video released early Thursday morning, Biden said that "we are in a battle for the soul of this nation." Biden, who co-sponsored the 1994 Violence Against Women Act, has long had a reputation as an affable politician who is quick to smile and put his hands on people. One viral video from 2013 captured how Biden, then vice president, "works the room" while swearing in senators — wrapping their mothers in tight embraces, insisting that female family members stand next to him, even stroking the face of one.
Former Vice President Joe Biden launched his third bid for the presidency, positioning himself as a trusted champion of the middle class eager to take the fight to President Donald Trump. But there's a little problem.
I honestly do not think that Creepy Joe Biden can win his party's nomination much less rise to take the highest office in the land. He is a bloviator who frequently makes horrific gaffes when speaking in public, he's old, and he does some wacky, crazy things. But the biggest reason I do not think Biden will go far is because of his decades long history of using his position of power to force unwanted touching on women, and worst of all, on little children who look terrified to be in his clutches.
"Speaking lies in hypocrisy; having their conscience seared with a hot iron;" 1 Timothy 4:2 (KJV)
When I was a young boy, around the age of 10 or 11, my piano teacher who was an old, white-haired man who looked a lot like Joe Biden, began to fondle me during the lessons. It caused me to have to quit doing something I really loved. To this day, if I think long enough, I can remember the sound of his breath and his disgusting old man smell. And it makes me angry. I feel that same type of anger and revulsion when I watch the videos on YouTube of Joe Biden rubbing himself on the back on those little kids, and whispering his pedophilic 'sweet nothings' into their ears while their parents just stand there and watch. When you have been molested, you can instantly recognize what molestation looks like, and I can spot it from a mile away in the dark with my eyes closed.
So Joe Biden, here is what I say to you. When I was molested by a creepy old man in a position of power and authority that looks a lot like you, no one stood up for me, just like no one stood up for those kids you molested in those videos. So I am going to stand up for them, and remind America every time you open your mouth on the campaign trail, that you are a child molester. I will post and repost every video I can find of what you like to do to children, what you have already done to children, and let's see if the soul of the Democratic Party is so seared that they will nominate a pedophile. I can't take you out behind the gym, like you threatened Donald Trump with doing, but I can do this.
Joe Biden launches 2020 presidential bid, says 'we are in a battle for the soul of this nation'
FROM NBC NEWS:  In a video released early Thursday morning, Biden said that "we are in a battle for the soul of this nation." In the opening of his announcement video, Biden highlighted the 2017 violence in Charlottesville, Virginia, where during a large gathering of white nationalists and counter-protesters, a white supremacist rammed his car into an opposition group, killing one person.
Biden noted that President Donald Trump said there were some "very fine people on both sides" in Charlottesville, where the white nationalist protest was aimed against the city taking down a statue of Robert E. Lee, a Confederate general.
"In that moment, I knew the threat to this nation was unlike any I'd seen in my lifetime," Biden said, adding that he believes "history will look back on four years of this president and all he embraces as an aberrant moment in time."
The core values of this nation… our standing in the world… our very democracy…everything that has made America — America –is at stake. That's why today I'm announcing my candidacy for President of the United States. #Joe2020 https://t.co/jzaQbyTEz3

— Joe Biden (@JoeBiden) 25 April 2019
Read More @ NowTheEndBegins.com