from The Free Thought Project: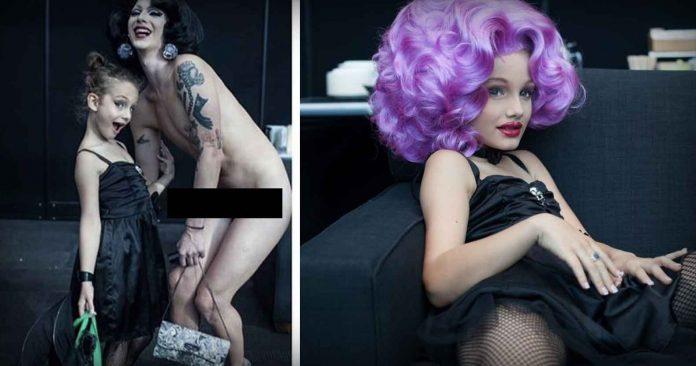 A 10-year-old drag queen child was photographed with a naked man and we are told that there is nothing wrong with this.
A photo showing a 10-year-old Canadian drag queen posing next to a half-naked adult performer sparked outrage online. But the boy's mother thinks it's all OK and the child is not overtly sexualized.
The world of drag queens – male performers taking on exaggeratedly female personas and taking to the stage – may seem like an inappropriate place for minors. After all, sexuality plays a major part in a drag performance, and the common wisdom is that sexualizing young children for entertainment is a taboo.
Yet there are child drag queens. One of them – Nemis Quinn Mélançon-Golden – received some unwanted attention online after a photo of him posing in a black dress and fishnet tights next to an adult drag queen was posted online.
Child drag queen pictured with naked winner of Rupaul's Drag Race @Cernovich @PrisonPlanet @allidoisowen @lifttheveil411 @jamiedlux pic.twitter.com/Nxwvoy44rf

— Celso miori (@CelsoMiori) 12 January 2019
The adult co-star, best known by the stage name Violet Chachki, wears stilettos and a patch of fabric to cover the genitals, and that's it. And, as expected, some people on social media were outraged by the image.
The picture was taken by photographer and writer Jonathan Turton while working on an article for the London-based magazine Huck, which writes about different subcultures. It didn't make it into the final story, but there are other photos.
The cover picture shows Mélançon-Golden, who goes by the stage name Queen Lactatia, wearing the same outfit and a pink wig with his legs spread wide and sitting on a sofa next to his mother.
"He's one of the most creative, curious, magical kids."https://t.co/tfypkO7jAO

— HUCK (@HUCKmagazine) 9 January 2019
Apparently people outraged by Turton's work complained to Instagram about the photo, which was then taken down. The photographer responded by acknowledging that "that the particular photo… was distasteful for many" but stood by the article he wrote for Huck.
"It was a balanced piece about the subject, which ironically probed the issue of sexualizing children. I'd urge anyone to actually read the article before passing judgement," he wrote.
Read More @ TheFreeThoughtProject.com