by Matthew Boyle, Breitbart: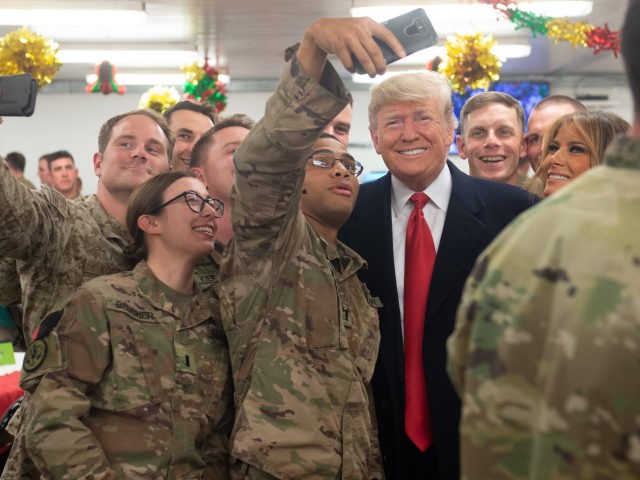 NBC News and a variety of other media outlets falsely reported that President Donald Trump did not visit U.S. troops in a combat zone during Christmastime. NBC has yet to retract its demonstrably fake headline, and has left the fake story up on its website as of publication of this article.
On Wednesday afternoon, White House press secretary Sarah Huckabee Sanders confirmed that President Trump and first lady Melania Trump made a surprise secret Christmas visit to U.S. troops in Iraq.
President Trump and the First Lady traveled to Iraq late on Christmas night to visit with our troops and Senior Military leadership to thank them for their service, their success, and their sacrifice and to wish them a Merry Christmas. pic.twitter.com/s2hntnRwpw

— Sarah Sanders (@PressSec) 26 December 2018
It is customary for the White House to be secretive when it comes to presidential travel to war-torn areas and active combat zones. The White House did not confirm the trip until mid-afternoon on Wednesday.
In the White House press pool report from Time Magazine's Brian Bennett, filed from Iraq, he notes that the president left the White House late on Christmas night and arrived in Iraq on Wednesday.
"President Trump and First Lady Melania Trump made a surprise trip to see U.S. combat troops in Iraq on the day after Christmas," Bennett wrote. "Trump left the White House late on Dec. 25 for an unannounced movement to Joint Base Andrews in Maryland. Pool was prepositioned on the plane and did not see Trump board. Air Force One was wheels up at 12:06 am ET on Dec. 26. POTUS landed at 11:16 am ET/ 7:16 pm local time at Al Asad Air Base, a joint U.S.-Iraqi military base west of Baghdad."
He also noted that the White House had embargoed the details of the trip until after Trump gave remarks to troops:
The details of the trip were embargoed until POTUS had finished giving remarks to a group of about 100 mostly U.S. special operations troops engaged in combat operations in Iraq and Syria.
But, a variety of media outlets–chief among them NBC News–jumped the gun and on Tuesday published critiques of Trump for not visiting the troops.
"Trump becomes first president since 2002 not to visit troops at Christmastime," was the headline on an NBC News article from reporter Elyse Perlmutter-Gumbiner.
The sub-headline of the story reads: "Though he called military personnel on Tuesday, Trump did not visit a hospital or a military base."
The article itself goes even further and says that Trump did not visit troops or wounded warriors this year–after having visited wounded warriors at Walter Reed last year–at all during Christmastime:
On Christmas Day, President Donald Trump took part in a long-running practice of presidents who called troops stationed around the country and the world.

But he broke from a recent tradition of actually visiting troops and wounded warriors. He did so in 2017, when he visited wounded troops at Walter Reed National Military Medical Center on Dec. 21 (and invited Coast Guard service members to play golf at his course in West Palm Beach, Florida).

By staying home on Tuesday, Trump became the first president since 2002 who didn't visit military personnel around Christmastime.
After the White House confirmed that President Trump was indeed in Iraq with the first lady, per the White House's Sanders, NBC News added an "Editor's Note" to Perlmutter-Gumbiner's article that says: "On Wednesday, a day after this article was published, President Trump made a surprise visit to Iraq to greet U.S. troops. It was his first presidential visit to a combat zone."