by Lucas Nolan, Breitbart: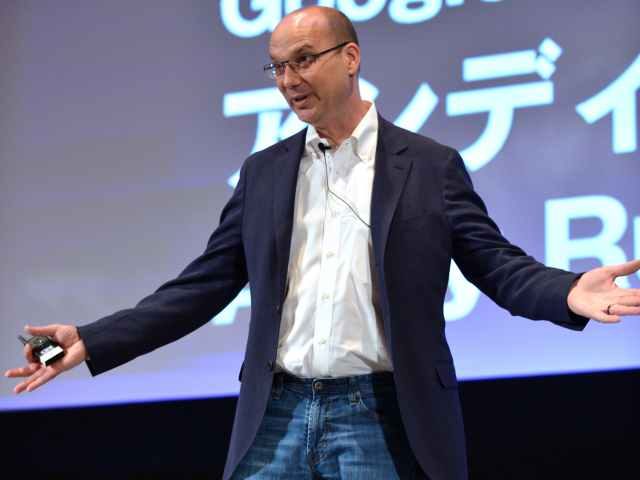 Andy Rubin, the Google executive who was responsible for the Android operating system and was accused of sexually assaulting a Google employee, was quoted in an article by the New York Times as telling his ex-wife "you are my property, and I can loan you to other people."
A report from the New York Times titled "How Google Protected Andy Rubin, the 'Father of Android'" recently outlined how the progressive tech giant Google protected three executives that were accused of sexual misconduct for more than a decade. The article notes that Andy Rubin, the creator of the Android mobile operating system, left the company in October 2014 and was given a "hero's farewell" by executives at the company.
Larry Page, Google's chief executive, commented on Rubin's departure in a statement saying: "I want to wish Andy all the best with what's next. With Android he created something truly remarkable — with a billion-plus happy users." The New York Times notes that in their farewell to Rubin, the company failed to mention that Rubin was leaving the company after a claim of sexual assault by a Google employee with whom Rubin had been having an extramarital relationship.
The report from the New York Times also gives further insight into Rubin's sexual proclivities due to a civil suit filed by his ex-wife. The NYT report states:
Mr. Rubin, 55, who met his wife at Google, also dated other women at the company while married, said four people who worked with him. In 2011, he had a consensual relationship with a woman on the Android team who did not report to him, they said. They said Google's human resources department was not informed, despite rules requiring disclosure when managers date someone who directly or indirectly reports to them.

In a civil suit filed this month by Mr. Rubin's ex-wife, Rie Rubin, she claimed he had multiple "ownership relationships" with other women during their marriage, paying hundreds of thousands of dollars to them. The couple were divorced in August.

The suit included a screenshot of an August 2015 email Mr. Rubin sent to one woman. "You will be happy being taken care of," he wrote. "Being owned is kinda like you are my property, and I can loan you to other people."
The article goes on to discuss Rubin's later alleged actions towards an employee that he reportedly had a relationship with:
Around that time, Mr. Rubin was casually seeing another woman he knew from Android, according to two company executives briefed on the relationship. The two had started dating in 2012 when he was still leading the division, these people said.

By 2013, she had cooled on him and wanted to break things off but worried it would affect her career, said the people. That March, she agreed to meet him at a hotel, where she said he pressured her into oral sex, they said. The incident ended the relationship.

The woman waited until 2014 before filing a complaint to Google's human resources department and telling officials about the relationship, the people said. Google began an investigation.
Google CEO Sundar Pichai, and Google's Vice President of People Operations, Eileen Naughton, sent an internal email to Google employees after the story about Rubin broke recently. In the email, Pichai claims that the company has fired 48 Google employees, including 13 "senior managers and above," due to allegations of sexual assault and that none of these fired employees received exit packages.
Read the full email from Pichai and Naughton below:
From: Sundar

Hi everyone,

Today's story in the New York Times was difficult to read.

We are dead serious about making sure we provide a safe and inclusive workplace. We want to assure you that we review every single complaint about sexual harassment or inappropriate conduct, we investigate and we take action.

In recent years, we've made a number of changes, including taking an increasingly hard line on inappropriate conduct by people in positions of authority: in the last two years, 48 people have been terminated for sexual harassment, including 13 who were senior managers and above. None of these individuals received an exit package.

In 2015, we launched Respect@ and our annual Internal Investigations Report to provide transparency about these types of investigations at Google. Because we know that reporting harassment can be traumatic, we provide confidential channels to share any inappropriate behavior you experience or see. We support and respect those who have spoken out. You can find many ways to do this at go/saysomething. You can make a report anonymously if you wish.

We've also updated our policy to require all VPs and SVPs to disclose any relationship with a co-worker regardless of reporting line or presence of conflict.

We are committed to ensuring that Google is a workplace where you can feel safe to do your best work, and where there are serious consequences for anyone who behaves inappropriately.

Sundar and Eileen