by Geoffrey Grinder, Now The End Begins: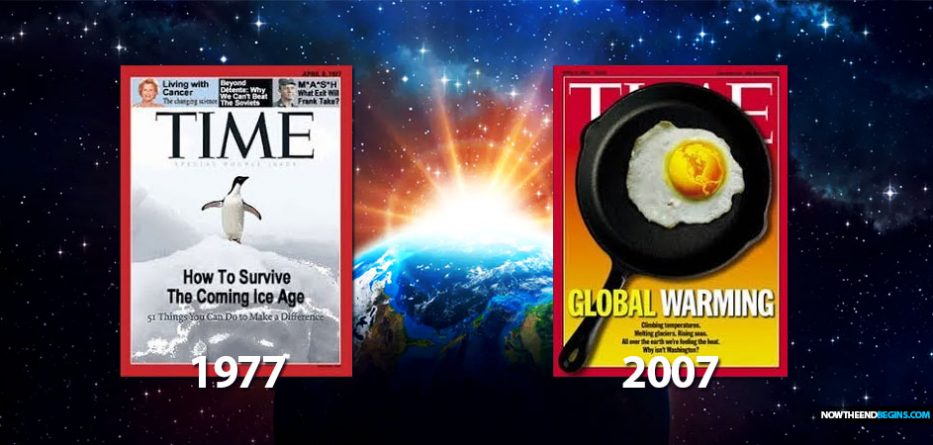 CLIMATE CHANGE IS OVER. NO, I'M NOT SAYING THE CLIMATE WILL NOT CHANGE IN THE FUTURE, OR THAT HUMAN INFLUENCE ON THE CLIMATE IS NEGLIGIBLE. I MEAN SIMPLY THAT CLIMATE CHANGE IS NO LONGER A PRE-EMINENT POLICY ISSUE. ALL THAT REMAINS IS BOILERPLATE RHETORIC FROM THE POLITICAL CLASS, FRIVOLOUS NUISANCE LAWSUITS, AND BUREAUCRATIC MANDATES ON BEHALF OF SPECIAL-INTEREST RENEWABLE-ENERGY RENT SEEKERS.
EDITOR'S NOTE: As a teenager in the 70's, how well I remember the headlines blaring the news that man-caused global freezing was about to take place. Yes, we had fake news back then, too. The reason stated at that time, according to science, was our overuse of aerosol spray products which was eating a hole in the ozone layer. This was going to bring about another ice age. Hmmm, still waiting as I purchase products in the supermarket in aerosol containers. Flash forward to the Al Gore Age, with the PowerPoint that scared the Liberal world into, no, not stopping global warming climate change, but making him fabulously wealthy many, many times over. The Millennial generation, who are famously long on outrage and short on history, were easy pickings for the climate con man from Tennessee. Favorite moment from the global warming climate change hoax? When Al Gore sold his television channel, Current TV, to an Arabian petroleum company. Wait, aren't oil companies the 'bad guys"? Ho, ho, ho, don't you know…people love to be fooled.
Judged by deeds rather than words, most national governments are backing away from forced-marched decarbonization. You can date the arc of climate change as a policy priority from 1988, when highly publicized congressional hearings first elevated the issue, to 2018. President Trump's ostentatious withdrawal from the Paris Agreement merely ratified a trend long becoming evident.
A good indicator of why climate change as an issue is over can be found early in the text of the Paris Agreement. The "nonbinding" pact declares that climate action must include concern for "gender equality, empowerment of women, and intergenerational equity" as well as "the importance for some of the concept of 'climate justice.' " Another is Sarah Myhre's address at the most recent meeting of the American Geophysical Union, in which she proclaimed that climate change cannot fully be addressed without also grappling with the misogyny and social injustice that have perpetuated the problem for decades.
AL GORE DECLARED BIG OIL TO BE THE ENEMY, THEN SOLD HIS CURRENT TV TELEVISION CHANNEL TO AN ARABIAN BIG OIL COMPANY
Click to watch as Al Gore is confronted by David Letterman for selling his television channel to 'the enemy, and then laughs about it. Hey Millennials, congrats! You made the climate con man wealthy beyond his wildest dreams.
The descent of climate change into the abyss of social-justice identity politics represents the last gasp of a cause that has lost its vitality. Climate alarm is like a car alarm—a blaring noise people are tuning out.
This outcome was predictable. Political scientist Anthony Downs described the downward trajectory of many political movements in an article for the Public Interest, "Up and Down With Ecology: The 'Issue-Attention Cycle,' " published in 1972, long before the climate-change campaign began. Observing the movements that had arisen to address issues like crime, poverty and even the U.S.-Soviet space race, Mr. Downs discerned a five-stage cycle through which political issues pass regularly.
Read More @ NowTheEndBegins.com