by Wolf Richter, Wolf Street:
Historic spikes in Seattle and other metros. But New York condos skid.
Prices of houses and condos across the US surged 6.4% in April from a year earlier (not seasonally-adjusted), and a sharp 1% from March, according to the S&P CoreLogic Case-Shiller National Home Price Index, released this morning. The index is now 8.8% above the nutty peak of "Housing Bubble 1" in July 2006 just before it collapsed, and 50% above the trough of "Housing Bust 1." Note the disproportionate spike in April: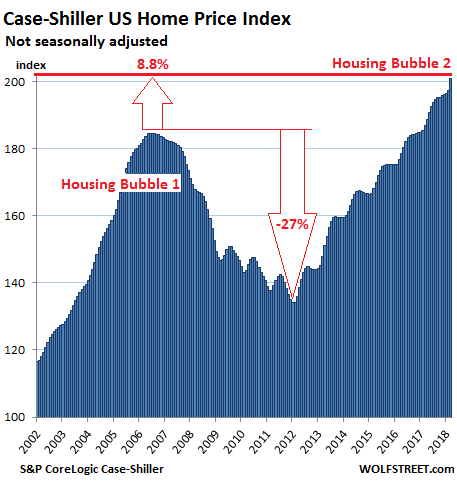 That 8.8% increase since the peak of the last housing bubble — "Housing Bubble 1" in this millennium — isn't an increase over some state of languish that the housing market needed to exceed. It was the peak of the definitive housing bubble that then collapsed and helped push the global financial system to the brink.
Real estate is local though prices are impacted by national and global factors, such as monetary policies and offshore investors for whom "housing" in the US is an asset class and in many cases also escape route. These local and global factors inflate local housing bubbles. When enough local housing bubbles come together at the same time, even as some other housing markets remain calm, they turn into a national housing bubble, as illustrated in the chart above.
The Case-Shiller Index is based on a rolling three-month average; today's release is for February, March, and April. The index is  based on "home price sales pairs," comparing the sales price of a home in the current month to the last transaction of the same home years earlier. The index incorporates other factors and uses algorithms to arrive at each data point. It was set at 100 for January 2000; hence an index value of 200 means prices as figured by the index have doubled.
So here are the most splendid housing bubbles in major metro areas in the US:
Boston:
The Case-Shiller home price index for the Boston metro jumped nearly 2% from the prior month and is up 6.9% from a year ago. During Housing Bubble 1, from January 2000 to October 2005, the index soared 82% before dropping. It now tops that crazy peak by 16.7%. Note the phenomenal 4-point spike in April, the largest such spike in the Boston data series: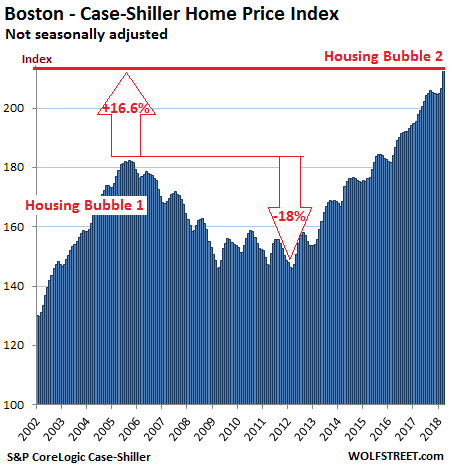 Seattle:
The Seattle metro index spiked 2.5% from the prior month. In terms of points, the index jumped 6.6 points, the biggest monthly jump in the data series. The index has now jumped 13.1% from a year ago and is 31% above the peak of Seattle's insane Housing Bubble 1 (July 2007). Note the historic spike in April: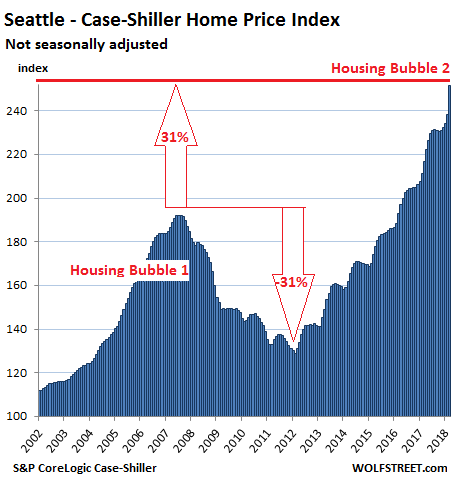 Denver:
The index for the Denver metro jumped 1.2% from March, the 30th monthly increase in a row, is up 8.6% from a year ago, and 52% from the crazy peak in July 2006, with a historic spike in April: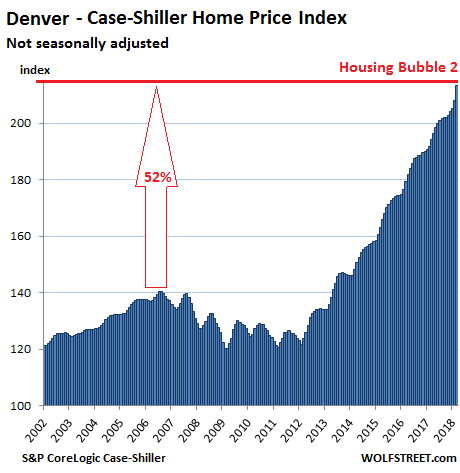 Dallas-Fort Worth:
The Case-Shiller home price index for the Dallas-Fort Worth metro rose 0.9% from March, its 51st relentless monthly increase in a row, and 5.7% from a year ago. Since its peak during Housing Bubble 1 in June 2007, the index has surged 46%: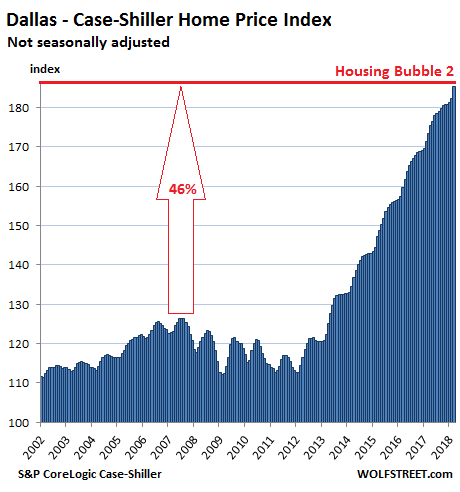 Atlanta:
The Atlanta metro index rose 0.8% from March and 5.5% from a year earlier. It now exceeds the peak of Housing Bubble 1 in July 2007 by 5.8%: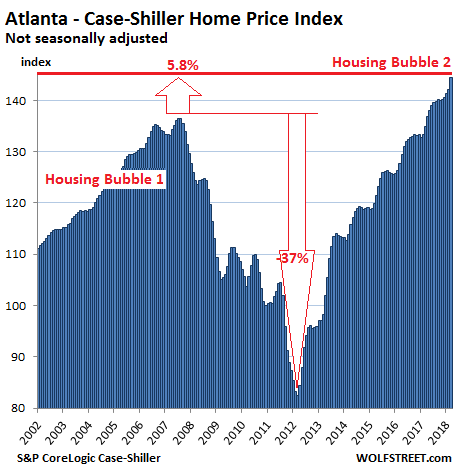 Portland:
The Case-Shiller home price index for the Portland metro jumped 1% from a month ago, 5.9% from a year earlier, and 23% from Portland's nutty peak of Housing Bubble 1 in July 2007. It has ballooned 130% since 2000: