by Wolf Richter, Wolf Street: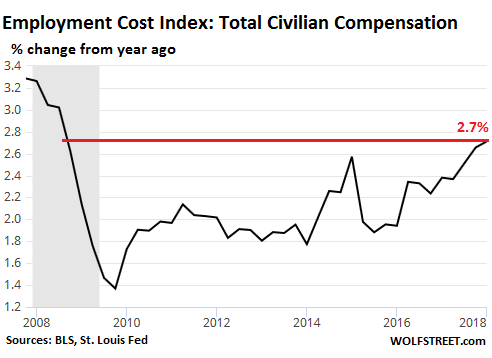 Slightly good news for workers, bad news for employer profits, and combustible fuel for the Fed's monetary-policy tightening machine.
Total compensation costs for civilian workers — which include wages, salaries, and benefits of workers in the private sector and in state and local governments — increased 2.7% seasonally adjusted, over the past 12 months ending in March 2018, up from a 2.4% increase in the prior quarter, the Bureau of Labor Statistics reported this morning. This was the fastest 12-month increase since Q3 2008: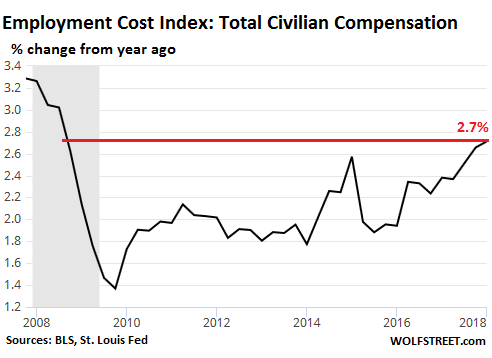 Wages and salaries account for about 70% of total compensation costs. Benefits account for the remaining 30%. As we'll see in a moment, the surge was mostly caused by wages and salaries in the private sector. Benefit cost increases, while always too much, were in the middle of the range over the past decade. And wages and salaries for workers at state and local governments inched up less than inflation.
Wages and salaries in the private sector jumped 1% over the past three months, the fastest quarterly increase in 15 years (since Q1 2003)! And for the 12-month period, they rose 2.9%, the fastest since Q3 2008: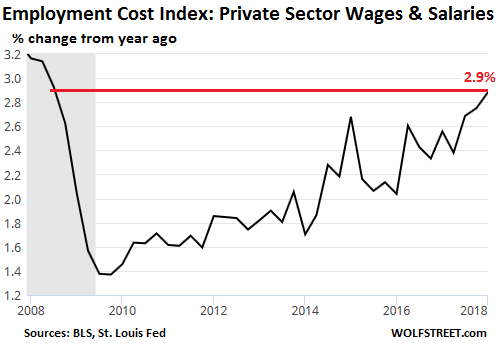 Employee benefits in the private sector rose 2.6% compared to a year ago. The sub-category of healthcare costs rose only 1.5% over the 12-month period. This chart of private-sector benefit costs shows that the year-over-year increase in Q1 was smack-dab in the middle of the range of the past 10 years: