(CONFORMITY IN THE GUISE OF REBELLION)
by Ryan M., Henry Makow: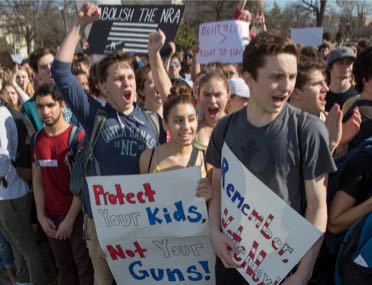 Communists exploit gender, race and class divisions.
Their latest suckers are youth who are being taught
to embrace the globalist agenda. 
As the New World Order captures the souls of the masses, its main target is youth. The youth of today will consummate this totalitarian globalist agenda. It seems they have been empowered, but in reality – it's all contrived via TV and social media. This is obvious from the pre-planned, gun control  onslaught by so-called students of Marjory Stoneman Douglas High School after the "shooting event" on February 14th.
No sooner did the "shooting event" occur than we saw NWO agitator David Hogg push for gun control. He was rehearsing this message before the staged event occurred. He was given a platform on all TV networks while "real" students were shut down by CNN and told to read from a script.
How does one teach youth to accept Marxist ideology? In his 1985 interview with G. Edward Griffin, former KGB whistleblower Yuri Bezmenov,   explains "It's a great brainwashing process which goes very slow and is divided into four basic stages. The first one being "demoralization."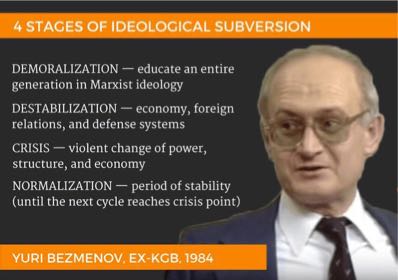 It takes from 15 to 20 years to demoralize a nation. Why that many years? Because this is the minimum number of years required to educate one generation of students in the country of your enemy exposed to the ideology of [their] enemy. In other words, Marxism-Leninism ideology is being pumped into the soft heads of at least three generation of American students without being challenged or counterbalanced by the basic values of Americanism; American patriotism…."
Yuri was right. Society is being demoralized and has been for some time. Today's youth are part of a massive indoctrination agenda. The satanic inversion of everything good and wholesome is becoming the new normal.
SCHOOLS NOW DEVOTED TO COMMUNIST RE-EDUCATION
The real brainwashing begins in elementary school where children are inundated with white guilt, gender fluidity, indigenous rights and the global warming hoax. The programming continues into middle school when older children are bused into large arenas to attend events like We Day.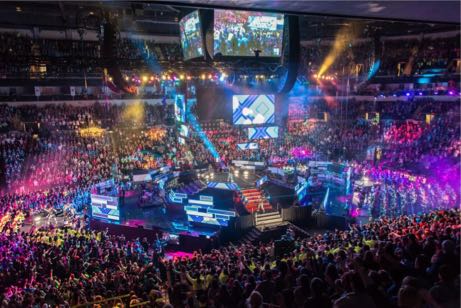 There they are told how important they are and how "they" have the power to change the world. The kids are encouraged to be good global citizens and hear from speakers such as Former President of the Soviet Union Mikhail Gorbachev, outspoken socialist actor Danny Glover and global warming alarmist, Al Gore. They are encouraged to be outspoken on all types of social justice issues and mandated to go out and do good works.
Pseudo-punk bands like Hedley play in between guest speakers as ads from financial intuitions and giant media corporations are prominently placed on big screens everywhere. It's a big, loud spectacle where over the top rock concert theatrics meets prosperity preacher tent crusade. The teens are completely caught up in the moment, feeling empowered and valued.
Is there any hope for the youth of today? I believe there is. More and more young people are awake to what is happening around them. Comment boards are full of kids calling bullshit on the so-called official narrative of things. Thanks to people like Jordan Peterson, terms like Cultural Marxism, Victim Mentality and Social Justice Warrior have all gone mainstream.
The constant barrage of news and information from the alternative media and citizen journalists has opened the eyes of many. So many, that the MSM and gate-keepers of late night TV are now permanently on the defense, trying desperately to discredit the truth movement. The more they try, the more they out themselves as the phony hypocrite sell-outs that they are. The sleeping masses are finally realizing that all of this change in the world is not some organic grassroots movement who time has come, but a carefully plotted globalist agenda meant to attack the pillars of our society, divide us and enslave us all.
It is this time, right now that the youth of today must unite and continue to speak out and fight the New World Order.