by Pam Martens and Russ Martens, Wall St On Parade: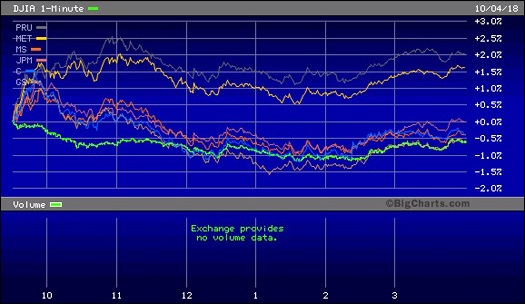 Add the stock market to the growing list of things that are not normal in the U.S. We'll get to the details of yesterday's appearance of a rigged market in a moment, but first a small sampling of the other abnormal ways the U.S. is currently functioning.
The U.S. has a President and Commander-in-Chief who is credibly accused by his own lawyer of engaging in political campaign fraud by paying hush money to women whose stories could have impacted the 2016 presidential election. The same President is credibly accused by the New York Times of engaging in tax fraud. That same man is also the subject of a criminal probe by Special Counsel Robert Mueller. And yet, Donald Trump is allowed to nominate a judge who will sit on the highest court in the land for a lifetime – a man who is, like the President himself, credibly accused of sexual assault by multiple women. That's not normal in what is supposed to be a thriving democracy. It's more compatible with a banana republic.