by Pam Martens and Russ Martens, Wall Street On Parade: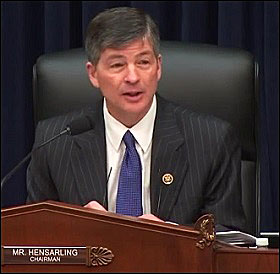 When members of the U.S. House Financial Services Committee question Fed Chair Janet Yellen this morning following her testimony on monetary policy, many Republicans on the panel will be posturing for their money masters who fund their political campaigns rather than asking questions that benefit the average American.
You can tell that there has been a Koch Network-corporate takeover of the House Financial Services Committee by the statement that its Chairman, Jeb Hensarling, plastered on the front page of the Committee's web site following the heroic actions of the Director of the Consumer Financial Protection Bureau, Richard Cordray, on Monday. Cordray reopened the nation's courts to millions of Americans who have been the victims of predatory actions by the banks that fund Hensarling's seat in Congress.