by Mike Gleason, Money Metals: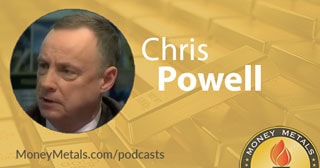 Welcome to this week's Market Wrap Podcast, I'm Mike Gleason.
Coming up we'll hear a fascinating interview with Chris Powell of the Gold Anti-Trust Action Committee. Chris gives perhaps the most thorough explanation of why governments are so intent on manipulating the precious metals markets and reveals some very interesting recent data about what they've quietly been doing. Don't miss conversation with Chris Powell of GATA, coming up after this week's market update.
Well, while the American people have been focused on the dramatic and emotionally charged Kavanaugh confirmation battle, the Federal Reserve took actions which exerted some pressure on gold and silver markets this week. Following the FOMC's announcement of another rate hike and Fed chair Jerome Powell's upbeat remarks on the economy, precious metals markets sold off.
Click HERE to listen