by Jim Rickards, Daily Reckoning: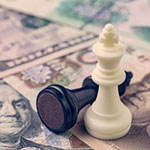 President Trump shocked markets yesterday when he announced that a new, heavy round of tariffs on Chinese goods will take effect this Friday. Complacent markets had assumed that a trade deal would get done, that it was just a matter of sorting out the details. Now that is far from certain. Failing a last minute deal, which is certainly possible, the trade war is back. And it could get worse.
What most surprised me about the new trade war was not that it started, but that the mainstream financial media denied it was happening for so long. The media have consistently denied the impact of this trade war. Early headlines said that Trump was bluffing and would not follow through on the tariffs. He did. Later headlines said that China was just trying to save face and would not retaliate. They did.