by William B Stoecker, All News Pipeline: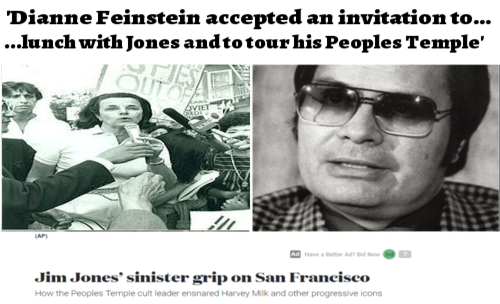 – Senator's Ties To Jim Jones And His Cult Of Death Have Long Been Forgotten!
Okay, officially her name is "Feinstein," but why not use a more accurately descriptive term? She is the oldest witch in the Senate…and I suspect that this is literally true, and that all the Demoncrap women in Congress are literally witches, practicing the blackest form of magic, and their male counterparts are warlocks. But what we know for sure about Dianne is damning enough.
She, of course, appears to be the main organizer of the despicable Kavanaugh hearings circus, waiting until just the right moment to bring out his chief accuser, a woman whose vague and unsubstantiated story kept changing, and who was caught in several outright lies, like her claim that she suffered a fear of flying. She is clearly Slimestein's kind of person.