by Hugo Salinas Price, Plata: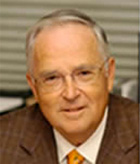 Don Jose Lopez Portillo became President of Mexico in 1976.
In 1981, President of Mexico Lopez Portillo ordered the creation of a silver-ounce coin, the "Liberty Ounce", whose weight was to be 31.1 grams, the weight of a Troy ounce. This coin was to bear no engraved monetary value.
President Lopez Portillo's intention was to provide Mexicans with a solid, traditional monetary instrument that would enjoy an official monetary quote, to be determined daily by Mexico's Central Bank.