by John W. Whitehead, Rutherford Institute: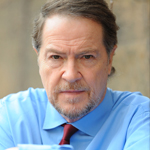 "That was when they suspended the Constitution. They said it would be temporary. There wasn't even any rioting in the streets. People stayed home at night, watching television, looking for some direction. There wasn't even an enemy you could put your finger on."—Margaret Atwood, The Handmaid's Tale
We can pretend that the Constitution, which was written to hold the government accountable, is still our governing document.
The reality we must come to terms with, however, is that in the America we live in today, the government does whatever it wants, freedom be damned.