by Mike Gleason, Money Metals: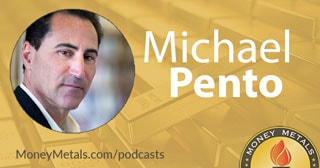 Michael Pento: THIS ONE THING Will Tell Us When the Bubble Economy Is Bursting…
Welcome to this week's Market Wrap Podcast, I'm Mike Gleason.
Coming up Michael Pento joins me for a tremendous interview on a range of topics. Michael goes through his checklist of data points and the events that, once taken place, will fuel the next big rally in precious metals. He also talks about the key warning sign that we can be looking for that will indicate when the economic bubble to end all bubbles is about to burst. So don't miss another fantastic interview with Michael Pento of Pento Portfolio Strategies, coming up after this week's market update.