by John Velisek, All News Pipeline: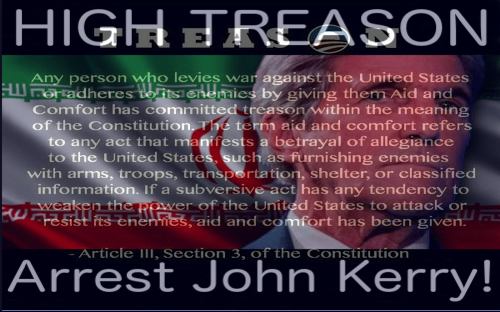 – If the Logan Act is not implemented, perhaps treason proceedings would be more appropriate
Once again, losing presidential candidate, failed Secretary of State and the main proponent of the disastrous Iran Deal is attempting to make himself relevant. John Kerry, a charter member of the Deep State under Obama, continues to operate as if the electorate of this country did not elect Donald Trump as the President. Delusional in every aspect, Kerry feels he is still Secretary of State and is conducting shadowy, illegal foreign policy that he can neither impose or perform.
Kerry, in concert with the "Death to America" Iranian mullahs, has once again turned his back on the American people and American policy, promising the American hating, PLO leading Mahmoud Abbas everything he wants, and going so far as denigrating our President as an eight-year-old child. Abbas has declared to the PLO central Council a few days ago that the Oslo Peace accords were dead. He has insulted our country and our President, called for suspending recognition of Israel, he rejected any role for American in the peace talks.