by Charles Hugh Smith, Of Two Minds: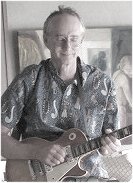 We're living in a fantasy, folks. Bubbles pop, period.
The nice thing about the "wealth" generated by bubbles is it's so easy: no need to earn wealth the hard way, by scrimping and saving capital and investing it wisely. Just sit back and let central bank stimulus push assets higher.
The problem with bubble "wealth" is it's like an addictive narcotic: now our entire pension system, public and private, is dependent on the current bubbles in stocks, real estate, junk bonds and other risk assets never popping.