by Dave Hodges, The Common Sense Show: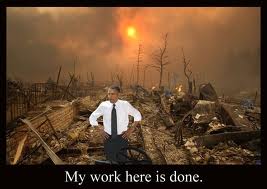 Is Obama Preparing to Lead a Coup Against President Trump? Why Does He Have a Private Army Consisting of Thousands? Why IS He Only a Short Way From the White House? What Is He Really Up To? Obama has initiated a new strategy for the liberal left, MOB RULE!
Ed Henry from Fox News reported on the Fox news show on October 11, 2018, Fox and Friends, that he has uncovered evidence that Obama was planning to lead a movement of incivility against the Trump administration and all conservatives, in general, weeks before leaving office, should Trump prevail and win the Presidential election. This revelation should not be surprising to anyone familiar with Obama's background. His only job prior to his one term of being an Illinois State Senator and a partial term as a US Senator, prior to becoming the President was that of  being a "community activist".  Some community activists provide a valuable service to their community. Most do nothing but serve to mindlessly disrupt the day to day function of a community with nonsense, liberal-based politics. Obama was the latter.