by Mike Gleason, Money Metals: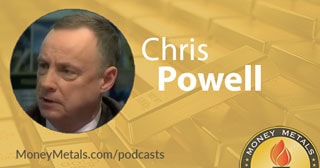 Chris Powell: Futures Markets Give High-Volume Trading Discounts to Governments
Coming up we'll discuss the ongoing manipulation of the gold and silver markets with Chris Powell of the Gold Anti-Trust Action Committee. Chris tells us why he thinks the regulators are so powerless, the troubling authority that allows the government to legally rig markets, and what might happen to the metals if and when this manipulation finally comes to an end. Don't miss a terrific interview with GATA's Chris Powell, coming up after this week's market update.
Well, this week brought both good news and bad news for precious metals bulls. The bad news is that gold and silver prices broke down from their major consolidation patterns. Based on the technical damage done, the momentum and the short-term trend in precious metals markets is pointing lower until new buying interest kicks in.
Click HERE to Listen